(FREE) PAINE IN THE MORNING: What you need to know this Monday – September 26, 2022

Here's what you need to know today, Monday – September 26, 2022.
There is also a full, ad-free video podcast of this broadcast available to Paine.TV members HERE.
Learn more about joining our community HERE.
---
Biden May Try To Fire World Bank President For Not Pushing Climate Policy Enough, Possible Replacement Chimes In: Report – White House officials have considered trying to get World Bank President David Malpass fired for not pursuing climate change policies with sufficient zeal, according to a Friday report from Axios.
Malpass, who formerly served as under secretary of the Treasury for international affairs under former President Donald Trump, was asked on Tuesday whether he affirms that the "manmade burning of fossil fuels is rapidly and dangerously warming the planet." Malpass reportedly said: "I don't even know. I'm not a scientist." – READ MORE
---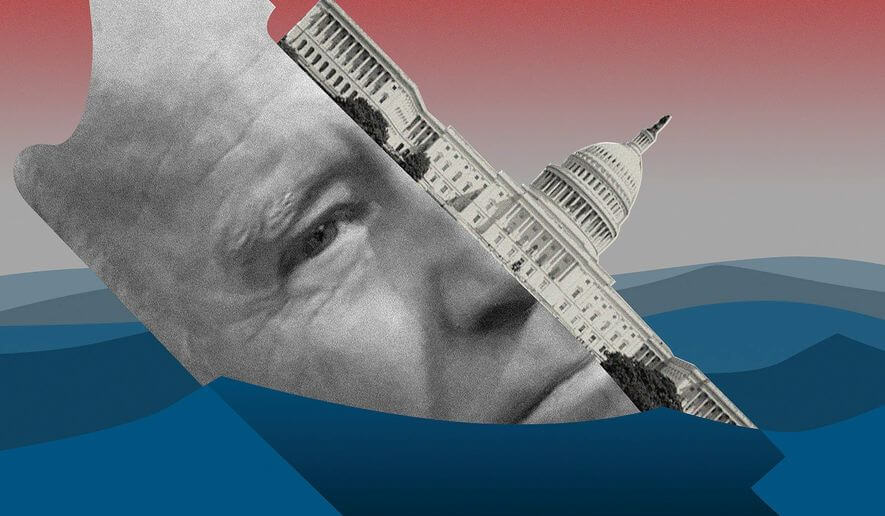 Worse to Come: Bank of America Expects Unemployment to Soar to 5.6% Next Year – Unemployment will soar to 5.6 percent by the end of next year, according to a revised forecast from Bank of America.
The bank raised its forecast for unemployment after the Federal Reserve officials indicated that they think the central bank's interest rate target will approach five percent next year. The steeper path and higher peak for interest rates makes a "hard(er) landing" more likely, according to a research note from the U.S. economics team led by Michael Gapen. – READ MORE
---
Watchdog: Department of Labor Paid out $45 Billion+ in Fraudulent Coronavirus Aid Claims – Fraudsters may have gotten away with tens of billions of dollars from the U.S. Department of Labor by filing claims in multiple states and using the social security numbers of dead people as aid was distributed during the coronavirus pandemic, a federal watchdog claimed Thursday.
The department's own inspector general, Larry Turner, revealed his office has identified $45.6 billion in potentially fraudulent unemployment insurance payments that occurred between March 2020 and April, UPI reports. – READ MORE
---
FEMA gave out $3.7 billion in 'potentially fraudulent' payments through COVID-19 aid program: IG report – The Federal Emergency Management Agency distributed more than $3.7 billion in improper and potentially fraudulent payments through an aid program for state workforce agencies during the COVID-19 pandemic, the inspector general for the Department of Homeland Security found.
DHS Inspector General Joseph Cuffari found that FEMA "did not implement controls to prevent" the billions of dollars in improper payments from the agency's Lost Wages Assistance (LWA) program – READ MORE
---
Fire Breaks Out At World's Largest Produce Market In Paris – There are widespread reports that a huge fire broke out at a massive, well-known produce market and hub responsible for supplying much of Paris and its surrounding region with fresh food.
The Rungis market is often described as the largest fresh produce market of its kind in the world. Social media videos are widely circulating which show a huge blaze which appears to be centered on the expansive market which has been in existence for many centuries. – READ MORE
---
Insect-protein startup raises $250 million in funding – InnovaFeed, one of the leading producers of insects for animal and plant nutrition, has raised $250 million in a round of funding led by Qatar's sovereign wealth fund, reports Business Wire.
Countless companies have entered the "alternative protein" market in recent years, many claiming to offer more sustainable and healthy products than those typically found in supermarket meat aisles. Companies like Impossible Foods and Beyond Meat offer plant-based meat substitutes, creating vegan options meant to replicate the taste and texture of meat. Others are developing cultured meat, which is meat grown from animal cells in a laboratory. – READ MORE
---
21 Senate Republicans vote to outsource our air conditioning to the UN – Evidently, many Republicans think we don't have enough green fascist mandates, the U.N. doesn't have enough power, and Americans don't pay enough for an increasingly dwindling supply of appliances that work less effectively than they did 50 years ago. With little fanfare, 17 Republican senators joined every Democrat to advance a treaty that will make air conditioners more expensive.
Air conditioning is one of the greatest inventions of all time and contributes hugely to the amazing quality of life our grandparents developed for us. Naturally, it is on the hit list of the Great Reset transhumanists. One would think at a time of record high electricity costs, Republicans would zealously oppose any new green energy mandate, especially one that is in the form of an international treaty. But every time you think Republicans might finally discover a soul, you must think again. – READ MORE
---
Report: China Paid U.S. Lab Scientists Up to $1 Million for Research, Including Military Tech – A security firm called Strider Technologies published a report this week that said China paid leading scientists at America's Los Alamos National Laboratory hefty sums of money to conduct research for the Chinese Communist government, including research with military applications that could threaten U.S. national security.
The report, titled The Los Alamos Club: How the People's Republic of China Recruited Leading Scientists from Los Alamos National Laboratory to Advance its Military Programs, offered a rather straightforward answer to its titular question — China recruited those scientists by offering them up to a million dollars each, and at least 154 of them accepted. – READ MORE
---
'What about the rest of the citizens of New York?' Soft criminal justice system in NYC allows pervert to allegedly go on sexual assault spree after pleading guilty to sexually 'coercing' teenage relative – A man who had already pled guilty to sexually coercing a teenage female relative was allegedly able to go on a sexual assault spree shortly before sentencing, thanks to systemic soft-on-crime policies in New York City.
Back in August, Justin Washington, 25, pled guilty to sexual coercion after a teenage relative accused him of raping her last February. Washington was initially charged with first-degree rape, first-degree sexual abuse, and forcible touching. Though prosecutors requested that the judge set bail at $100,000, the judge instead ordered a $25,000 cash bail or $50,000 bond. – READ MORE
---
25 FBI agents with guns drawn reportedly raid pro-life activist's home to the horror of his family; he faces 11 years for pushing a man outside an abortion clinic – A pro-life activist and author had his home raided by as many as 30 FBI agents with guns drawn, according to his wife. The sidewalk counselor and father of seven now faces up to 11 years in federal prison for allegedly pushing a man to the ground outside of an abortion clinic in Pennsylvania nearly a year ago. The pro-abortion man allegedly harassed the Christian man's young son.
Mark Houck is a Catholic author, lecturer, radio host, and co-founder of The King's Men – a club for men "to unite and build up other men in the mold of leader, protector, and provider through education, formation, healing, and action." – READ MORE
---
City of Toronto Deletes Video Marketing COVID-19 Vaccines to Infants, Children –The City of Toronto deleted a tweet and video on Tuesday containing an advertisement for COVID-19 vaccines for infants and young children between the ages of six months and 12 years.
Andrew Lawton, a journalist with True North, shared the deleted video – which is part of a series of similarly themed video advertisements – on his Twitter profile. – READ MORE
---