(FREE) PAINE IN THE MORNING: What you need to know this Wednesday – September 14, 2022
Here's what you need to know today, Wednesday – September 14, 2022.
There is also a full, ad-free video podcast of this broadcast available to Paine.TV members HERE.
Learn more about joining our community HERE.
---
Biden Scrambles For Damage Control After Disastrous Inflation Report – After bragging just four weeks ago that the economy had "zero percent inflation" in the month of July (looking at cherry picked month-over-month figures which completely ignored the highest food price inflation since 1979), President Biden issued yet another insultingly stupid statement in response to Tuesday's extremely hot CPI print which sent markets into turmoil and rate hike expectations shooting higher.
And so just minutes after markets began puking in response to today's CPI, Biden claimed that "Today's data show more progress in bringing global inflation down in the US economy," adding "Overall, prices have been essentially flat in our country these last two months." – READ MORE
---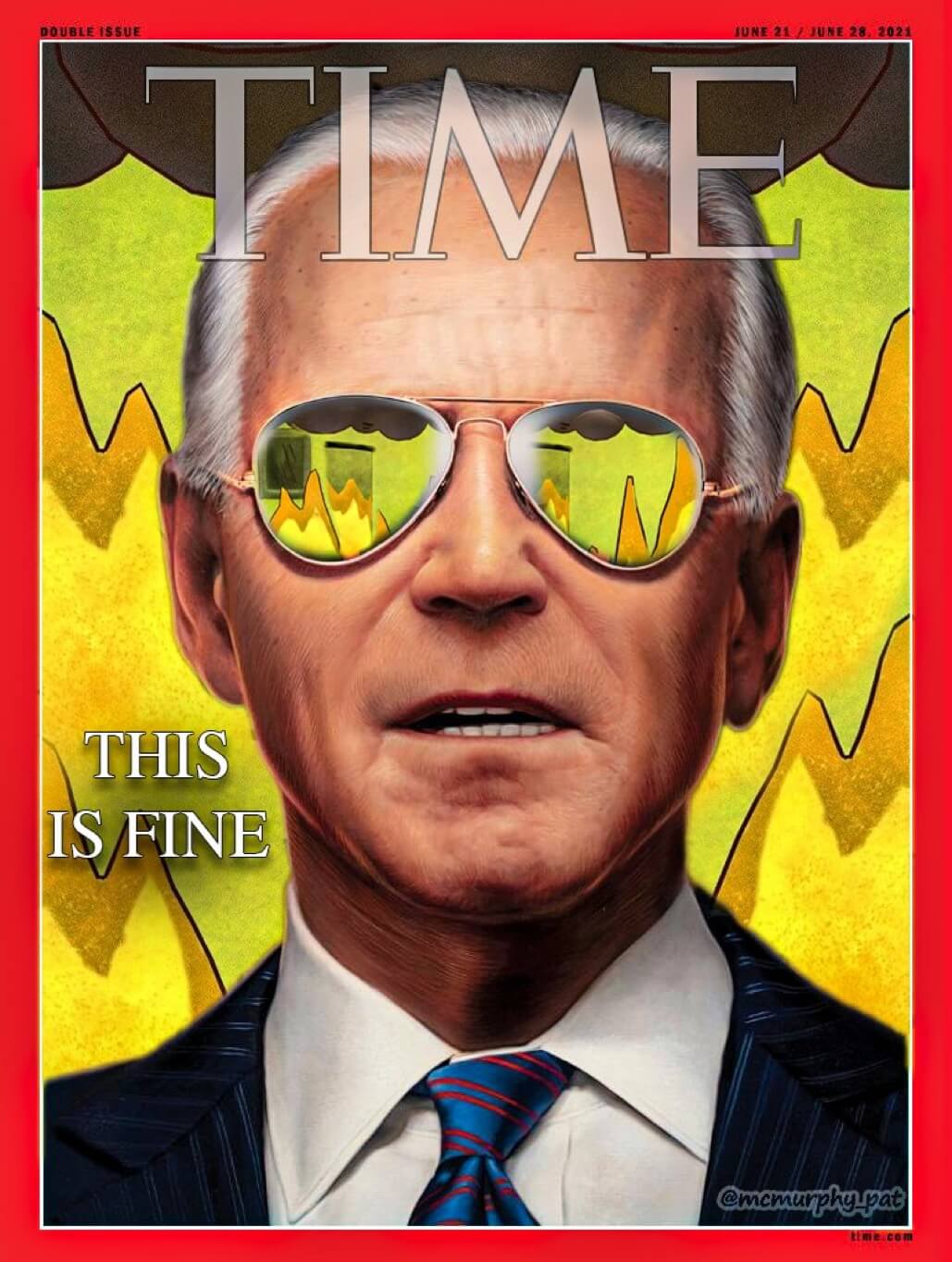 Yellen says the Fed will need good luck and great skill if it's going to pull off a soft landing for the US economy – US Treasury Secretary Janet Yellen said she was hopeful the Federal Reserve could achieve a soft landing, but it'll take skill and luck.
"The Fed is going to need great skill and also some good luck to achieve what we sometimes call a soft landing," Yellen said in a Sunday interview with CNN. – READ MORE
---
Food prices rocket to 40-year high, demolishing records every month – Food prices have increased every month of 2022, with each month since February breaking 40-year records, according to data from the Bureau of Labor Statistics (BLS).
The price of food at home increased 13.5% year-over-year in August, the highest it's been since May 1979, according to the BLS Consumer Price Index (CPI) report. Since February, when the year-over-year cost of food at home increased by 8.6% — at the time the highest level since 1981 — grocery prices have increased every month, first breaking a 10% year-on-year increase in March, according to archived CPI reports by the BLS. – READ MORE
---
UN Food Official Warns Fertilizer Affordability Crisis Could Slash Global Grain Production By 40% – More than six months into the Russian invasion of Ukraine, the global fertilizer crunch threatens to starve a planet as prices are too high for some farmers ahead of the next planting season.
That's the view of Maximo Torero, chief economist from the Food & Agriculture Organization (FAO) of the United Nations (UN), who told Bloomberg TV that elevated fertilizer prices could decrease global grain production by upwards of 40% in the next planting season. – READ MORE
---
Brace Yourself: Food Shortages Will Be a Reality in the West This Winter – Because most people don't know a farmer personally anymore, everyone should realize that they don't make piles of money producing our food. A good year can be followed by three bad ones, and 2022 has been a burden. Between record heat waves in the U.S. and abroad, droughts in the middle of the country, fertilizer shortages, and rising costs for just about every farm input, many American farms are on the brink. Everyone will feel the pinch in continued food price increases and shortages at the store.
As bad as the agricultural outlook is in America, it is far worse in Europe. The dedication to a green energy suicide pact on the continent is colliding with the news Russia will not ship any fossil fuels until the West lifts sanctions. The skyrocketing energy prices have farmers leaving crops in the fields to die. – READ MORE
---
Baby formula shortage still not over: White House has to take 330,000 pounds from Australia – The White House said Monday it has organized the rapid importation of 330,000 pounds of baby formula from Australia to address ongoing shortages at retail stores across America.
The Biden administration's Operation Fly Formula was announced in May to address these shortages, and the Australia mission is the 23rd operation conducted so far under the effort. – READ MORE
---
Visa, Mastercard, AmEx making it easier to track gun sales – Visa Inc. said over the weekend that it plans to start separately categorizing sales at gun shops.
The move is considered a major victory for gun control advocates who claim that better tracking of gun sales may help prevent future mass shootings. Other major payment processors, including Mastercard and American Express, have also said they plan to move forward with categorizing gun shop sales. – READ MORE
---
Freeze for Global Agenda: U.N. Demands European Nations Do Not Return to Fossil Fuels over Energy Crisis – The world is grappling with the worst energy crisis in generations however the U.N. has warned Europe a return to fossil fuels in response to soaring prices and winter shortages must not be considered under any circumstances.
Russia has reduced supplies of gas to Europe since its invasion of Ukraine, sending fuel prices soaring, while supply chain issues in the wake of the coronavirus pandemic have also hit deliveries. – READ MORE
---
Yuval Noah Harari: 'Climate Change' May Lead to 'Technological Noah's Ark' for 'Elites' – Yuval Noah Harari, historian, futurist, and World Economic Forum (WEF) adviser, said on Friday "climate change," if unaddressed, may cause a "technological Noah's ark" scenario in which "elites" escape what he framed as planetary catastrophe for humanity.
Harari's remarks were made as he joined a discussion hosted by the Warwick Economics Summit which framed "climate change" as "the most pressing threat facing humanity." – READ MORE
---
Report: Las Vegas Democrat Accused of Killing Journalist Will Keep $130K Salary in Jail – The Democrat official accused of murdering a journalist will reportedly continue drawing paychecks while behind bars in Las Vegas, Nevada.
Last week, Clark County Public Administrator Robert Telles was charged in the stabbing death of the Las Vegas Review-Journal's Jeff German, according to the New York Post. – READ MORE
---
Biden Vows 'Cancer Moonshot,' But Here's What His Own Cancer Charity Spent On Research – President Joe Biden has vowed a taxpayer-funded "moonshot" bid to cure cancer, but his own cancer charity spent millions on staff salaries and nothing on actual research, according to tax filings.
Borrowing a phrase from former President Kennedy, Biden on Monday called on America to "end cancer as we know it." Biden, who often talks about his son Beau's 2015 death from cancer, spoke on the 60th anniversary of JFK's later-fulfilled pledge to put an American on the Moon. – READ MORE
---
New Zealand Scraps Nearly All COVID-19 Restrictions, Including Mask And Vaccination Mandates – New Zealand will be retiring its COVID-19 traffic light system and significantly scaling down COVID restrictions from Sept. 13 so Kiwis could "move forward with certainty," Prime Minister Jacinda Ardern announced.
"It's time to safely turn the page on our COVID-19 management and live without the extraordinary measures we have previously used," Ardern said, calling it a "milestone." – READ MORE
---