UNICEF 'Quite Optimistic' After Taliban 'Expresses Support' for Letting Girls Go to School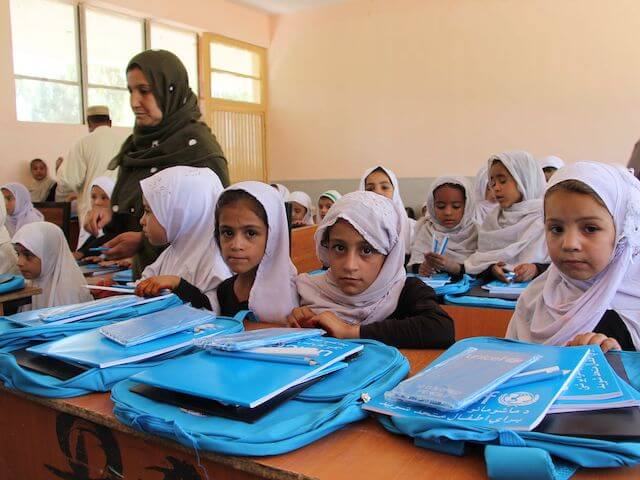 Mustapha Ben Messaoud, chief of Afghanistan field operations for the United Nations Children's Fund (UNICEF), said on Tuesday he was "quite optimistic" about working with the Taliban after the Islamist conquerors allegedly "expressed support" for allowing girls to continue attending school.
The Taliban is infamous for not only forbidding girls to attend school but murdering those who defy its religious edicts. Taliban mullahs insist that Islamic sharia, the religious law, bars women from attending school, holding jobs, or traveling outside their homes without male escorts.
The Taliban also forces women to wear heavy full-body burqa coverings, so prices for burqas have reportedly soared 1000 percent as the formerly liberated women of Kabul scramble to purchase them. The previous Taliban regime routinely beat, whipped, and killed women for failing to wear a burqa.
Despite this grim history, Ben Messaoud told a U.N. briefing on Tuesday that UNICEF has "not had a single issue with the Taliban" in the 11 of its 13 field offices that are still operational.
"We have ongoing discussions, we are quite optimistic based on those discussions," he said.
According to UNICEF, some local Taliban representatives claim they want schools for girls "up and running," while others are waiting for instructions from their superiors. Ben Messaoud said a Taliban "health director" in Herat province made a point of asking female UNICEF employees to report for duty as normal.
Ben Messaoud added that he is aware of the Taliban's horrific history of abusing women and called for urgent humanitarian aid to save the lives of Afghanistan's children.
"Afghanistan has, for many years, been one of the worst places on Earth to be a child. In the past few weeks, it has got worse," he said. "As we speak, if we do not take action immediately, UNICEF's prediction is that without urgent action, 1 million children under the age of 5 will be severely malnourished by the end of 2021, and 3 million will be moderately acutely malnourished." – READ MORE