(FREE) PAINE IN THE MORNING: 9 things you need to know this Friday – August 27, 2021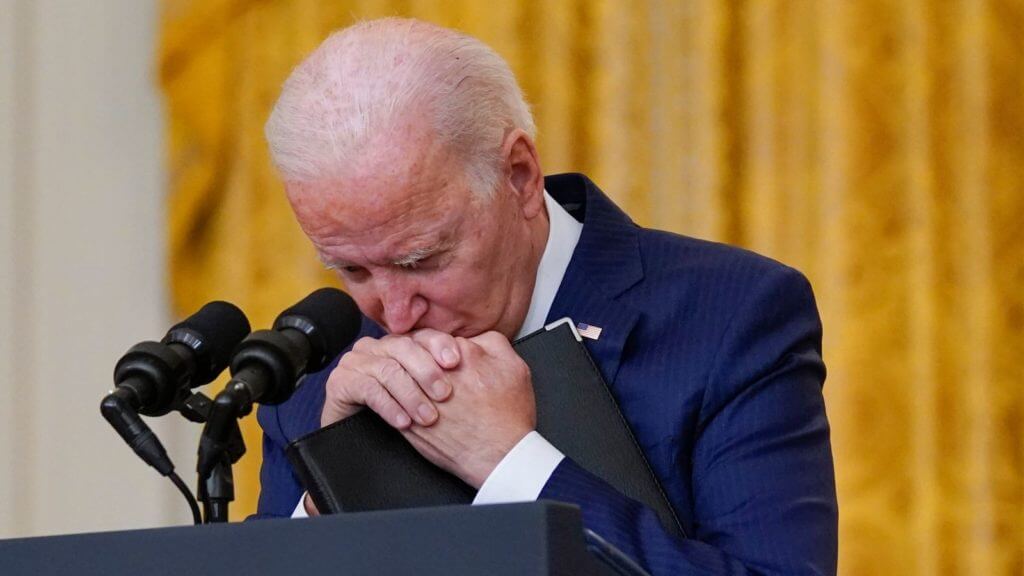 There is also a full, ad-free video podcast of this broadcast available to Paine.TV members HERE.
Learn more about joining our community HERE.
---
Editor's Note: Some of the below articles are breaking news & developing. Check the original links for the most up to date information.
Afghanistan explosions: 13 US service members killed in Kabul airport blast, more wounded, officials say – A suicide bomb attack Thursday outside the Abbey Gate at Kabul's airport in Afghanistan killed 13 U.S. service members and injured at least 18 more, U.S. officials said – making it the deadliest day for U.S. troops in 10 years.
Officials told Fox News that those killed included 12 Marines and a Navy corpsman.
The suicide bomb attack was followed up by a firefight by Islamic State gunmen at the gate, where the night before there had been 5,000 Afghans and potentially some Americans seeking access to the airport to flee. Crowds had gathered for days seeking to escape the country, and there had been multiple warnings of a terror threat to the area – particularly from the Islamic State. – READ MORE
---
Biden Admin Gave Taliban List Of 'American Citizens, Green Card Holders And Afghan Allies' That Needed To Get Into Airport: Report – The Biden administration reportedly gave the Taliban a list of the names of United States citizens, green card holders, and other Afghan allies that needed to be allowed into the airport so they could be evacuated — a decision that sparked widespread outrage from officials and critics.
"The move, detailed to POLITICO by three U.S. and congressional officials, was designed to expedite the evacuation of tens of thousands of people from Afghanistan as chaos erupted in Afghanistan's capital city last week after the Taliban seized control of the country," Politico reported. "But the decision to provide specific names to the Taliban, which has a history of brutally murdering Afghans who collaborated with the U.S. and other coalition forces during the conflict, has angered lawmakers and military officials." – READ MORE
---
Report: Kabul Airport Gates Being 'Welded Shut,' Expediting Withdrawal After Kabul Bombings That Killed Four U.S. Marines – The gates of the airport in Kabul are reportedly being "welded shut," according to a reporter with the Military Times.
Reporter Howard Altman wrote on Twitter that "Our sources on the ground tell us gates are being welded shut." – READ MORE
---
Biden To Abandon Americans Stranded In Afghanistan Following ISIS Bombings, Continued Threats: Source – The Biden administration is planning to cut bait and abandon Americans stranded in Afghanistan, according to Fox News, citing a confidential source who said that "hundreds" of ISIS-K fighters remain near the Kabul airport, and attacks are "likely to continue."
"Military continues to retrograde and depart [the] airport," said the source, adding "Almost a certainty that Americans will be left behind." – READ MORE
---
U.S. General Doesn't Know If Taliban Let ISIS Attackers Get to Kabul Airport – The commander of U.S. Central Command said Thursday he did not know if the Taliban — whose members the U.S. was relying on to screen individuals getting to the airport — let Islamic State suicide bombers get through and conduct at least two bombings that have so far killed 12 Marines and injured 15 more.
"Clearly if they were able to get up to the Marines…at the entry point of the base,there's a failure somewhere," said Marine Gen. Kenneth McKenzie at a press briefing on Thursday. – READ MORE
---
Outrage over US ambassador's 'heartless' comments on Americans trapped in Afghanistan: 'Blaming the victims' – Outraged viewers condemned U.S. diplomat Ross Wilson as "heartless" after he appeared to engage in victim-blaming when he noted that the State Department warned Americans in Afghanistan to leave and said it's "their business" for those who chose to stay in the tumultuous region.
"Why didn't the U.S. get out Americans and our Afghani friends before the Taliban were able to take control from Kabul?" CBS News anchor Norah O'Donnell asked Wilson, the acting U.S. ambassador to Afghanistan, on Thursday. – READ MORE
---
Report: Only 5% Of People Evacuated From Afghanistan Are Americans – The United States and its coalition partners have evacuated tens of thousands of people from Afghanistan, but a new report says that only 5% of those have been American citizens.
"More than 82,300 have been airlifted from Kabul since the government's collapse nearly two weeks ago, but the Pentagon says that, as of Wednesday, only 4,400 Americans were rescued in those evacuation operations," The Federalist reported. Fox News' Lucas Tomlinson confirmed Wednesday that about 4,400 Americans were evacuated from Afghanistan. – READ MORE
---
Australian State to Build New Regional COVID-19 Quarantine Facility – The government of the Australian state of Queensland announced on Thursday that it has struck a deal with billionaire John Wagner to build a fit-for-purpose regional COVID-19 quarantine facility at Wellcamp, Toowoomba, providing 1,000 beds to ease pressure on the state's hotel quarantine system.
This comes less than 24 hours after Queensland Premier Annastacia Palaszczuk slammed shut its borders for two weeks, citing pressure on the hotel quarantine system. – READ MORE
---
The Courts Go AWOL on the Virus Vax – During the 20th century, the Supreme Court created new constitutional rights not mentioned in the Constitution's text, primarily by claiming those rights were inherent in the Fifth and 14th Amendment due process clauses. They included rights to privacy, autonomy, and bodily integrity.
In accordance with those new precedents, citizens have asked the courts for protection against oppressive pandemic restrictions. Yet, the courts have dismissed most of their cases, relying on an old Supreme Court decision largely superseded by the newer precedents. – READ MORE