It's Open Season On Chicago Police: Shootings At Cops Up Fourfold In 2020, 2021
The very public servants we pay to protect us and maintain order in Chicago are increasingly under attack themselves. At an order of magnitude dramatically greater than in years past.
The total number of Chicago Police officers shot at in 2020 was 80, versus a yearly average of 20 from 2014 to 2019. In 2021, total shootings at police were almost as high again, at 76. In 2015, there were only 12 shootings at police the entire year.
If the recent jump in violence directed at officers is not soon squelched by judges and politicians who make it clear criminals will pay a steep price for their variegated misdeeds, then the violence eating at Chicago will only spread.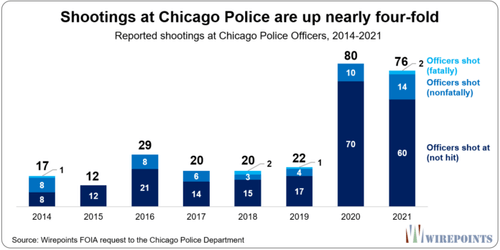 Shootings which struck police but were not fatal increased to 10 in 2020 and then to 14 in 2021, versus just less than five on average yearly between 2014 and 2019.- READ MORE