FTX Held Just $900MM In Liquid Assets Vs $9BN In Liabilities As Video Emerges Confirming Alameda Knew It Was Pilfering Client Funds
On Friday, we first learned courtesy of a mystery twitter account belonging to an anonymous FTX insider, that the now bankrupt crypto exchange held just $900 million in liquid assets (including, among other things, a $7.3 million online bet by Democrat megadonor Sam Bankman-Fried for Trump to lose).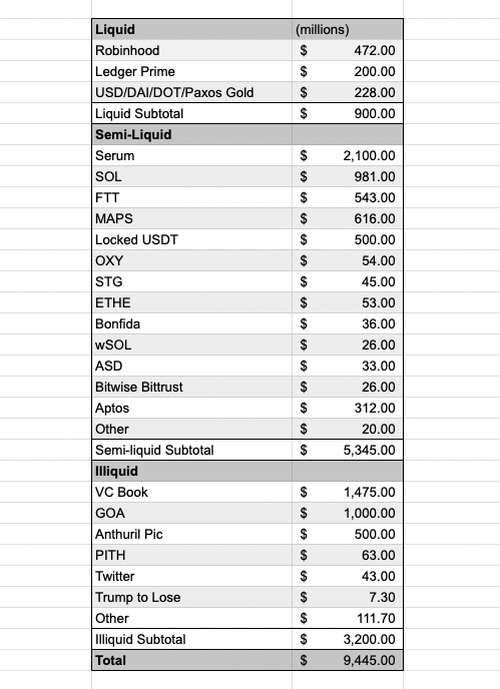 Of the $900 million in liquid assets, the largest portion – or roughly half – was in the form of $470mn of Robinhood shares owned by a Bankman-Fried vehicle not listed in Friday's bankruptcy filing, which included 134 corporate entities. The liquid assets represent just 10% of the total assets (including $5.4BN in semi-liquid and $3.2BN in illiquid) and is a fraction of the $9 billion in liabilities at FTX which will now make their way through bankruptcy court for the next several years.
The document, which the FT also tracked down on Saturday and discussed here, and which was shared with prospective investors before the bankruptcy, provides a detailed picture of the financial hole in the FTX crypto empire and suggests customers of FTX international may face steep losses on cash and crypto assets they held on the exchange (and speaking of the 134 subs that FTX listed on its bankruptcy filing, the FT notes that the company had incorrectly listing entities it did not own in its initial filing, while as we reported earlier, the exchange suffered an apparent hack on Friday night that drained its balances to zero).
Aside from the spreadsheet shown above, the FT also noted another spreadsheet which references the $5bn of withdrawals last Sunday – which as everyone knows by know were precipitated by CZ telling the world he would pull his money after the "recent revelations" and sparking a bank run on FTX which the exchange did not have nearly the fund to defend against; the sheet also noted a negative $8bn entry described as "hidden, poorly internally labled 'fiat@' account". – READ MORE