(FREE) PAINE IN THE MORNING: What you need to know this Thursday – September 15, 2022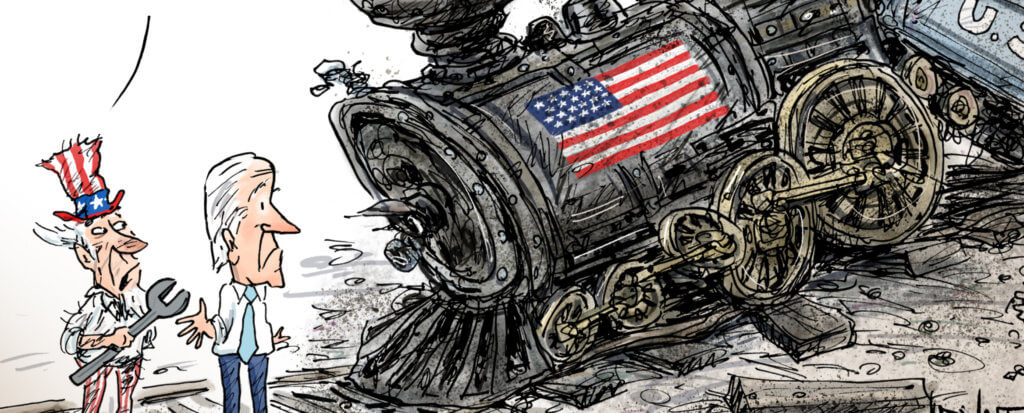 Here's what you need to know today, Thursday – September 15, 2022.
There is also a full, ad-free video podcast of this broadcast available to Paine.TV members HERE.
Learn more about joining our community HERE.
---
Rail Strike? – A joint resolution by U.S. lawmakers aimed at ending the threat of a strike or lockout provides little incentive for avoiding a debilitating shutdown of the nation's railroads, according to a former rail industry legal consultant.
Introduced in the Senate on Monday by Roger Wicker, R.-Miss., and Richard Burr, R-N.C., the legislation would adopt the recommendations issued in August by the Presidential Emergency Board (PEB) that were meant to be used as the foundation for a new contract. Such action is supported by major business and shipper groups, including the U.S. Chamber of Commerce and the Fertilizer Institute.
But getting a divided Congress to quickly pass such settlement legislation offers little chance of resolving the dispute, according to John Brennan III, a former senior counsel for the Union Pacific Railroad.
"Congress is in the unfortunate position of resolving a potential strike on very difficult terms, and what Wicker and Burr are proposing is a cramdown," Brennan told FreightWaves.
Brennan pointed out that when the last rail strikes occurred in the early 1990s, Congress passed settlement resolutions within 24 hours. But the partisan divide in Congress today, along with the upcoming midterm elections, could make it difficult to pass settlement legislation before midnight on Thursday, when a work stoppage would be permitted under the law. – READ MORE
---
Airline Chaos Could Persist Until 2024, Despite Efforts To Cure Woes – After a record-breaking summer of angst, aggravation, and anger at America's airports, little relief may be in sight.
The problem came into sharper focus during the past few weeks with airline complaints in May and June soaring 270 percent above pre-pandemic levels. – READ MORE
---
Federal ban on new gas-powered cars? Buttigieg is 'really interested' in California's new regulation – Could the federal government impose a ban on new gas-powered cars?
Transportation Secretary Pete Buttigieg said recently he is interested in such a policy after California mandated that only "zero-emission" cars be sold by the mid-2030s. – READ MORE
---
Fed Mouthpiece Speaks: "At LEAST 75bps Next Week" Sends Odds Of 100bps Rate Hike to 47% – A little over an hour ago we reported that while everyone was waiting for the Fed's WSJ mouthpiece Nick Timiraos to leak whatever it is that Powell wanted markets to know during the Fed's blackout period, Nomura became the first bank to forecast an out of consensus 100bps rate hike during next week's FOMC meeting.
To some this seemed far too high, but the Nomura case just got a powerful boost moments ago when Timiraos hit publish on his long-awaited WSJ market trial balloon in which he said that "the acceleration in inflation last month clinches the case for the Federal Reserve to lift interest rates by AT LEAST 0.75 percentage point at its meeting next week and raises the prospect of hefty increases continuing in coming months." – READ MORE
---
$1.3 Billion in COVID Relief Funds Ended Up Overseas, Says Inspector General –The Small Business Administration awarded up to $1.3 billion in pandemic relief to unqualified foreign applicants that may have included international criminal organizations, according to a report from the agency's inspector general.
The report, released Monday, found the SBA approved and distributed 41,638 loans and grants to foreign applicants between March 20, 2020, and Nov. 12, 2021, through the Economic Injury Disaster Loan program. Congress directed the SBA to provide these grants to businesses located in the United States that were impacted by the pandemic, but the agency acknowledged it failed to provide proper oversight of awards issued to foreign entities. The report found the SBA approved 3,097 grants for applicants in six unspecified "high-risk" countries, distributing $14.3 million to the recipients. – READ MORE
---
Not Just Nancy: Lawmakers Have Been Trading Like Drunken Insider Sailors –Approximately 3,700 stock trades reported by 97 current lawmakers posed potential conflicts of interest, as their financial dealings intersected with the work of committees on which they serve, according to an extensive analysis by the New York Times of trades spanning a two year period (2019 – 2021). – READ MORE
---
President Biden used taxpayer-funded jet, motorcades to vote in person rather than casting absentee ballot – President Biden employed Air Force One, two motorcades and local police protection to travel from Washington, D.C., to Delaware just to vote Tuesday.
While presidents typically file absentee ballots to avoid the cost of traveling to their home states, Biden made the trip to vote in person, telling reporters Tuesday that he was boarding Air Force One simply "to vote." – READ MORE
---
European Union 'Social Market Economy' Might Redistribute Fossil Fuel Profits – European Commission President Ursula von der Leyen said on Wednesday that the European Union might redistribute profits from fossil fuel companies and impose energy consumption limits.
The bloc is currently weighing various measures to help member states cope with a freeze in Russian energy exports — including natural gas shipments through the Nord Stream 1 pipeline, which Russia paused in reaction to Western support of Ukraine. In her State of the Union address, von der Leyen asserted that Russia is largely responsible for the energy crisis. – READ MORE
---
Report: NY Gov. Kathy Hochul Admin Gave COVID Test Contract To Campaign Donor's Company At Double The Price – Governor Kathy Hochul's (D-NY) administration paid double the cost for COVID tests in a $637 million deal to a major donor's company, according to a new report.
Reinvent Albany released the report on Friday that revealed the concerning deal. – READ MORE
---
Durham: Igor Danchenko, Source for Fraudulent Steele Dossier, Was Paid FBI Informant 2017-2020 – The Federal Bureau of Investigation (FBI) paid Igor Danchenko, the source of the most salacious claims in the fraudulent "Steele dossier," as a "confidential human source" (CHS) during the years President Donald Trump was under investigation.
A filing unsealed Tuesday by Special Counsel John Durham in his prosecution of Danchenko for lying to the FBI notes that he was the source for former British spy Christopher Steele in his compilation of the "dossier" — including the claim that there was a so-called "pee tape" of Trump cavorting with prostitutes in a Moscow hotel and asking them to urinate on a bed on which then-President Barack Obama had slept. Many prominent Democrats — including 2019-20 impeachment counsel and current congressional candidate Daniel S. Goldman — promoted the claims, and proclaimed that a "pee tape" actually existed. – READ MORE
---