(FREE) PAINE IN THE MORNING: What you need to know this Tuesday – September 6, 2022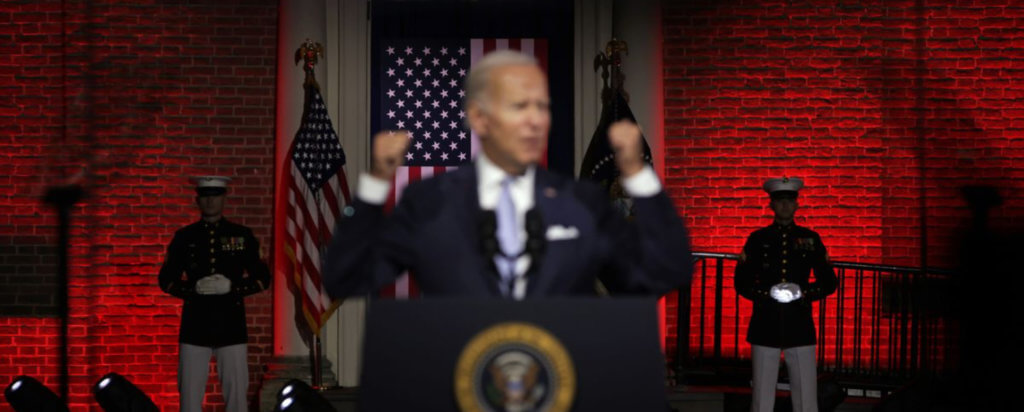 Here's what you need to know today, Tuesday – September 6, 2022.
There is also a full, ad-free video podcast of this broadcast available to Paine.TV members HERE.
Learn more about joining our community HERE.
---
Biden says Trump supporters not a threat to country after speech blasting 'MAGA Republicans' – President Biden on Friday said he does not consider any Donald Trump supporters to be a "threat" to the U.S., though he said the failure to condemn violence for political gains was "inappropriate."
The president's comments were in answer to a question from Fox News' Peter Doocy who asked if Biden considered all Trump supporters to be a threat to the country less than a day after he blasted "MAGA Republicans" in a speech Thursday. – READ MORE
---
Biden demonizes 'MAGA Republicans,' but Dems spent over $46 million to help pro-Trump candidates win primaries – President Biden's divisive Thursday speech slamming "MAGA Republicans" was a sharp turn from the strategy being used by multiple arms of the Democratic Party to boost those very same Republicans by meddling in GOP primaries across the country.
Despite Biden's recent rhetoric, multiple Democratic campaign groups have spent more than $46 million to boost candidates who support former President Donald Trump in several primary races, apparently aiming to force out more moderate Republicans and potentially make general election matchups more favorable for Democrats. – READ MORE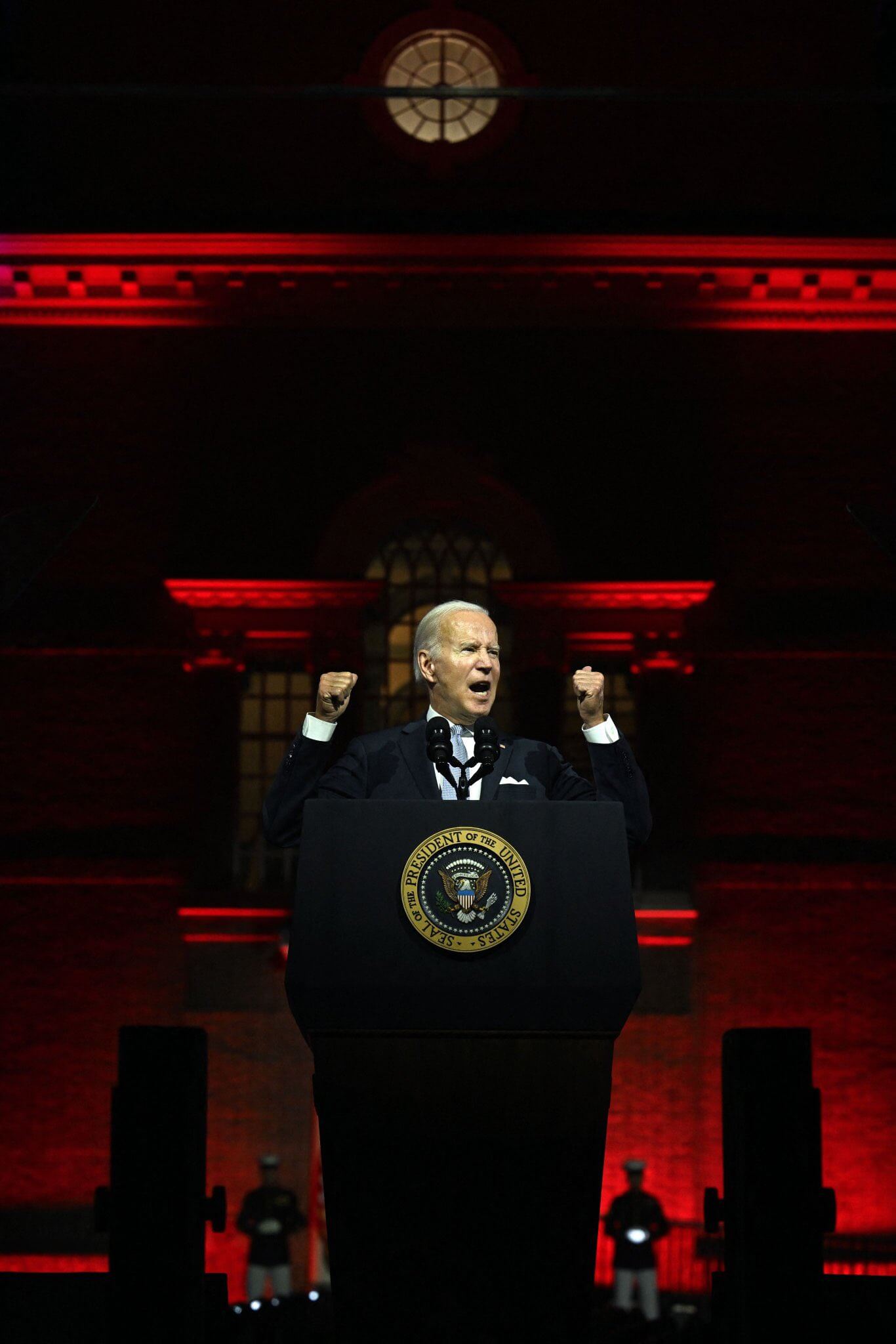 ---
'Green' California Faces Possible Blackouts as State Declares 'Flex Alert' in Heat Wave – California electricity regulators declared a "Flex Alert" on Wednesday, asking consumers to conserve electricity voluntarily between 4:00 p.m. and 9:00 p.m. due to a shortage of power, as the state faced the possibility of rolling blackouts over the next several days.
As Breitbart News reported earlier this week, the California Independent System Operator warned that there could be Flex Alerts through Labor Day due to energy shortages as a heat wave — with no particular end in sight — swept across the western U.S. – READ MORE
---
Thousands of Coloradans Locked Out of Their Smart Thermostats due to 'Energy Emergency' – Thousands of Coloradans were unable to adjust the temperature in their homes for hours on Tuesday after Xcel Energy locked their smart thermostats due to an "energy emergency."
Temperatures reached into the 90s in some areas of Colorado on Tuesday, KMGH-TV reported. – READ MORE
---
Labor Day Lament: Quiet-Quitting Is Stifling Business – Some call it "quiet quitting," and some call it "ghost quitting." But this phenomenon is decreasing productivity, whatever the vernacular in your area. And most managers or business owners may not even realize their employees are doing this.
As Anne Johnson writes at The Epoch Times, while managers have been focused on the "Great Resignation" – losing employees hurts productivity – there's another kind of quitting that may not be as disruptive, but still hurts businesses. – READ MORE
---
Exec Of Major Retailer Dies In Plunge From NYC Hi-Rise As Firm Plans Mass Firings –  A top executive at retail chain Bed Bath & Beyond jumped to his death from a Manhattan high-rise two days after the struggling company announced plans to slash its workforce and close 150 stores.
Gustavo Arnal, 52, who was the company's chief financial officer, leapt from the 18th floor of the iconic 57-story Tribeca building known as the Jenga tower, where apartments sell for as much as $50 million. The company's reorganization plans comes amid a nearly 70% slide in its stock price over the last year driven by slumping sales and a "meme" trading trend. – READ MORE
---
California Senate Passes Bill To Create "Fast Food Council" With Wage-Setting Power – The California Senate on Monday voted to create a "Fast Food Council" that would have the authority to set minimum wages and issue safety, health and anti-discrimination regulations.
The 10-member council, which would include four worker representatives, four employer representatives and two state officials, would have the authority to increase California's fast-food minimum wage to as much as $22 in 2023. – READ MORE
---
Conflict of Interest? Biden Staffers Get $500K From Student Loan Bailout –"President Joe Biden's $300 billion student loan bailout will benefit some of his political appointees to the U.S. Department of Education," reports The College Fix, citing a report from a government watchdog group.
Some of those appointees possibly helped draft the policy given their influential roles in the administration, according to Tom Jones, founder of the American Accountability Foundation. He said "that a clear conflict of interest exists for DOE staffers who helped write the proposal." – READ MORE
---
Yuval Noah Harari: 'Cultured Meat' Synthesized in Labs Is 'Much More Ethical' than Animal Husbandry – Yuval Noah Harari, historian, futurist, and World Economic Forum (WEF) adviser, described "cultured meat" synthesized in laboratories as more "ecological" and "ethical" than meat from animal husbandry and slaughter.
He made his remarks in a video interview with the International Institute of Management in Kyiv, Ukraine. – READ MORE
---
Stop Freaking Out About Drinking Recycled Poo-Water, Expert Says – The head of the UK's Environment Agency says that people need to be 'less squeamish' about drinking "toilet-to-tap" water from treatment plants, as countries and states around the world move towards recycling sewage.
According to a Sunday op-ed in The Times, Sir James Bevan writes that "drinking recycled sewage is the future." – READ MORE
---
California bill to allow minors to be vaccinated without parental consent is withdrawn – The bill to allow 15-year-old children to take the COVID-19 vaccine without parental consent was shelved after not receiving enough support to pass.
State Sen. Scott Wiener, the bill's author, announced Wednesday he won't put the measure up for a vote in the state Assembly because it doesn't have enough support to pass. – READ MORE
---
Leana Wen Created A Mob Of Covid Karens And Now They're Coming For Her –The cancel crowd has come for Dr. Leana Wen. More than 500 people, including many prominent names in medicine and science, have signed a letter demanding that the CNN and Washington Post contributor and professor of health policy at George Washington University be banned from speaking at the November annual meeting of the American Public Health Association. Wen's alleged crimes, her detractors claim, include being "unscientific" for urging a return to pre-pandemic normal for vaccinated persons; being "unethical" for promoting relaxed restrictions on COVID-19-related restrictions; being "fatphobic" for arguing that eating doughnuts daily is not healthy.
Last week the Wall Street Journal bemoaned the cancellation of Wen and her removal from the upcoming APHA event in Boston, the largest public health conference in the world. "The erstwhile supporter of government Covid mandates is enduring the wrath of public-health activists for saying we need to learn to live with Covid," the paper's editorial board declared. – READ MORE
---
Facebook Fact-Checkers Are Now Dropping by the Comments Sections of Your Posts to Re-Educate You – Facebook just keeps finding new ways to be awful. The latest stunt is to jump into the comments section of your posts to insert some approved agitprop that stays near the top of your feed.
This particular "fact" check concerns an estimate from a car dealership showing that a customer would be charged nearly $30,000 for an EV battery for his Chevy Volt. A Facebook page called Car Coach Reports, which focuses on auto news, posted a picture of the invoice on August 29. Two days later, PolitiFact waded into the comments section to add their take on the story—namely that the battery in question was for a 10-year-old vehicle with 70,000 miles that is no longer under warranty. PolitiFact wrote, "The battery had to be purchased from a third-party supplier because General Motors discontinued the Volt in 2018 and no longer makes the battery." They quickly added that newer batteries "cost much less." – READ MORE
---
How To Protect Yourselves From The Ministry Of Propaganda – While it's fun to sort all the propaganda into various boxes, we would do well to look for what all the marketers / MoP players seek to mystify.
It's time once again to check for Ministry of Propaganda updates, which like Windows and iOS is constantly being updated to counter new threats and enhance the user experience (heh).
Much like the other operating systems that underpin our daily lives, the core functions of the MoP don't change much. My chart from 2007 remains an instructive summary of MoP operations, with the only changes being Mr. Buffett is now buying oil companies and social media corporations are now major media players. – READ MORE
---