Biden Announces $500 Million Package to Finance Clean Energy in Egypt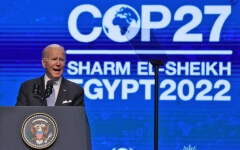 President Biden announced Friday that the United States alongside the EU and Germany will finance and facilitate Egypt's clean energy transition for $500 million.
"I'm pleased to announce today, alongside the European Union and Germany, a $500 million package to finance and facilitate Egypt's transition to clean energy. This package will enable Egypt to deploy 10 gigawatts of renewable energy by 2030 while bringing offline 5 gigawatts of inefficient gas-powered facilities, reducing emission in Egypt and the power sector by 10 percent," Biden said at the 27th Conference of the Parties to the UN Framework Convention on Climate Change (COP27) in Sharm El-Sheik, Egypt.
"We'll also work with Egypt to capture nearly 14 billion cubic meters of natural gas which currently flares, vents or leaks from its oil and gas operations, and because of this cooperation, Egypt is elevating its climate ambition and submitting enhanced national determination contributions," he said.
"If we're going to win this fight, every major emitter nation needs to align with the 1.5 degrees. We can no longer plead ignorance to the consequences of our actions or continue to repeat our mistakes. Everyone has to keep accelerating our efforts throughout this decisive decade," the president said. – READ MORE