Port Of Los Angeles Prepares For 24/7 Operations To Tackle Massive Cargo Backlog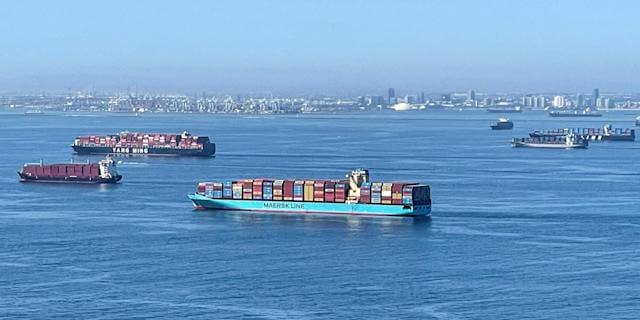 With more than 80 container ships at anchor and 64 at berths across the Ports of Los Angeles and Long Beach, congestion at the nation's top ports continues to snarl supply chains. To alleviate bottlenecks threatening the holiday shopping season, the White House has released a memo stating the twin ports will be operating on a 24/7 basis to counter the backlog.
The shipping industry is in complete chaos, and bottlenecks at Ports of Los Angeles and Long Beach, a point of entry for 40% of containers, continue to experience massive backlog that is disrupting the time it takes goods to reach store shelves, creating price inflation for consumer goods and shortages.
President Biden is expected to meet with "business leaders, port leaders, and union leaders to discuss the challenges at ports across the country and actions each partner can take to address the delays and congestion across the transportation supply chain," according to the White House.
"The President will meet with the leadership from the Ports of Los Angeles and Long Beach and the International Longshore and Warehouse Union (ILWU) to discuss the actions they are each taking to address these challenges in Southern California," the White House continued. 
To solve such a crisis, it appears the Biden administration, businesses leaders, and port officials will "announce a series of public and private commitments to move more goods faster, and strengthen the resiliency of our supply chains, by moving towards 24/7 operations at the Ports of Los Angeles and Long Beach" at a press conference this afternoon. – READ MORE