(FREE) PAINE IN THE MORNING: What you need to know this Wednesday – October 26, 2022

Here's what you need to know today, Wednesday – October 26, 2022.
There is also a full, ad-free video podcast of this broadcast available to Paine.TV members HERE.
Learn more about joining our community HERE.
---
JPMorgan president warns: Worst is yet to come for U.S. economy – Daniel Pinto, president of investing giant JPMorgan, has warned that the economy hasn't yet hit bottom, urging the Federal Reserve to continue raising interest rates, in an interview with CNBC.
Pinto predicted that the Federal Reserve was unlikely to slow its campaign of interest rate hikes, estimating that rates will likely continue rising to roughly 5%, up from the current range of 3% to 3.25%, CNBC reported Monday. Pinto said that the Fed was likely to tolerate a larger recession if it meant taming inflation, especially considering that corporate profits have remained relatively healthy. – READ MORE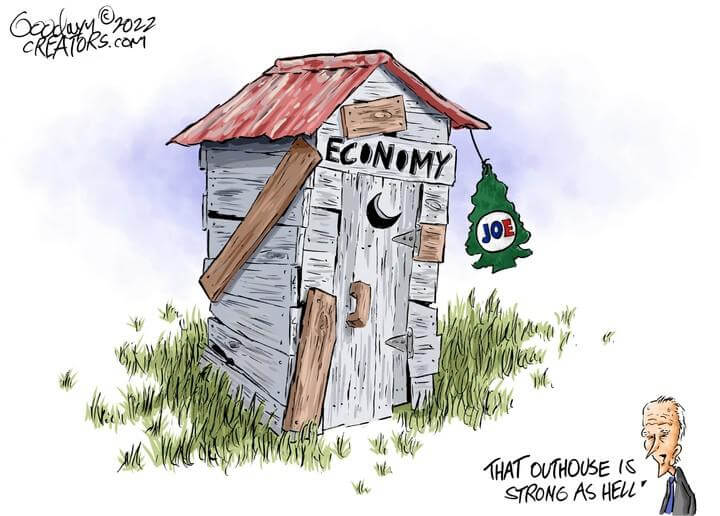 ---
US Oil Industry Mocks Biden Offer To Refill SPR At $72 As "Inadequate To Lift Oil Output" –Several months ago, we mocked the ridiculous idea spawned by some of the "best and brightest" progressives currently cogitating in the US, according to which even as Biden was actively steamrolling US energy companies by vowing to end US fossil fuel usage in a few decades and single-handedly crushing the price of oil through the biggest ever release of crude from the strategic petroleum reserve (where the term "emergency" now means not war or a natural disaster but Democrats lagging Republicans in midterm polling) he would be throwing them a bone by "promising" to buy oil if and when it tumbled much lower as otherwise US producers would have zero incentive ever to invest even one dollar in growth (or even maintenance) capex…. or so the "best and brightest" progressive thought went. – READ MORE
---
America's Farm Economy Shrinks for 5th Straight Month Under Inflation Strain –The agricultural economy continues to shrink across President Joe Biden's (D) America as inflation burdens the industry.
Creighton University's Rural Mainstreet Economic Index currently sits below the growth neutral score of 50, Black Hills Fox reported Sunday. – READ MORE
---
Home Prices Are Dropping At Fastest Pace Ever Recorded By Key Index – Home prices are falling at a record pace, according to data from S&P Global released Tuesday.
Prices are still up for the year, but the percentage keeps dropping each month. The S&P CoreLogic Case-Shiller Index, which tracks national home prices, reported annual gains at 13% in August, marking a decline from 15.6% in the previous month and the largest plummet in housing costs since the metric was created in 1987. – READ MORE
---
26 Of France's 56 Nuclear Reactors Are Offline For Pipe Corrosion Or Maintenance – Twenty-six of France's 56 nuclear reactors are offline for maintenance or because of corrosion on piping that cools the reactor cores. Fixing the corrosion is taking longer than expected at several reactors, delaying their restart by as much as six weeks, according to regulatory filings and a French nuclear executive familiar with the matter.
Labor unrest is another obstacle. Strikes at 18 reactors owned by EDF SA, France's state-controlled power giant, have delayed their restart by several weeks, threatening the government's plans to have all of them back online by the end of the winter. EDF and union leaders said they reached an agreement Friday on salary increases, ending the strikes. – READ MORE
---
Biden's plan to save student test scores after COVID: Equity, 'culturally relevant' learning – The Biden administration wants to make up the nationwide decline in math and reading skills that U.S. students suffered during the COVID pandemic by spending billions of dollars on programs that advance concepts like "equity" and "culturally relevant" learning that are "linguistically responsive."
The Nation's Report Card said Monday that math and reading scores fell in most states for fourth and eighth graders during the pandemic, which led policymakers to shutter schools for months. The report said those closures led to the largest drops ever recorded for math and noted that math scores fell in every state. – READ MORE
---
State AGs say Fauci, Zuckerberg 'colluded' to kill COVID lab leak theory – Attorneys General in Missouri and Louisiana have compiled several pieces of evidence that they say shows Dr. Anthony Fauci worked directly with Big Tech companies to steer public discussion about COVID-19 and shut down talk about its origin, work that includes direct conversations with Facebook CEO Mark Zuckerberg.
On Friday, a federal judge ruled that Louisiana Attorney General Jeff Landry and Missouri Attorney General Eric Schmitt will get a chance to depose Fauci and other Biden administration officials on these collaborations as their case proceeds. One key fact they want to prove is that Fauci worked with Facebook and others to tamp down talk that the virus originated in a lab in Wuhan, China. – READ MORE
---
Biden admin spending $1M to research how 'misinformation' affects confidence in vaccines – The Biden administration is handing out $1 million in grant funding for research into how "vaccine misinformation" found on social media can affect people's confidence in vaccines.
The Department of Health and Human Services announced the grant opportunity, "Developing a Public Health Tool to Predict the Virality of Vaccine Misinformation Narratives," on Thursday and will send the funds to a single applicant next year. The awardee will use the funds to develop a forecasting model that aims to identify potential misinformation on vaccines and how it will affect people as it spreads on social media. – READ MORE
---
'We Are Not QR Codes:' Alberta Premier Apologizes for Canadian Vaccine Passports, Promises 'Purge' of Database – The new premier of the Canadian province of Alberta, Danielle Smith, has apologized for the government mandating vaccine passports during the coronavirus pandemic, telling the annual United Conservative Party conference "we are not QR codes."
Smith, who is exploring the option to pardon Albertans who were fined or arrested for violating the draconian coronavirus policies, said she hoped to "purge" the database of QR codes. – READ MORE
---
'This Isn't John's Format': Fetterman Campaign Sets Expectations for Debate Disaster – Pennsylvania Democratic Senate candidate John Fetterman's campaign is looking to lower expectations ahead of Tuesday night's debate against Republican Mehmet Oz, telling members of the media that Fetterman is at a disadvantage because of the lingering effects of the stroke he suffered in May and Oz's experience as a television personality.
"We'll admit—this isn't John's format," Fetterman's campaign said in a memo sent to reporters on Monday. "Let's be clear about this match-up: Dr. Oz has been a professional TV personality for the last two decades." – READ MORE
---
The Town That John Fetterman Governed for 12 Years as Mayor Is Still a Hell Hole – Until he became lieutenant governor of Pennsylvania, John Fetterman's only political experience was as mayor of Braddock for a dozen years. Elected after receiving 148 votes — one more than his nearest competitor — Fetterman tried to give the people hope of a better future as he promised a better economy, more jobs, and a renewed spirit.
Braddock was in pretty bad shape when Fetterman became mayor. It was in even worse shape when he left, as Spectator World's Teresa Mull described it. – READ MORE
---