(FREE) PAINE IN THE MORNING: What you need to know this Wednesday – February 15, 2023
Here's what you need to know today, Wednesday – February 15, 2023.
There is also a full, ad-free video podcast of this broadcast available to Paine.TV members HERE.
Learn more about joining our community HERE.
---
Health Concerns Grow as More Toxic Chemicals Revealed on Derailed Ohio Train than First Made Public – The fiery derailment of a train carrying toxic chemicals along the Ohio-Pennsylvania line last week spewed more harmful pollutants into the air, surface soils and water table than originally reported, fresh data made available Monday suggests.
About 50 cars on a Norfolk Southern Railroad train derailed on Feb. 3 while traveling from Illinois to Pennsylvania through the small town of East Palestine, Ohio. – READ MORE
---
Derailed train wasn't classified as hazardous, DeWine says – The East Palestine community continues to recover and still has a lot of questions and concerns about their health as they return back to their homes and normal life following the train derailment.
Tuesday afternoon, Ohio Gov. Mike DeWine was joined by Cabinet officials to try to answer some of those questions about the Feb. 3 train derailment. – READ MORE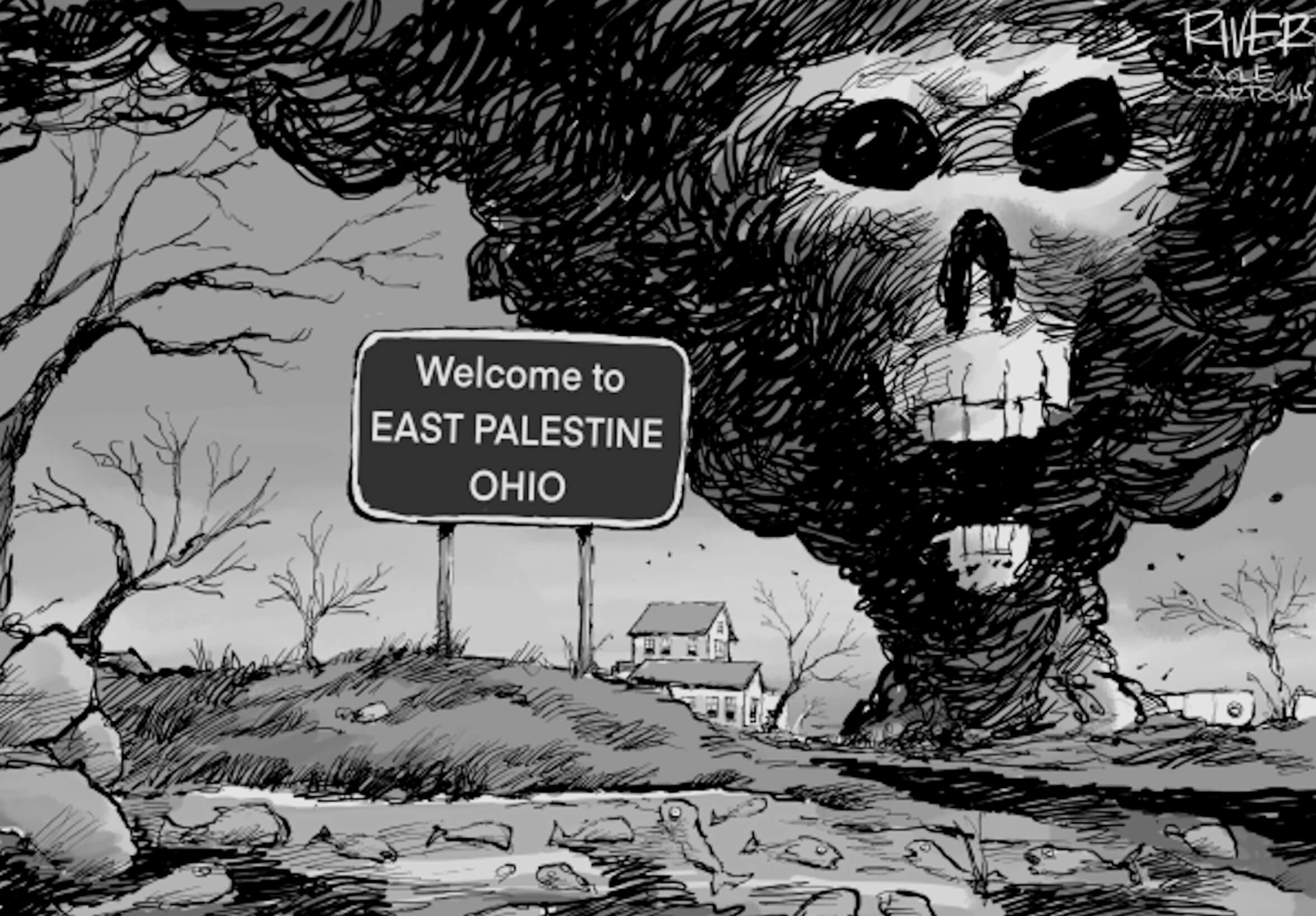 ---
Ohio Train Derailment Cover Up of Contaminated Soil Raises Questions – The Norfolk Southern transport company train derailed near the Ohio town of East Palestine, carrying about 150 cars, 20 of which contained hazardous material.
A huge fire ensued, sparking fears that the crash could ultimately result in a massive explosion that would release noxious gases into the area. – READ MORE
---
Palestine, Ohio train wreck: It's the dioxin – Most coverage of the train wreck in Palestine, Ohio is missing one word: dioxin. There were reportedly 14 tanker cars full of vinyl chloride, a precursor to polyvinyl chloride — that is, vinyl. Burning vinyl is the most serious source of dioxin in the environment — whether from trash incinerators, house fires or chemical spills.
This mess of 14 tanker cars (really, many more, but 14 had vinyl chloride) was then set on fire by the government, apparently to make it easier to clear the railroad tracks. This was the worst possible decision. It has turned many, many miles into no-man's land. – READ MORE
---
Ill-Fated Times Beach, Missouri – Times Beach, Missouri, once a popular stop along Route 66, is now a ghost town and the site of the Route 66 State Park in St. Louis County. Once home to more than 2,000 people, the town was completely evacuated 1983 due to dioxin contamination.
Times Beach was founded in 1925 as a summer resort just prior to Route 66's designation as a federal highway. That year, the St. Louis Star-Times newspaper purchased a triangular parcel wedged between the Meramec River (northeast) and Frisco Railroad tracks (west) near the present Meramec River Bridge. In an effort to boost its lagging subscriptions, the newspaper company subdivided the property into 6,000 lots measuring 20 x 100 feet each and sold single lots with newspaper subscriptions for $67.50. Buyers could purchase the lots with just $10 down and a $2.50 monthly installment. Focusing primarily on St. Louis residents, the investors touted the potential for summer homes just 17 miles away from downtown St. Louis. Times Beach developed as a popular weekend and summer recreational area over the following decade. Prone to flooding, many of the town's first buildings were built on stilts. – READ MORE
---
Green Push is Making Global Power Supply More Vulnerable to Weather – The ever-increasing use of green energy is making the world's power supply more vulnerable to weather, a report on Wednesday has claimed.
A report into the global production and consumption of electricity published by the International Energy Agency has predicted that weather will play an increasingly disruptive role on energy generation across the world as the shift to green energy continues. – READ MORE
---
Without Subsidies, How Many People Will Buy An EV? – Sales of fully electric vehicles (EVs) fell 13.2% in January compared to January 2022, Germany's Motor Transport Authority reports. Sales of hybrids declined 6.2%. This compares to an increase of 3.5% in the number of new gasoline-powered cars sold, and a modest decline of 1.2% for diesel.
The main explanation is the end of Berlin's subsidies for EVs and hybrids at the new year. Until December the subsidy had offered up to €9,000 split between consumer and producer for EVs with a net list price below €40,000. Hybrids in that price range received €6,750. Berlin has ditched the subsidy for hybrids entirely, and cut the payout to €4,500 for EVs below €40,000. – READ MORE
---
Electric Truck Manufacturer Featured in Super Bowl Ad Got $186 Million in Taxpayer Subsidies – Over 100 million people watch the Super Bowl each year, more than any other single broadcast. Commercials that run during the game therefore command a high price: During this week's Super Bowl, a 30-second ad cost between $6 million and $7 million.
One 60-second spot titled "Premature Electrification" humorously addressed concerns about how far electric vehicles (E.V.s) can go between charges. In a parody of a pharmaceutical ad, actor Jason Jones spoke to viewers worried about being "unsatisfied" by an E.V. if it was "unable to last as long as you'd like." The solution: a Ram 1500 REV pickup truck, manufactured by Big Three automaker Stellantis (formerly Fiat Chrysler). – READ MORE
---
'Unparalleled influence' in White House is closer to becoming president than we think, without being elected – Joe Biden's dumpster-fire presidency has taken another disturbing turn amid reports that his wife, Jill Biden, has become the power behind the throne.
The first lady, who has never held elected office, is her husband's "closest and most protective confidante" and is influencing every major decision he makes, according to Bloomberg's Nancy Cook. – READ MORE
---
'Accelerating': Inflation stays hot, surging past investor expectations – Inflation accelerated on a monthly basis in January, surging past investor expectations as prices continue to climb, according to the Bureau of Labor Statistics (BLS).
Prices climbed 0.4% on a monthly basis in January after declining by 0.1% in December, while growing 6.4% on an annualized basis from 6.5% in December, according to the BLS. Inflation shot past economists' expectations, with a Dow Jones poll predicting a 0.4% monthly increase and 6.2% annual hike, CNBC reported. – READ MORE
---
Gen. Milley Confirms 1st Missile Fired At UFO "Missed… Landed Harmlessly" In Lake Huron – In a news conference, Joint Chiefs of Staffs Chairman Mark Milley confirmed anonymously sourced reports that emerged on Monday that the first missile did not make it to its intended target.
The missile "landed harmlessly" in the waters of Lake Huron, he said. But, "Yes, the first shot missed," he stated. – READ MORE