(FREE) PAINE IN THE MORNING: What you need to know this Thursday – October 13, 2022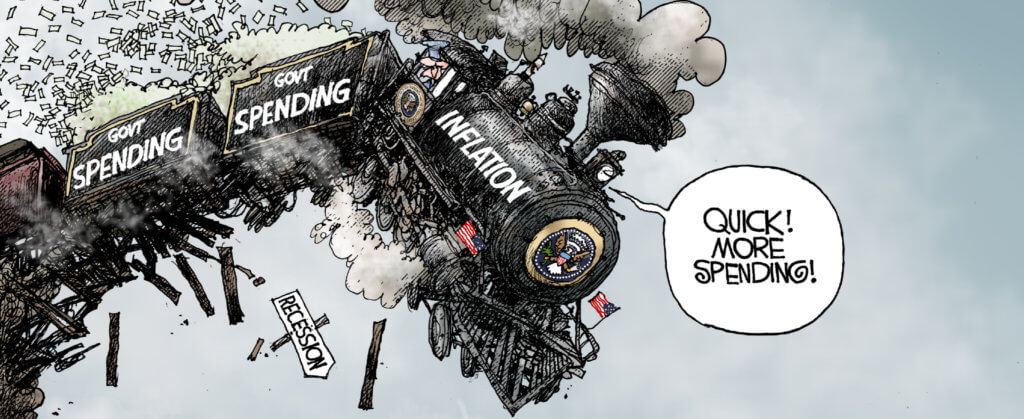 Here's what you need to know today, Thursday – October 13, 2022.
There is also a full, ad-free video podcast of this broadcast available to Paine.TV members HERE.
Learn more about joining our community HERE.
---
Biden Says Recession Possible But "Very Slight", Believes He Can Beat Trump Again – With the NYT engaging in pre-emptive damage control, calling Biden's demented torrent of fabrications and lies "folklore, with dates that don't quite add up and details that are exaggerated or wrong, the factual edges shaved off to make them more powerful for audiences", and then going so far as comparing Trump with Biden and concluding that "with Biden, people have decided these are not the kind of lies that matter," Mr. Alterman added. "These are the kinds of lies that people's grandfathers tell", you knew that something epic was about to come out of Biden's mouth.
And that's precisely what happened late on Tuesday, when Joe Biden spoke to CNN and said that a recession in the US is possible but that any downturn would be "very slight" (why note even "transitory") and that the US economy is resilient enough to ride out the turbulence. – READ MORE
---
Derailed: Major Railroad Union Rejects Biden Admin's Negotiated Labor Deal, Putting Nationwide Strike Back On The Table – A major rail union rejected the labor deal brokered by the Biden administration, renewing the possibility of a nationwide strike.
The Brotherhood of Maintenance of Way Employes Division of the Teamsters (BMWED), which represents nearly 12,000 railroad workers, rejected a tentative agreement between railroaders and Class I freight railroads Tuesday, less than a month after the White House negotiated the deal at the last minute. If an agreement is not voted on soon, the union could go on strike, paralyzing the supply chain just in time for the peak holiday season. – READ MORE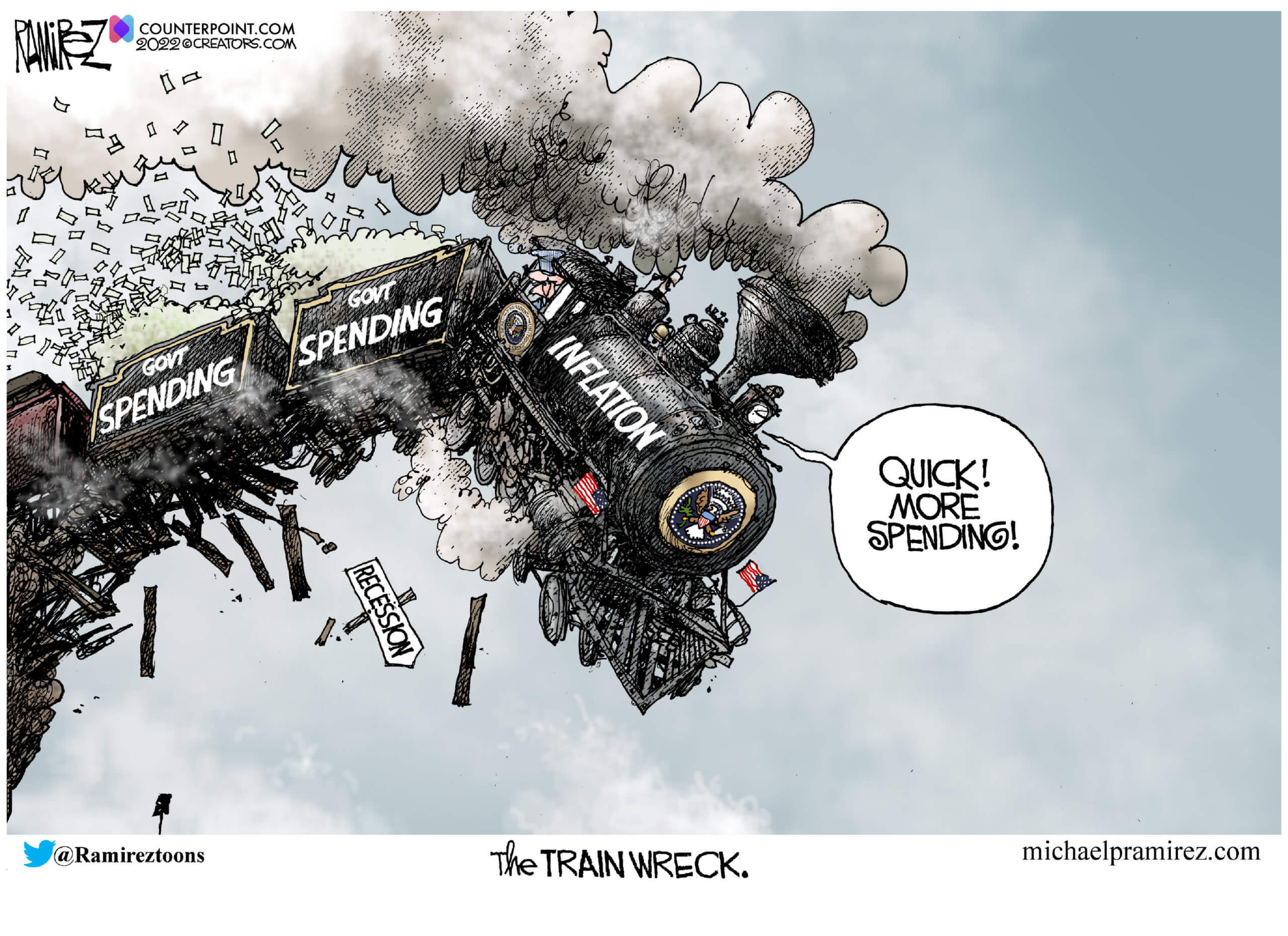 ---
Diesel Back Above $5, Gas Prices Continue To Rise As "Ugly Inflation" Returns –Gas prices again are on the rise in the United States after months of volatility, and are expected to increase further over the next few weeks as "ugly" inflation returns, industry experts have said.
Patrick De Haan, senior energy analyst at Gas Buddy, noted in a statement on Twitter late Sunday that gas prices are up $0.133 a gallon from a week ago, to $3.92. Diesel prices have also surged over $5, De Haan said, up $0.18 a gallon, to $5.05. – READ MORE
---
French Gas Rationing Begins As Refinery Strikes Worsen After Government Calls Back Essential Workers – France said on Tuesday that it would "requisition" (i.e. force) essential workers to staff Exxon's French oil depot, and threatened to do the same for Total's French refineries if talks failed to progress. But workers at Total's Donges refinery decided on Tuesday to strike beginning on Wednesday, the militant French union CGT said according to Reuters.
As OilPrice notes, French Prime Minister Elisabeth Borne said on Tuesday that the government would start the callback process for ExxonMobil's staff at its oil depots in the country after talks between the oil company and two unions, CGT and FO, stalled. The CFDT union, however, managed on Monday to reach an agreement with Exxon. – READ MORE
---
PepsiCo's Average Product Prices Spike 17% Year-Over-Year – While the Fed sits around and rearranges numbers, equations and definitions to try and couch what is obviously an ugly inflationary picture for the country, at least one company is giving it to people straight: PepsiCo.
The company reported earnings this morning, posting a 9% rise in its Q3 sales and offering up increased guidance as it keeps raising prices on both snacks and its flagship beverages. – READ MORE
---
The U.S. Government Developed A Key Green Technology. The Biden Admin Gave It To China. –  The Department of Energy's Inspector General is reviewing why the Joe Biden administration gave promising battery technology, developed by taxpayer dollars, to a Chinese company instead of making the batteries in the U.S.
China is now reportedly building one of the largest battery grids in the world using the technology, which could store huge amounts of solar energy without degrading over time or requiring lithium, mitigating a major environmental impact of current green technology that ends up in landfills. – READ MORE
---
South Carolina To Pull Final $200 Million From 'Leftist' BlackRock By End Of Year – South Carolina State Treasurer Curtis Loftis intends to pull the state's remaining $200 million of holdings in asset management company BlackRock by the end of the year.
Loftis is the latest of several conservative state officials to argue that environmental, social, and governance (ESG) investing represents an advancement of values not held by his constituents. "I will not allow our financial partners to undermine my fiduciary responsibility to maximize investment returns while accepting a prudent level of risk for the benefit of our citizens," he said in a Monday statement to the Washington Examiner. "It is imperative that we stand up to BlackRock and resist the pressure to simply fall into line with their leftist worldview." – READ MORE
---
Millions of PPP Loans Were Flagged as Potentially Fraudulent. Many Were Never Investigated. – If the protesters who clashed with police and smashed their way through the U.S. Capitol on January 6, 2021, truly wanted to "stop the steal," perhaps their ire should have been directed a few blocks south.
While the chaos was unfolding at the Capitol, bureaucrats at the Small Business Administration (SBA)—three blocks away—were also apparently quite busy. According to a new report, some 1.8 million "flags" applied to loans issued as part of the Paycheck Protection Program (PPP) that indicated the loans might be fraudulent or otherwise incorrectly awarded were mass deleted from files on January 6. – READ MORE
---
A California Law Designed To Protect Children's Digital Privacy Could Lead to Invasive Age Verification – The California Age-Appropriate Design Code Act was signed last month by California Gov. Gavin Newsom (D). The law requires that online businesses create robust privacy protections for users under 18.
However, critics of the law have raised concerns about its vague language, which leaves unclear what kinds of business might be subject to the law's constraints and what specific actions companies must take to comply with the law. – READ MORE
---