(FREE) PAINE IN THE MORNING: What you need to know this Thursday – July 7, 2022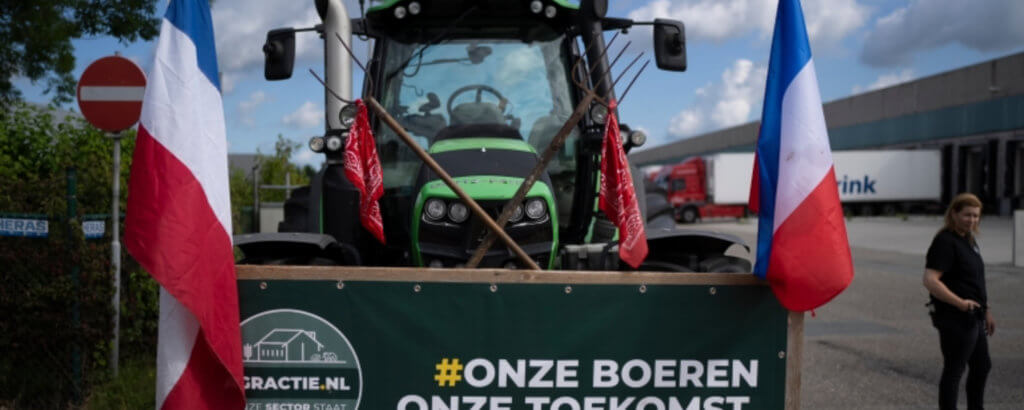 There is also a full, ad-free video podcast of this broadcast available to Paine.TV members HERE.
Learn more about joining our community HERE.
---
Revolt! Farmers get tough against climate rules threatening livelihoods – Dutch farmers used tractors to block roads and supermarket distribution networks to protest government-mandated emissions reductions that threaten their livelihoods on Monday.
Over forty thousand farmers have taken to the streets in recent weeks to protest climate-related regulations that the Dutch ruling coalition itself concedes would force upwards of 30% of farmers out of business, DW reported. Farmers have dumped hay bales on roads, left manure outside government officials' homes and blocked highways and other critical infrastructure to protest the regulations, The Associated Press reported. – READ MORE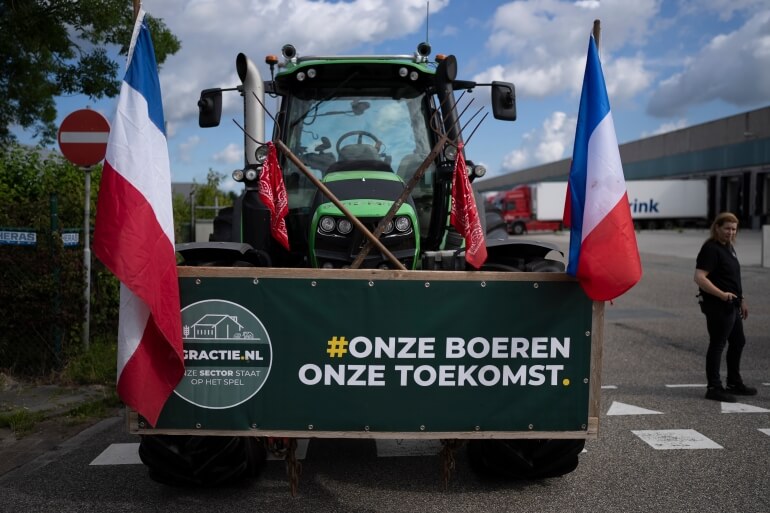 ---
Food-supply update: Arrest made after 1,000-animal death wave rocks small U.S. county – After a long string of unusual fires, explosions and disasters at food production plants, ranches and farms across the United States, it is good to see someone arrested and charged in one case of mayhem involving our food chain.
The story comes from Sac County, a small, rural county in western Iowa, about an hour east of Sioux City, where the sheriff's office was called about an unusual number of dead hogs. – READ MORE
---
Stunning Amount Of Oil Released By Biden Found Its Way To China, Other Countries – Millions of barrels of oil President Joe Biden released from the United States' Strategic Petroleum Reserve found their way to European and Asian nations, including China, according to a Tuesday report from Reuters.
Biden has frequently touted the release of one million barrels of oil per day as an "unprecedented" move to "provide a historic amount of supply" as Americans face surging prices at the pumps. Indeed, the national average price of gas in the United States is currently $4.80 per gallon, according to AAA, with the national average temporarily surpassing $5.00 per gallon last month. – READ MORE
---
Power Companies Face Transformer Shortage Ahead Of Hurricanes And Wildfires – Power-grid operators across the US recently warned about the increasing risks of electricity shortages and the potential need to implement rolling blackouts for grid stability this summer. According to a Reuters report, utilities are sounding the alarm about a transformer shortage.
Utility operators are stocking up on transformers, distribution lines, and poles, though many have one similar issue: sourcing has become challenging, and this is all happening as hurricane season has begun on the East Coast and heatwaves and fires scorch the West. – READ MORE
---
Job Openings Plunge By Most Since Covid Crash, Remain Stubbornly High: Nearly 2 Openings For Every Unemployed Worker – After recent reports that the US labor market had suddenly hit a brick wall, with mass layoffs surging…
… and job openings according to third-party trackers such as Revello showing that total job postings plunged by 22.5%, the biggest change on record… – READ MORE
---
From Today, All New Vehicles In The EU Will Have Surveillance Black Boxes –From today, all new vehicles sold in the EU will have mandatory black boxes fitted that record technical data and will be accessible by authorities, greasing the skids for surveillance-powered speed limiting technology.
While for the time being, drivers can opt-out of using the feature, privacy advocates fear the technology will become mandatory once it is properly rolled out. – READ MORE
---
PA Dem Pushed COVID Lockdowns During Taxpayer-Funded Jersey Shore Vacay, Records Show – Pennsylvania lieutenant governor John Fetterman (D.) took a taxpayer-funded security detail on a family vacation to the Jersey Shore while publicly advocating strict coronavirus lockdowns.
Pennsylvania state police spent $3,500 for overtime, food, and lodging during Fetterman's trip to Ocean City, N.J., from June 24-27, 2020, according to records obtained by the Washington Free Beacon. Fetterman, the Democratic Senate nominee for Pennsylvania, made the trip amid a surge of cases in both New Jersey and Pennsylvania. The Pennsylvania Department of Health warned at the time against nonessential travel. New Jersey's governor threatened to crack down on Jersey Shore revelers because of a spike in cases there two days before Fetterman's junket. – READ MORE
---
San Diego Loses 22% Of Its Police Force Due To Vax Mandates – San Diego is witnessing the largest exodus of police officers from the city since 2009 and the majority of them are quitting because of the city's continued obsession with covid vaccine mandates.
Perhaps the smartest move the people of Los Angeles County ever made was to elect Sheriff Alex Villanueva, who refused to enforce unconstitutional vax mandates. The decision probably saved them from losing a quarter or more of their law enforcement officers within the sheriff's department. – READ MORE
---
Teachers Union To Vote On Mandatory Masking, Enemies List, Rejecting Words 'Mother' And 'Father' – The National Education Association's (NEA) annual conference is underway, and the teachers union is voting on calling for a national policy of mandatory masking, creating an enemies list, and rejecting the words "mother" and "father."
The Chicago conference is chock-full of woke agenda items and progressive language involving issues that would seem to have little to do with the proper education of the nation's children. The unabashedly leftist organization doesn't even seem to recognize its own heterosexual male membership, at least according to one measure in circulation. – READ MORE
---
Shocking Number Of 10-Year-Olds Are Unable To Read, Report Says – Roughly 70% of 10-year-olds in low and middle-income countries cannot read following school lockdowns, according to the World Bank, while American children of the same age are experiencing similar issues.
A report released by the international financial institution and other entities last month found most 10-year-olds in those nations are "unable to understand a simple written text" — a sharp increase from 57% before COVID led governments around the world to shutter schools. – READ MORE
---
We're Witnessing A Stunning Breakdown Of Law & Order, And The Overwhelmed Police Seem Powerless To Stop It – This country is not the same place that it was ten years ago. In fact, it is not even close to the same place that it was five years ago.
Violent crime is out of control in many of our major cities, and there aren't enough police to handle it all. So in many cases a police officer literally never shows up when someone reports a serious crime. Unfortunately, the number of serious crimes just keeps going up. In 2020, we witnessed the worst spike in violent crime in U.S. history, but 2021 was supposed to be a year when rates of violent crime started going back down. – READ MORE
---