(FREE) PAINE IN THE MORNING: 8 things you need to know this Tuesday – May 17, 2022
There is also a full, ad-free video podcast of this broadcast available to Paine.TV members HERE.
Learn more about joining our community HERE.
---
States must pre-emptively nullify any WHO international pandemic regulations –Any Republican running for any office this year without mentioning his intent to fight the global pandemic treaty or regulations may as well run as a Democrat. In the past, odious global agreements threatened our national sovereignty. This one will quite literally abrogate our individual sovereignty as human beings and make us all lab rats in the hands of wicked global elite oligarchs.
On May 22, the World Health Assembly, the governing body of the World Health Organization, will meet in Geneva, Switzerland, to discuss the next step in its nefarious pandemic treaty and the quest to use "public health" to expand the WHO's power over sovereign states. Representatives from 193 nations, including the U.S, will be attending. Interestingly, the only country not invited is Taiwan, of course, at the behest of its Chinese puppet masters. What is the nature of this pandemic treaty agenda? – READ MORE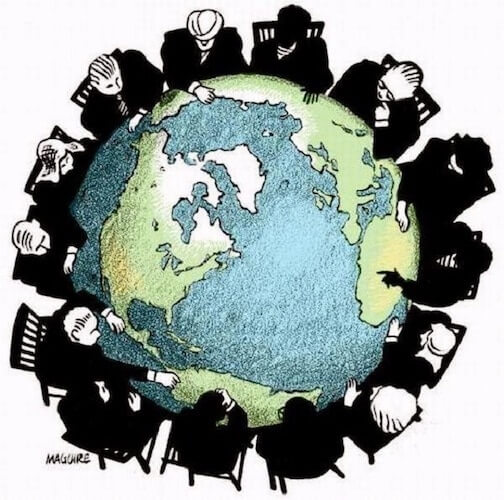 ---
Great Reset: World Economic Forum Pushes Cashless Society Central Bank Digital Currencies – The globalist architects of the Great Reset at the World Economic Forum have thrown their weight behind the concept of Central Bank Digital Currencies, claiming that state-controlled cryptocurrencies will "revolutionize" the future of finance.
Just days before its annual meeting in Davos, in which elites from enterprise and government descend upon the Swiss ski resort town, the World Economic Forum (WEF) has released a list of technologies that it believes will "change the world by 2027", including such New World Order staples as the Metaverse and so-called green energy. – READ MORE
---
Leading Pennsylvania Democrat Candidate for U.S. Senate John Fetterman Suffers Stroke  – Pennsylvania Lt. Gov. John Fetterman, the favorite to win the state's Democrat U.S. Senate primary, is recovering after suffering a stroke, according to a statement released by his campaign on Sunday.
"I hadn't been feeling well, but was so focused on the campaign that I ignored the signs and just kept going. On Friday it finally caught up with me," Fetterman said. "I had a stroke that was caused by a clot from my heart being in an A-fib rhythm for too long." – READ MORE
---
Democrat Senator Suffers Stroke While Giving Speech, Expected To Recover – Maryland Democratic Sen. Chris Van Hollen suffered a stroke while delivering a speech over the weekend and is now being treated in a hospital.
The first-term senator, who is up for re-election in November, said he began feeling light-headed while speaking in western Maryland. He saw a doctor shortly afterward and learned he had suffered a stroke. – READ MORE
---
Unvaccinated Air Force cadets may not graduate or be commissioned: 'A violation of their religious freedom' – Four U.S. Air Force Academy cadets may not graduate or be commissioned as officers and may have to repay thousands of dollars in tuition after citing religious reasons for refusing the COVID-19 vaccine, but Chaplain Gordon Klingenschmitt is determined to help their cause.
Klingenschmitt, an Air Force Academy graduate and former U.S. Navy chaplain, told "Fox & Friends First" hosts Ashley Strohmier and Todd Piro Monday that the issue is not about the vaccine, but is instead about the cadets' "religious freedom" and their "First Amendment rights." – READ MORE
---
Biden Admin Knew The Baby Formula Shortage Was Coming In February – The Biden administration knew about the baby formula shortage as early as February, the director of the National Economic Council, Brian Deese, told CNN's "New Day" on Friday morning.
Deese said the administration is working around the clock to tackle the issue from every angle possible, noting the administration is trying to give retailers "more flexibility on the types of formulas that they can sell." Deese did not provide an estimate of how long the administration anticipates the shortage will last, but urged families to call their healthcare provider if they need help. – READ MORE
---
Biden Drops Billions on Bike Lanes, Speed Cameras – The Biden administration announced Monday that it will spend $5 billion over the next five years to construct bicycle lanes, speed cameras, and other local infrastructure to promote roadway safety.
The initiative, spearheaded by Transportation Secretary Pete Buttigieg, is funded by the $1 trillion infrastructure package that President Joe Biden signed in November. Under the program, communities and local governments can apply for federal funding to "help them ensure safe streets and roads for all and address the national roadway safety crisis."- READ MORE
---
European Natural Gas Prices To Triple In "Perfect Storm" – A top commodity research firm in Norway warns a "perfect storm" is brewing as European energy security worsens following Russia's invasion of Ukraine, which could result in the tripling of natural gas prices.
"There simply is not enough LNG around to meet demand. In the short term, this will make for a hard winter in Europe.
"For producers, it suggests the next LNG boom is here, but it will arrive too late to meet the sharp spike in demand. The stage is set for a sustained supply deficit, high prices, extreme volatility, bullish markets, and heightened LNG geopolitics," Kaushal Ramesh, a senior analyst for Gas and LNG at Rystad Energy, wrote. – READ MORE
---
Saudi oil giant Aramco reported record first-quarter profits as oil prices soar around the globe – The Saudi Arabian oil giant Aramco reported more than an 80% jump in net profit on Sunday setting a new quarterly earnings record for the company.
The oil producing behemoth said that its net income rose 82% to $39.5 billion in the first three months of 2022. CNBC reported that this is up from $21.7 billion over the same period in 2021. – READ MORE
---
"You've Been Flagged As A Threat": Predictive AI Technology Puts A Target On Your Back – You've been flagged as a threat.
Before long, every household in America will be similarly flagged and assigned a threat score.
Without having ever knowingly committed a crime or been convicted of one, you and your fellow citizens have likely been assessed for behaviors the government might consider devious, dangerous or concerning; assigned a threat score based on your associations, activities and viewpoints; and catalogued in a government database according to how you should be approached by police and other government agencies based on your particular threat level. – READ MORE
---