(FREE) PAINE IN THE MORNING: 8 things you need to know this Friday – May 13, 2022

There is also a full, ad-free video podcast of this broadcast available to Paine.TV members HERE.
Learn more about joining our community HERE.
---
Biden Just Made a Move That Will Likely Push Gas Prices Even Higher – President Joe Biden on Thursday canceled three large domestic oil and gas lease sales days after U.S. fuel prices hit an all-time high.
Biden's Interior Department, which was tasked with vetting a drilling lease in Cook Inlet, Alaska, cited a "lack of industry interest" when it announced the decision. The department scrapped two other leases in the Gulf of Mexico, saying it would cancel them because of "conflicting court rulings." In addition, the Biden administration plans to let all other offshore drilling leases expire next month. – READ MORE
---
Pelosi Pushes Democratic Bill That Would Give Biden Power To Control Gas Prices –  House Speaker Nancy Pelosi (D-CA) blamed the continued record surge in gas prices on "exploitation" by oil companies, and touted a bill that would essentially allow the president to control prices.
During her weekly press briefing, Pelosi touted a Democrat-backed bill called the "Consumer Fuel Price Gouging Prevention Act," which would allow the president to declare an "energy emergency" giving him the ability to regulate prices by preventing fuel companies from selling their products at prices deemed to be "unconscionably excessive" and "exploiting" such an emergency. – READ MORE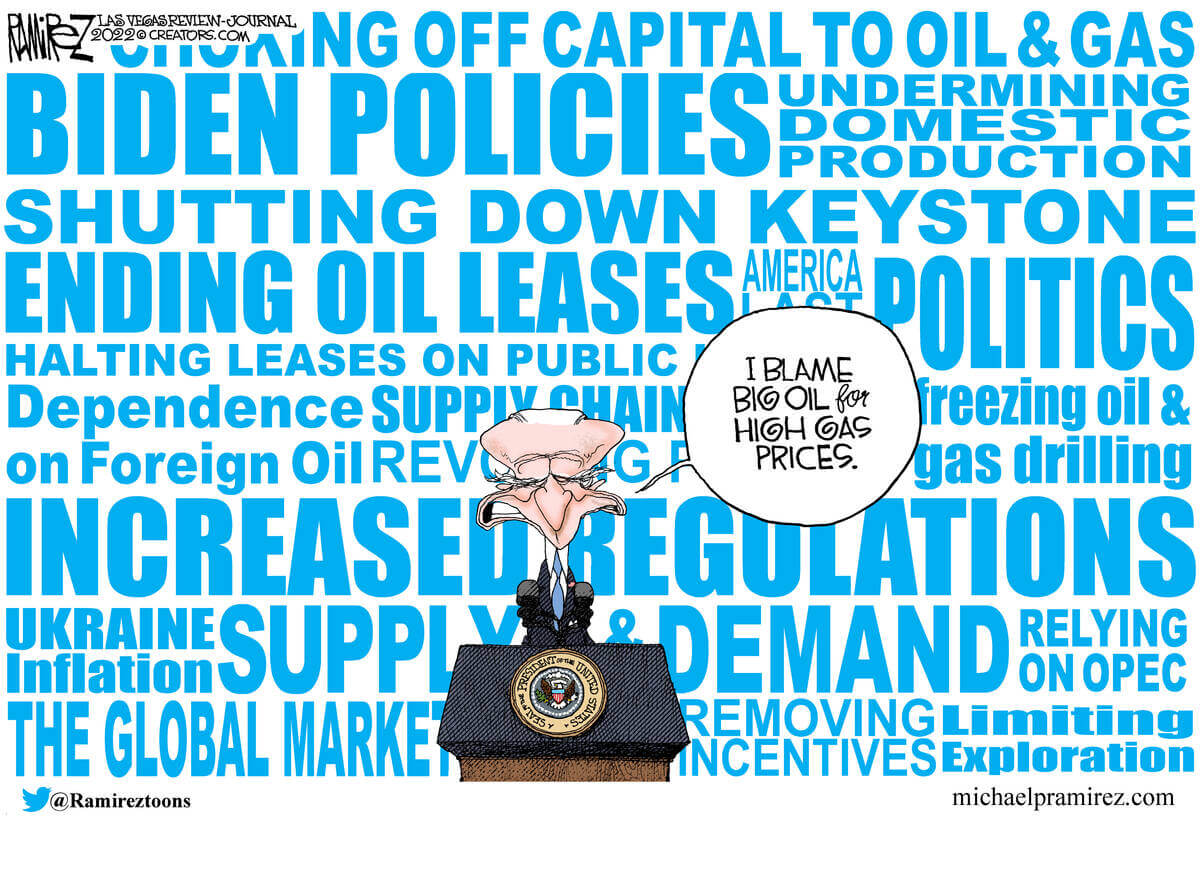 ---
Agriculture Secretary: 61,670 Farm Families in America Today…Are on the Brink' – President Biden plans to visit a family farm in Kankakee, Illinois today, along with Agriculture Secretary Tom Vilsak, to discuss the global rise in food prices, as the war in "breadbasket" Ukraine is contributing to shortages.
Here at home, family farmers are suffering because of inflation — rising fuel prices, fertilizer prices, equipment and other farming necessities. – READ MORE
---
The Growing List Of US Companies Laying People Off – As the economy continues to grind to a halt and inflation continues to run rampant, U.S. businesses are starting to realize the obvious – that they are stretched too thin financially – and are starting to cut unnecessary fat from their respective organizations.
So much for "building back better"…
In fact, layoffs are now "sweeping across American businesses," according to a new report from Insider, who recently ran down a list of the U.S. companies that have begun hacking away at their respective labor forces. – READ MORE
---
ABC News analysis: COVID deaths rising among vaccinated – An analysis by ABC News of federal data found that a growing proportion of COVID-19 deaths are occurring among the vaccinated.
Meanwhile, the Wall Street Journal reported that areas of the country with the highest vaccination rates, such as Northern New England states, "are coping with elevated cases and hospitalizations as the latest highly contagious iterations of the virus circulate." – READ MORE
---
Garland Perjury? FBI Whistleblowers Say Parents Investigated With Counterterrorism "Threat Tag" – An FBI whistleblower has revealed that 'dozens' of investigations into parents voicing their opposition to topics ranging from Critical Race Theory to mask mandates were investigated using a "threat tag" created by the agency's counterterrorism division – directly contradicting Attorney General Merrick Garland's 2021 testimony denying that the Department of Justice had been weaponized.
According to a letter from Rep. Jim Jordan (R-OH) and Mike Johnson (R-LA), "We now have evidence that contrary to your testimony, the Federal Bureau of Investigation has labeled at least dozens of investigations into parents with a threat tag created by the FBI's Counterterrorism Division to assess and track investigations related to school boards. – READ MORE
---
Jan. 6 Prosecutors Threatened Oath Keepers With Life Sentences, Raised Treason Analogy – Members of the Oath Keepers charged with seditious conspiracy were told they could face life in prison, according to a letter discussing plea deal negotiations obtained by The Epoch Times.
Nine members charged with conspiracy were told that a lack of recommended sentencing for the charge means the court would apply the sentencing guidelines for the most analogous charge. – READ MORE
---