(FREE) PAINE IN THE MORNING: 11 things you need to know this Wednesday – August 18, 2021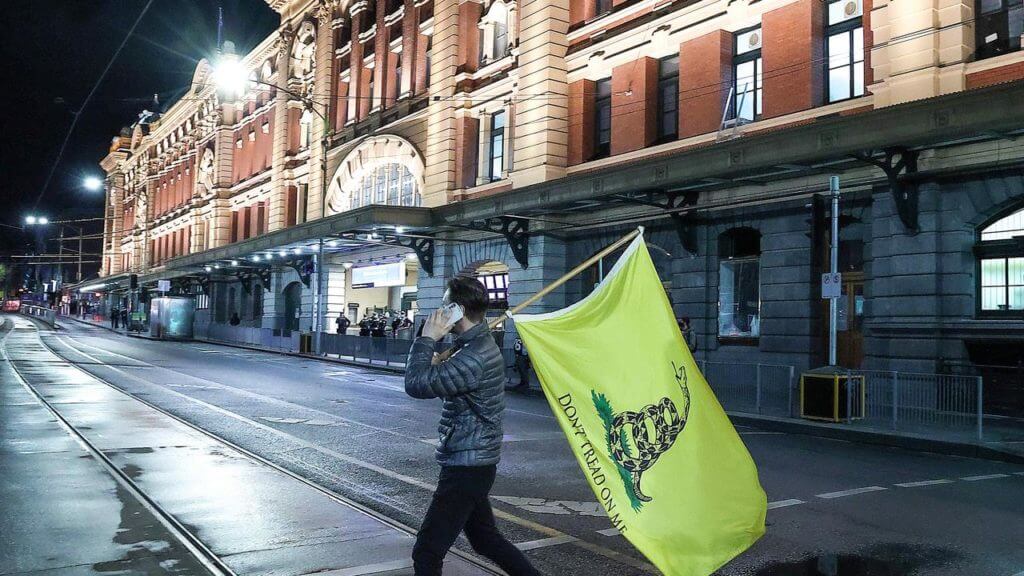 There is also a full, ad-free video podcast of this broadcast available to Paine.TV members HERE.
Learn more about joining our community HERE.
---
Mask Mandates Fail in California's Bay Area as Coronavirus Hospitalizations Match 2020 Summer High – Coronavirus hospitalizations have matched the 2020 summer high in California's Bay Area, despite the area re-imposing mask mandates — even among vaccinated individuals — this month.
ABC 7's Bay Area COVID-19 Tracker shows the Bay Area's case peak exceeding the figures seen in the summer of 2020, despite a year of mitigation measures and strategies, including the recent reimplementation of mask mandates. – READ MORE
---
NYC to Impose Up to $2,000 Fines on Businesses Serving the Unvaccinated – Businesses that fail to comply with New York City's mandate requiring them to discriminate against unvaccinated individuals by denying entry will face up to $2,000 in fines, Mayor Bill de Blasio (D) announced Monday.
Mayor Bill de Blasio (D) announced the Key to NYC Pass this month, bragging about cutting off Americans from everyday activities. – READ MORE
---
Hawaii Lt. Gov. Threatens Lockdown in 2-4 Weeks, Blames Unvaccinated Residents – Hawaii's Lieutenant Governor Josh Green (D) is threatening another round of economic and travel restrictions, supposedly to prevent the spread of coronavirus — blaming the authoritarian measure on residents of the island who are not vaccinated against the disease.
"I say we are two to four weeks at this rate from seeing major adjustments in what we're able to do," Green stated. – READ MORE
---
New Zealand to enter nationwide lockdown after single coronavirus case found – New Zealand's government took drastic action Tuesday by putting the entire nation into a strict lockdown for at least three days after finding a single case of coronavirus infection in the community.
Prime Minister Jacinda Ardern invoked some of the stirring rhetoric she used early in the pandemic by urging the "team of 5 million" — New Zealand's population — to go hard and early in trying to eliminate the latest outbreak. – READ MORE
---
'Unprecedented' Police Operation Underway in Sydney to Enforce COVID Restrictions – New South Wales (NSW) Police have issued nearly 600 infringement notices, or fines, on individuals found breaching public health orders on the first day of a three-week crackdown on COVID-19 non-compliance. – READ MORE
---
Ohio high school football game canceled because of COVID … despite zero positive tests –An Ohio high school has canceled its season opener this week after numerous players were exposed to a positive case of COVID-19.
"It is very disappointing we will not be opening our 2021 season this Friday," a statement from Lebanon Schools reads, per Cleveland.com. "Our heart goes out first and foremost to all of the Lebanon and Springboro student-athletes who have been through so much since the pandemic began and worked so hard under difficult circumstances to prepare themselves to perform." – READ MORE
---
Report: OPEC Snubs Biden, Rejects Plea for More Oil – The Biden administration's plea for more oil production has been rejected by OPEC and its allies, including Russia, according to Reuters.
The group of big oil producers believe oil markets do not need more oil than they plan to release in the coming months, Reuters reported. – READ MORE
---
Reported mastermind behind Taliban takeover released from Guantanamo Bay by Obama in Bergdahl prisoner swap – A Taliban leader who reportedly helped orchestrate the group's takeover of Afghanistan was released by former President Barack Obama in exchange for former U.S. Army Sgt. Bowe Bergdahl in 2014.
Khairullah Khairkhwa, who previously served as the Taliban's interior minister in Afghanistan, was arrested after the terrorist attacks on 9/11 and was held at Guantanamo Bay from 2002 to 2014. Pentagon officials accused Khairkhwa of ​​being a close associate of Usama bin Laden and deemed him too dangerous to be released. – READ MORE
---
U.S. Government to Americans Trapped in Afghanistan: We 'Cannot Guarantee Your Security' – The U.S. government sent a notice to Americans trying to escape Afghanistan after a rapid takeover by the Taliban over the weekend, telling them to make their way to the airport in Kabul, but that it could not guarantee their security on the way there.
A congressional aide told CBS News there were no partners left in Afghanistan to safely get the 10- to 15,000 Americans trapped around the country to the capital of Kabul. – READ MORE
---
Yes, You are in a COVID-19 Vaccine Database – Just like with anything else, you learn a lot when you read the small print.
I was recently doing some research on Michigan's Vaccine Lottery called "MI Shot to Win" Sweepstakes where people who got the COVID-19 vaccination on December 1, 2020 or later could be entered into the contest. – READ MORE
---
What's Inside Democrats' 'For the People' Bill – Sen. Chuck Schumer (D-N.Y.) indicated before Congress went on recess that Sen. Jeff Merkley's (D-Ore.) election reform "For the People" Act would be the top priority for congressional Democrats upon their return. This comes after Sen. Ted Cruz (R-Texas) successfully blocked debate on the bill earlier this month. In the evenly divided Senate, Democrats will have a tough battle to pass the legislation as Republicans stand together in unanimous opposition to the bill. – READ MORE