(FREE) PAINE IN THE MORNING: 11 things you need to know this Thursday – August 5, 2021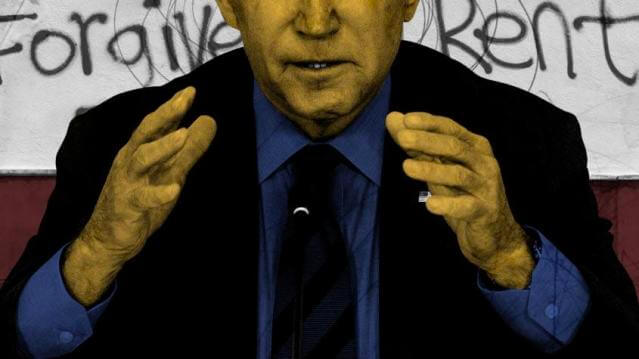 There is also a full, ad-free video podcast of this broadcast available to Paine.TV members HERE.
Learn more about joining our community HERE.
---
Biden Reinstates Ban On Evicting Renters; Threatens Landlords With Jail Time, Up To $250k Fines – President Joe Biden reversed himself Tuesday, reinstating a ban on evicting renters who are behind on rent payments despite potential legal challenges.
Last week, Biden called on Congress to put legislation on his desk that would have extended a federal moratorium against evictions. House Speaker Nancy Pelosi (D) and other top Democrats failed to wrangle the votes necessary in the lower chamber, however, after a number of their caucus' moderate members rebelled. – READ MORE
---
Fauci: Biden Admin 'Going to Need Local Mandates' on COVID-19 Vaccines – Dr. Anthony Fauci, one of the White House COVID-19 advisors, on Tuesday shifted the goalposts on herd immunity and said that he wants to see as many as 90 percent of American adults vaccinated against the virus in the near future. – READ MORE
---
Report: Biden Planning to Give Johnson & Johnson Vaccine to Border Crossers – President Joe Biden's administration is planning to give the Johnson & Johnson coronavirus vaccine to border crossers who arrive at the United States-Mexico border, sources say.
Department of Homeland Security (DHS) officials who spoke anonymously to the Washington Post revealed that the Biden administration is considering an unfinalized plan that will offer the Johnson & Johnson vaccine to border crossers before they are released into the U.S. interior.- READ MORE
---
Texas border city says more than 7,000 COVID-positive migrants released since February, 1,500 in last week – The Texas border city of McAllen says more than 7,000 COVID-positive migrants have been released into the city since February, and more than 1,500 in the past week — the latest example of growing concern about the potential impact of the border crisis on efforts to control COVID-19 in the U.S.
In a statement announcing the building of new temporary shelters to deal with a "rapidly escalating" surge of immigrants being released into the border city, McAllen warned of the release of thousands of migrants with COVID-19. – READ MORE
---
Former Obama Official Demands 'a No-Fly List for Unvaccinated Adults' – Former Assistant Secretary for Homeland Security under President Obama Juliette Kayyem called Tuesday for the Biden administration to restrict the unvaccinated from flying by placing them on a no-fly list.
Kayyem claimed in the Atlantic that "a no-fly list for unvaccinated adults is an obvious step that the federal government should take" due to TSA PreCheck, which "divide[s] passengers into categories according to how much of a threat the government thinks they pose." – READ MORE
---
Fired For Refusing COVID-19 Vaccine? You May Not Receive Unemployment Benefits –As companies across the country including Facebook, Walmart, Google, Uber and Disney begin to mandate Covid-19 vaccinations as a condition of employment, workers who are fired for refusing to do so might not receive unemployment benefits, according to WUSA.- READ MORE
---
Vanguard Offers $1,000 To Vaccine Holdouts To Get Jabbed – Late last week, when we were stunned to report that Biden had called on states to bribe vaccine holdouts with a $100 "mini stimmy" to get vaccinated, we said that this infuriatingly perverted incentive would backfire spectacularly, as it would not only set expectations for even higher bribes by authorities and employers, but would also lead to far lower vaccination rates as the hesitant waited for ever higher sums of money to get the jab.
Sure enough, just one day later, we also reported that Walmart had upped the ante and was offering $150 for staff to get the covid vaccine – which we now know does nothing to prevent the actual spread of the virus and is therefore not a "social good" but merely minimizes the risk of hospitalization – and we concluded that "the bribes are increasing right on schedule. In 1 month, holdouts should get 4 digits." – READ MORE
---
Senate Infrastructure Bill Gives Feds Go-Ahead to Test Taxing Every Mile Americans Drive – Buried in the "Infrastructure Investment and Jobs Act" in the U.S. Senate is approval for the Department of Transportation (DOT) to test a new federal tax on every mile driven by individual Americans. – READ MORE
---
Infrastructure Bill Mandates Drunk-Driver Detectors For New Cars – The $1 trillion infrastructure bill – a bipartisan 2,702-page bill that has been locked in negotiations for months between Democrats and Republicans will mandate all new vehicles must have the technology to detect drunk drivers and alert systems to check backseats before turning off the vehicle. A final vote is likely before next Monday.
Sensors embedded within the vehicle's cabin will track the driver's eye moment and monitor signs of being distracted, impaired, or tired. Bloomberg notes this technology is similar to ones that police officers use when pulling over suspected drunk drivers. – READ MORE
---
Payrolls Disaster? ADP Report Shows Hiring Falling Far Short of Expectations – Has the recovery stalled?
U.S. businesses added just 330,000 jobs in July, according to a report from payroll processing firm ADP Wednesday.
That was less than half of the 680,000 forecast by analysts, according to Econoday. June's estimate was revised down to 680,000 from the initial estimate of 692,000. – READ MORE
---
'For $1/Day'… Double-Blind Ivermectin Study Reveals COVID Patients Recover More Quickly, Are Less Infectious – A double-blind Israeli study has concluded that Ivermectin, an inexpensive anti-parasitic widely used since 1981, reduces both the duration and infectiousness of Covid-19, according to the Jerusalem Post.
The study, conducted by Prof. Eli Schwartz, founder of the Center for Travel Medicine and Tropical Disease at Sheba Medical Center in Tel Hashomer, looked at some 89 eligible volunteers over the age of 18 who had tested positive for coronavirus, and were living in state-run Covid-19 hotels. After being divided into two groups, 50% received ivermectin, and 50% received a placebo. Each patient was given the drug for three days in a row, an hour before eating. – READ MORE