Department of Education Will Launch Investigations Targeting States That Banned Schools From Mandating Masks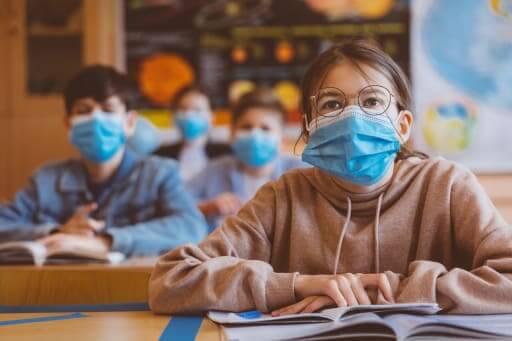 Not everything potentially beneficial should be mandatory and not everything potentially harmful should be banned. And not every dispute about costs and benefits should be decided by the federal government.
The debate over whether masks will be mandated or banned in public schools will apparently be settled—like a depressing number of issues these days—with the hammer of federal authority.
The Department of Education announced Monday that it would launch civil rights investigations into five states whose governors have banned school districts from imposing mask mandates on students and teachers. The department's Office for Civil Rights says those mandates might "discriminate against students with disabilities who are at heightened risk for severe illness from COVID-19 by preventing them from safely accessing in-person education." So the department sent letters to education officials in Iowa, Oklahoma, South Carolina, Tennessee, and Utah, explaining that prohibiting mask mandates "may be preventing schools…from meeting their legal obligations not to discriminate based on disability."
That is quite a stretch—and yet another pandemic-induced opportunity for the federal government to extend its control over decision-making that has always been left to state and local governments.
In a statement, Secretary of Education Miguel Cardona claimed that his department has the authority to launch these investigations under Section 504 of the Rehabilitation Act of 1973, which prohibits discrimination against people with disabilities in programs that receive federal funding. But, as Reason's Jacob Sullum explained last week, this interpretation of the Rehabilitation Act effectively upgrades the Center for Disease Control's "guidelines" for schools into mandates with the force of law. The legal argument at the basis of these new investigations presupposes that public health officials, working in conjunction with federal education officials, can override decisions made by the heads of America's 13,800-plus school districts. – READ MORE