CEOs Are Quitting Their Jobs At The Fastest Pace On Record
It's not just ordinary employees who are quitting their jobs at the fastest pace on record, as the latest JOLTs report showed when it revealed that in March the number of quits rose by another 152,000 to a record high of 4.5 million.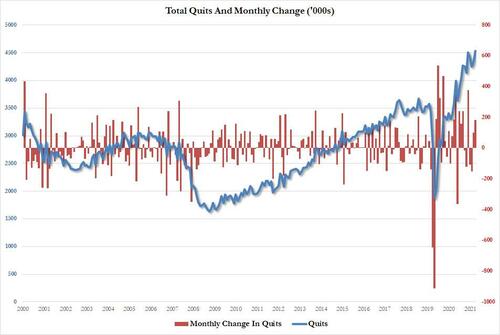 According to Challenger, CEOs are bailing at a record pace as well: in a report published on May 18, business and executive coaching firm Challenger, Gray & Christmas, found that the number of CEO changes at U.S. companies rose 3% to 123 in April from 119 in March.
While that number is 8% lower than the 133 CEO changes announced in the same month in 2021, so far this year, 518 CEOs have left their posts, the highest January-April total since the firm began tracking monthly CEO changes in 2002. The number is up 18% from the 440 CEO exits announced through April last year, and up slightly from the previous high of 513 exits announced in January through April of 2019.

"Many companies are making changes at the top to address rising costs for both business and consumers," said Andrew Challenger, Senior Vice President of Challenger, Gray & Christmas, Inc. – READ MORE