19 Senate Republicans Made 'History' for Joe Biden by Passing Bipartisan So-Called Infrastructure Bill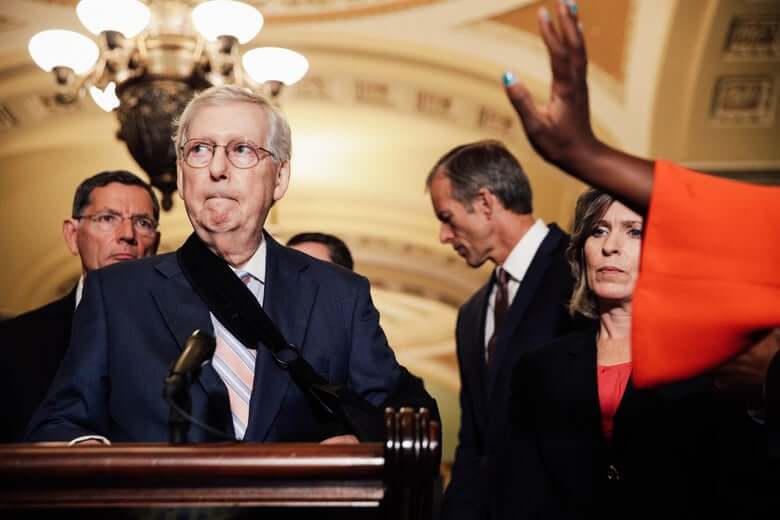 Senate Republicans granted President Joe Biden a significant victory on Tuesday in helping the bipartisan so-called infrastructure bill pass through the Senate.
The Senate passed H.R. 3684, the Infrastructure Investment and Jobs Act, 69-30, which featured overwhelming Democrat support and strong Republican support.
Nineteen Senate Republicans voted for the infrastructure bill. The Senate Republicans that voted with Democrats for the legislation reportedly include:
Dan Sullivan (R-AK)
Shelley Moore Capito (R-WV)
Mike Crapo (R-ID)
Roy Blunt (R-MO)
Richard Burr (R-NC)
Deb Fischer (R-NE)
Lindsey Graham (R-SC)
Rob Portman (R-OH)
Thom Tillis (R-NC)
Lisa Murkowski (R-AK)
Jim Risch (R-ID)
Chuck Grassley (R-IA)
Bill Cassidy (R-LA)
Kevin Cramer (R-ND)
Roger Wicker (R-MS)
Mitch McConnell (R-KY)
John Hoeven (R-ND)
Susan Collins (R-ME)
Mitt Romney (R-UT)
Senate Majority Leader Chuck Schumer (D-NY) said on the Senate floor this bill, passed under Biden, is the first major infrastructure bill in over a decade.
Schumer said the bipartisan bill serves as the "first track" of the "two-track" strategy on infrastructure.
Vice President Kamala Harris presided over the Senate as the chamber passed the bill. – READ MORE