19 Republican Senators Join All Democrats to Pass $1.2 Trillion Infrastructure Bill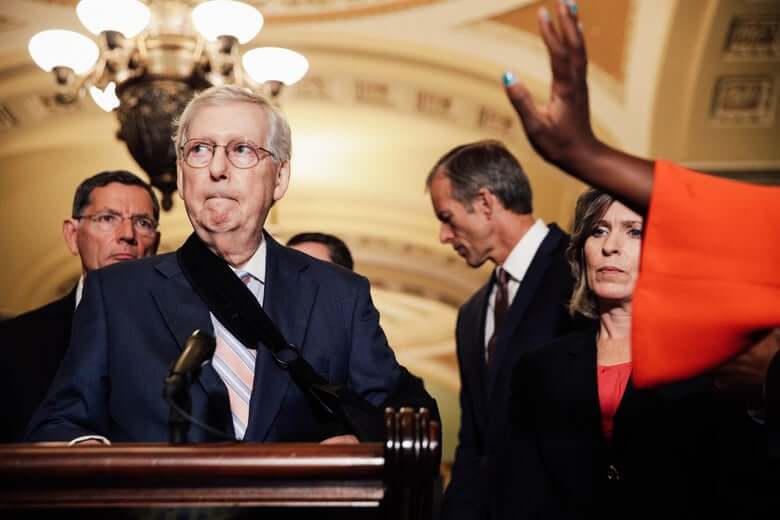 The Senate on Tuesday morning passed the $1.2 trillion White House-backed infrastructure bill after weeks of debate, although it's not clear whether the bill will advance in the Democrat-controlled House.
The measure, called the Infrastructure Investment and Jobs Act, was hashed out by a bipartisan group of senators and President Joe Biden's administration. The bill, which passed 69-30, will include $550 billion in new federal spending over five years.
The 2,700-page-long bill invests $110 billion toward roads, bridges, and major projects; provides some $66 billion to passenger and freight rail; $65 billion to rebuild the electric grid; $65 billion to expand broadband internet lines; $55 billion for water pipes including replacing lead pipes; and more.
"It has taken quite a long time, and there have been detours and everything else, but this will do a whole lot of good for America, and the Senate can be proud it has passed this," Senate Majority Leader Chuck Schumer (D-N.Y.) said about the bill.
While some have described the bill as "bipartisan," several prominent Republicans have vocally opposed it and claimed it would hand a victory to Democrats in Congress ahead of a fraught 2022 midterm election season. Former President Donald Trump again pilloried Senate Minority Leader Mitch McConnell (R-Ky.), who voted in favor of the measure, for giving the bill his blessing while publicly questioning the Kentucky Republican's leadership capacity.
"He is working so hard to give Biden a victory, now they'll go for the big one, including the biggest tax increases in the history of our Country," Trump said in a statement on Tuesday right before senators moved to vote on the bill.
Republicans who supported the infrastructure bill or helped negotiated its passage have said that it is essential to show the GOP can find consensus in passing bipartisan legislation instead of being merely an opposition party.
Others, like Sen. Ted Cruz (R-Texas) and Cynthia Lummis (R-Wyo.), said a provision in the bill would add more regulations on cryptocurrency, potentially destroying the industry.
In a recent speech, Cruz said that "there aren't five senators in this body with any real understanding of how cryptocurrency operates. We have had no hearings on this. And yet, this body is prepared to obliterate an industry willy-nilly." – READ MORE