U.S. Forest Service Takes Responsibility for New Mexico's Largest Wildfire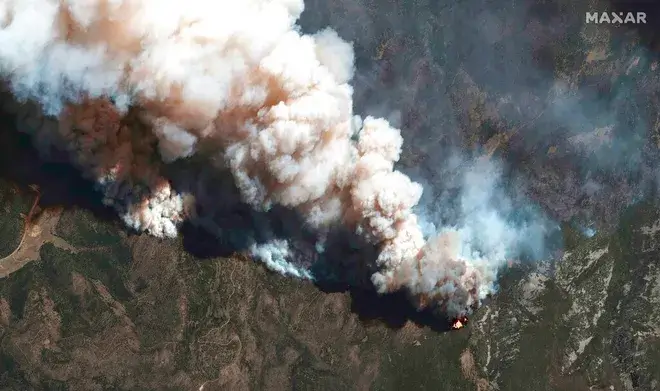 The U.S. Forest Service after an internal investigation took responsibility for two blazes that merged to become New Mexico's largest wildfire .
Forest Service investigators found the agency responsible for igniting a "burn pile" that created the Calf Canyon fire. The agency reportedly thought the "burn pile" was put out, but it reignited on April 19.
Three days later, on April 22, the Calf Canyon fire merged with the Hermit Peak Fire, another Forest Service controlled burn that went out of control. "The intentionally set blazes, known as prescribed burns, are aimed at limiting the accumulation of timber and underbrush that, if left unattended, can fuel extremely hot and destructive wildfires," the Associated Press reported.
The New Mexico wildfire comes after President Joe Biden's administration announced a $50 billion plan in January to "more than double the use of controlled fires and logging to reduce trees and other vegetation that serves as tinder in the most at-risk areas."
With nearly 3,000 firefighters helping, and water-dropping planes and helicopters fighting the blaze, firefighting costs are reportedly more than $132 million, with upwards of $5 million per day in fees. – READ MORE