Illinois Pension Shortfall Surpasses $500 Billion, Average Debt Burden Now $110,000 Per Household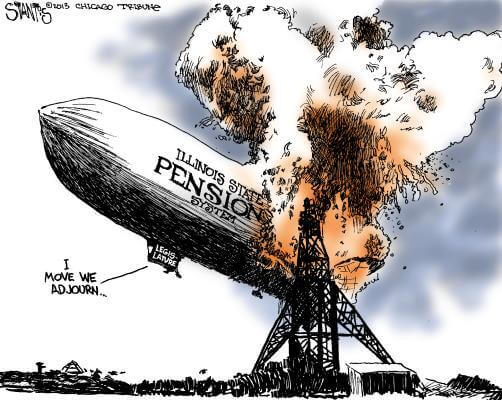 Illinois just reached an alarming milestone: each Illinois household is now on the hook for, on average, $110,000 in government-worker retirement debts. That figure is the result of dividing Illinois' $530 billion in state and local retirement shortfalls among the state's 4.9 million households. In 2019, the burden was $90,000 per household.
Illinois' retirement debts increased to $530 billion in 2020, according to a Wirepoints analysis of Moody's Investors Service debt estimates. This is the first year the credit rating agency's estimates of Illinois' retirement debts, made up of both pension and retiree health shortfalls at the state and local level, have broken $500 billion.
The jump in Illinois' shortfall, up nearly $100 billion compared to 2019, was due largely to the drop in interest rates as a result of the COVID crisis. Illinois' shortfall is expected to remain elevated in 2021 despite the market recovery. (See Appendix B.)
The growth in Illinois' retirement debts to half-a-trillion dollars is yet another grim reminder of how lawmakers' refusal to address the pension crisis does real harm to ordinary residents. These outsized debts have contributed directly to Illinois' other crises, including the state's worst-in-the-nation credit rating, the 2nd-highest property taxes and the nation's 5th-worst decline in real home values.
The pension crisis has also contributed indirectly to a record rate of outmigration and the nation's 2nd-largest population losses since 2010. – READ MORE