(FREE) PAINE IN THE MORNING: What you need to know this Wednesday – November 23, 2022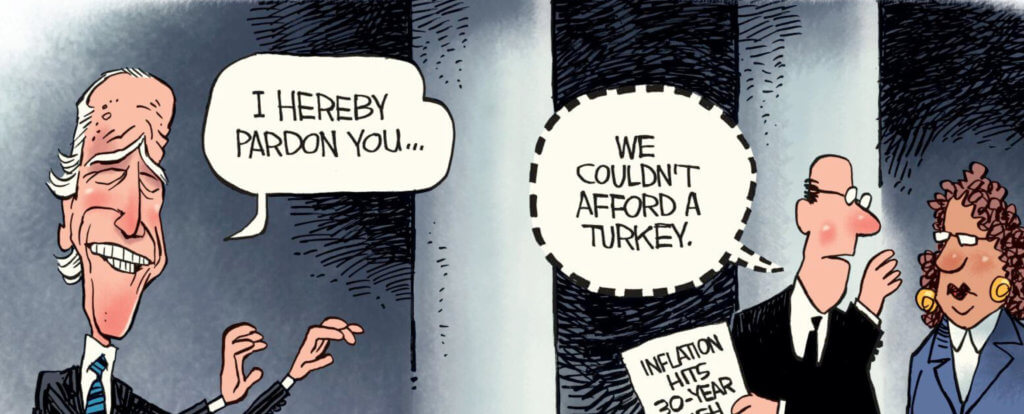 Here's what you need to know today, Wednesday – November 23, 2022.
There is also a full, ad-free video podcast of this broadcast available to Paine.TV members HERE.
Learn more about joining our community HERE.
---
Thanksgiving Sticker Shock: Prices Up 20% – American families will have an unwelcome guest at the dinner table this Thanksgiving: inflation.
A Thanksgiving meal for 10 will cost $64.05, a 20 percent increase from last year's average of $53.31, the American Farm Bureau reports. – READ MORE
---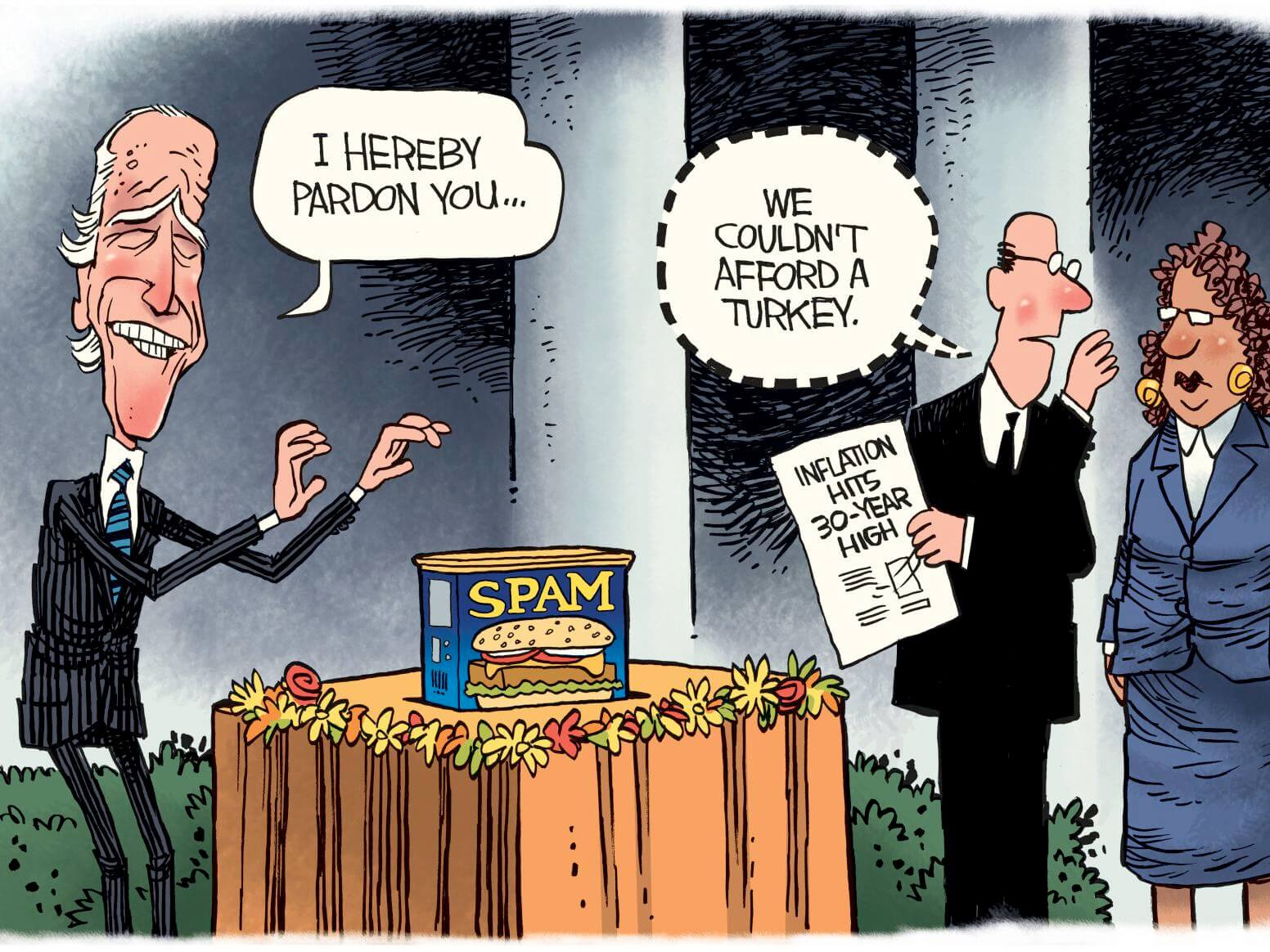 USDA blames Russia for rising price of Thanksgiving dinner – The Department of Agriculture says Russia's ongoing war in Ukraine is one reason why your Thanksgiving dinner costs more than it did last year.
A USDA memo this month said turkey prices will be higher because of this year's outbreak of highly pathogenic avian influenza (HPAI), which led to the death of 8 million turkeys in 2022. But USDA also said "Russia's war on Ukraine and drought across the United States" are other factors that are "pushing up the price of Thanksgiving staples." – READ MORE
---
WaPo Accused of Trying to 'Destroy Thanksgiving Dinner' After Listing Holiday Foods Alongside Their 'Climate Impact' – A recent Washington Post essay faced backlash online after listing common Thanksgiving foods and their "climate impact" in order to inform readers which of the festivity's staples can be consumed "with a clear conscience."
The Thursday article by food columnist Tamar Haspel, titled "The climate impact of the Thanksgiving meal might surprise you," begins with the author admitting that "tallying the environmental impact of a holiday feast" does not seem to be in the holiday spirit. – READ MORE
---
Beyond Meat Gets More Bad News: Leaked Docs Reveal What's Been Found in Product, Horrid Conditions – A food processing plant belonging to one of the biggest faux meat companies is riddled with bacteria and food safety violations.
Internal documents and photos from the Beyond Meat plant in metro Philadelphia paint a picture of dangerous conditions with possible repercussions for consumers. – READ MORE
---
'It's Like Living in an Igloo:' People Make Heartbreaking Decisions as Winter Arrives in Biden's America – Winter hasn't officially started yet, but winter-like conditions are already causing extreme situations to develop across the country.
Parts of the Northeast have been hammered by cold and snowy weather in recent days. Given the current shortage of diesel and critical home heating fuels, like home heating oil, which also happens to be at record-high prices, more Americans are being forced to sacrifice basic comforts. – READ MORE
---
Saudi Energy Minister Threatens More Oil Cuts: 'We Always Remain Ready to Intervene' – Saudi Arabian Energy Minister Prince Abdulaziz bin Salman asserted Monday his country and other OPEC+ member nations "remain ready to intervene" and again cut oil production if they deem it necessary – a rebuke of a report in the Wall Street Journal claiming the oil cartel was preparing to increase supply.
The Saudi government has faced heavy criticism from the administration of leftist President Joe Biden for supporting OPEC+ oil cuts, particularly the dramatic, 2-million-barrel-a-day cut announced in early October, raising gasoline prices in America immediately before the scheduled midterm elections. Biden officials, prominently Secretary of State Antony Blinken, accused the Saudis of helping Russia fund its eight-year-old invasion of Ukraine by voting to cut production, noting that Russia is a member of OPEC+. – READ MORE
---
HHS Report Recommends Government 'Encourage or Mandate' Masking to Fight Coronavirus – A report from the Health and Human Services (HHS) Department is recommending that government officials "encourage or mandate" masking to fight against "long COVID," conveniently after the completion of the midterm elections.
The HHS report details policies to combat the Chinese coronavirus, which has now been around for almost three years. One of the recommendations includes the reintroduction of masking, contending that it will assist those suffering from lingering effects from their infection. – READ MORE
---
Authorities Looking Into Oregon Report That Falsely Claims Sky-High Child COVID-19 Hospitalization Rates – Authorities in Oregon say they're looking into a report they published that falsely claims sky-high COVID-19 hospitalization rates among children.
"We are working with the company that completed the report, Rede Group, to look into that data question," Jonathan Modie, a spokesman for the Oregon Health Authority, told The Epoch Times in an email on Nov. 19. – READ MORE
---
"Grade-A Gaslighting": FDA Says Anti-Ivermectin Campaign Was 'Just A Recommendation' – The US Food and Drug Administration (FDA), which mocked Americans for taking Ivermectin to treat Covid-19, now says their campaign telling people to "stop" taking it was informal and just a recommendation, according to an argument made by government lawyers during a recent hearing.
"The cited statements were not directives. They were not mandatory. They were recommendations. They said what parties should do. They said, for example, why you should not take ivermectin to treat COVID-19. They did not say you may not do it, you must not do it. They did not say it's prohibited or it's unlawful. They also did not say that doctors may not prescribe ivermectin," Isaac Belfer, one of the lawyers, told the court during the Nov. 1 hearing in federal court in Texas according to the Epoch Times. – READ MORE