(FREE) PAINE IN THE MORNING: What you need to know this Tuesday – December 13, 2022
Here's what you need to know today, Tuesday – December 13, 2022.
There is also a full, ad-free video podcast of this broadcast available to Paine.TV members HERE.
Learn more about joining our community HERE.
---
Congress' Lame-Duck Legislators Want To Spend Money Like We're Still in a Pandemic – Congress' lame-duck session is an ideal time for both parties to pass last-minute legislation while voters are busy Christmas shopping and before members who lost their reelection bids surrender their seats in January. Especially this year, real danger lurks in such legislation. Above all, there's the threat that Congress turns the expanded child tax credit into a new and very costly permanent entitlement. But other threats loom. I'll look at a few of them today.
A lame-duck session is a great opportunity to push for too much spending on irresponsible pet projects, and more will probably be pushed through this year with little accountability. That's partly because Congress yet again failed to do its basic job of passing a budget by September 30. Instead, legislators kicked the deadline down the calendar to December 16. If they fail again, the federal government will partially shut down. That threat alone makes passing a budget, any budget, a must-do task. Unfortunately, these are precisely the situations that give Congress the opportunity to push through a boatload of otherwise unthinkable deals. – READ MORE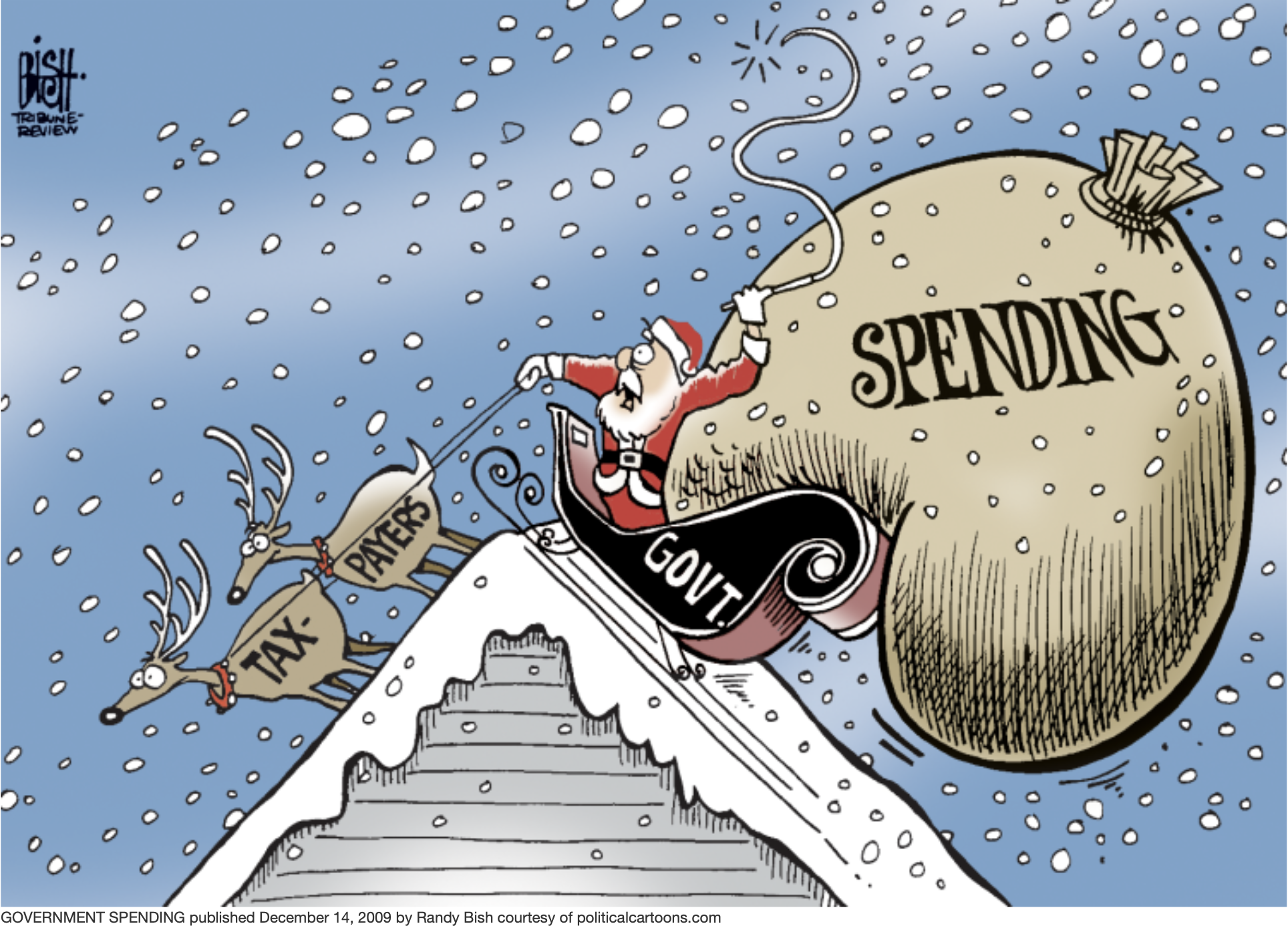 ---
$857.9 Billion Defense Bill Includes $800 Million for Ukraine – The National Defense Authorization Act (NDAA) for fiscal year 2023 includes $800 million in assistance to Ukraine under the Ukraine Security Assistance Initiative (USAI). The bill is 4,312 pages.
On Dec. 8, the House reached the required two-thirds threshold by a vote of 350 to 80 in favor of the NDAA, which now heads to the Senate.
Among the 350 "yea" votes, 176 of them were Republican while 174 were Democrats — 45 Democrats and 35 Republicans voted "nay" with 2 Republicans not voting. – READ MORE
---
Merry Christmas, Auto Workers. Stellantis to Layoff 1,350 in Illinois and Move Its Plant to Mexico. – Just in time for Christmas, auto workers at the Stellantis plant in Belvidere, Ill., are bracing for layoffs. Although the layoffs are not slated until February 28 of next year, employees of the plant will spend the holiday season trying to plan their futures instead of enjoying time with their families.
According to Fox Business, the plant manufactures the Jeep Cherokee and has 1,350 employees. The automaker cited the effects of COVID-19, a lack of microchips, and the high costs associated with making electric vehicles as the reasons for the decision. Stellantis added that the decision would "stabilize production," bolster efficiency, and "preserve affordability and customer satisfaction in terms of quality." So to save money to produce EVs, the Illinois plant will be shuttered. The company said it will do everything it can to rehire laid-off workers if possible, and Illinois Governor J.B. Pritzker's office has announced plans to retrain displaced workers for other jobs. – READ MORE
---
Jamie Dimon: 'This Oil and Gas Problem Is Going to Go On for Years' – Jamie Dimon, the CEO of JPMorgan Chase, said on Sunday the U.S. government should be concerned about energy issues, made worse by Russia's war in Ukraine.
In fact, he said both the war and the resulting energy crunch "could go on for years." – READ MORE
---
Taxpayers paying astronomical amount every month for Biden's Medicaid scheme – Almost three years into the Covid-19 emergency and after President Joe Biden called the pandemic over, he plans to extend the federal public health emergency at least into the new year, leaving in place what was supposed to be a temporary Medicaid policy that is now costing taxpayers an estimated $16 billion a month.
The states lose a combined $1.6 billion a month, and the federal government pays another approximately $14 billion monthly on the new spending, The Wall Street Journal reported. That comes from keeping 21 million people on Medicaid even though they earn too much money, as Biden plans to keep them permanently on the program that provides free or low-cost health coverage to low-income people. – READ MORE
---
Can You Guess What Percentage Of Americans Are Having Trouble Paying Their Grocery Bills? – For the first time in decades, the cost of food has become a major issue in America. If rapidly rising food prices are not a problem for you, then you should be very thankful, because most of the country is really hurting right now. The cost of food has been going up much faster than our paychecks have throughout 2022, and this week Walmart CEO Doug McMillion publicly admitted that double-digit price increases for packaged foods "are going to be with us for a while". This is a crisis that isn't going away, and as you will see below, it appears that things will get even worse in 2023. – READ MORE
---
Shocking Video Shows "Huge Migrant Caravan" Crossing Into El Paso – A shocking video emerged on social media early Monday of more than 1,000 migrants illegally crossing into El Paso, Texas, on Sunday night.
Fox News national correspondent Bill Melugin tweeted, "A huge migrant caravan of over 1,000 people crossed illegally into El Paso, TX last night, making it the largest single group we have ever seen." – READ MORE
---
FTX Bankruptcy Puts $73 Million In Political Donations At Risk Of Clawbacks – At least $73 million in political donations tied to Sam Bankman-Fried's FTX , showered mostly on high-ranking Democratic politicians, may be at risk of being clawed back through the crypto empire's bankruptcy, as lawyers search for assets to repay creditors.
Hilariously, Bloomberg attempts top frame the contributions as bipartisan and "wide-ranging," despite Bankman-Fried, who's never met President Biden, being heralded as "one of the people most responsible" for Biden's 2020 win. – READ MORE
---
Bankman-Fried Faces Senate Subpoena After Refusing To Attend Wednesday Hearing – Having been asked so nicely by Maxine Waters (a recipient of his donations), and agreed, to virtually-attend tomorrow's Congressional hearing about the collapse of FTX, Sam Bankman-Fried has made it clear he will not be attending Wednesday's Senate Banking Committee hearing on the same topic.
Specifically, Bloomberg reports that the former FTX CEO said he is "currently not scheduled" to attend the Senate Banking Committee's hearing on Dec. 14. – READ MORE
---
NYT Lists John Fetterman as One of the 'Most Stylish People of 2022' – The New York Times is out with its list of the 93 "most stylish" people of the year, and there were some interesting choices.
The Times explained, "High and low. Fun and serious. Curious and open-minded. Reveling in characters. Appreciating the material world. Inviting everyone to the party. All of these are ways that The Times's Styles desk defines its approach to whom and what it covers." – READ MORE
---
Senator-elect Fetterman cast in Christian Bale period film for his 'face that fits in the 1830s' – Pennsylvania Senator-elect John Fetterman will have a cameo in an upcoming 1800s period film on Netflix, alongside his wife Giselle Fetterman and major actor Christian Bale.
"It me + G + Christian Bale circa 1830," Fetterman said in a Twitter post Friday announcing the cameo. – READ MORE