(FREE) PAINE IN THE MORNING: What you need to know this Thursday – February 16, 2023
Here's what you need to know today, Thursday – February 16, 2023.
There is also a full, ad-free video podcast of this broadcast available to Paine.TV members HERE.
Learn more about joining our community HERE.
---
White House says 'thousands' of objects in skies could be used car lot balloons — not aliens – There are hundreds, "if not thousands," of unknown objects soaring in the skies — but they're likely just used car balloons or other benign crafts and not aliens visiting Earth, White House officials said Monday.
"There are no UFOs. This is not an invasion of the aliens," White House Homeland Security Adviser Liz Sherwood-Randall said in a virtual briefing with governors after the US military shot down three flying objects last weekend, according to Fox News. – READ MORE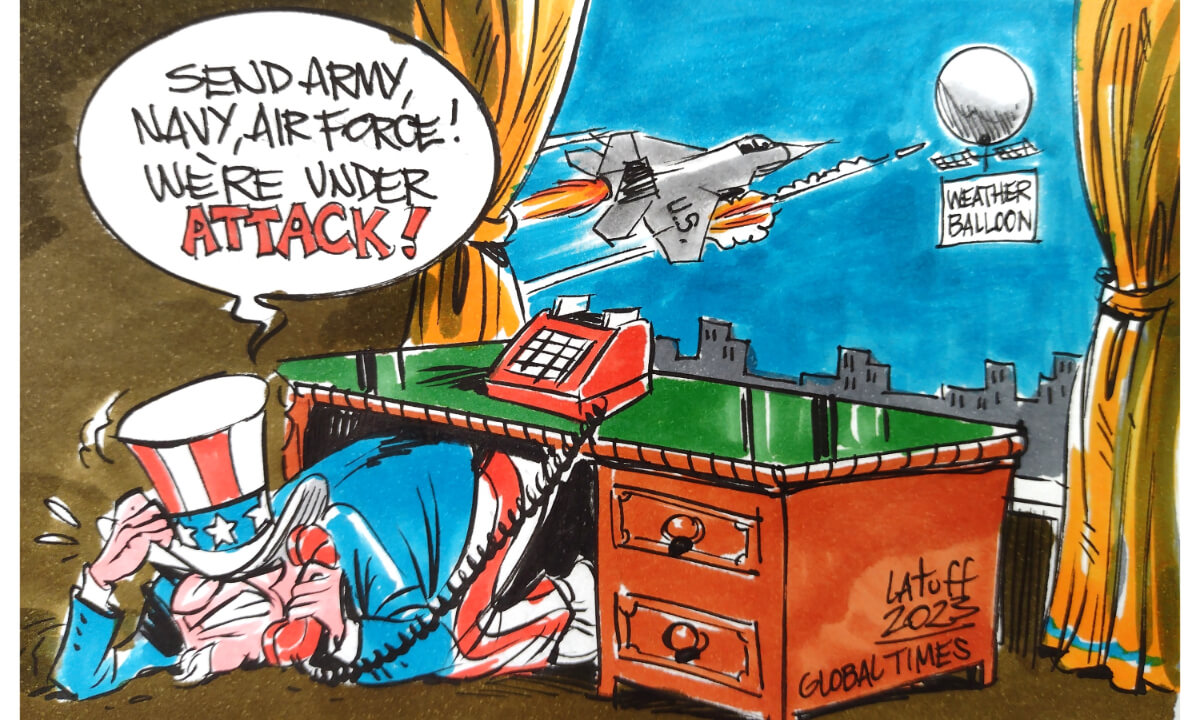 ---
Report: US Tracked Spy Balloon From China's Coast – U.S. officials tracked China's spy balloon from its launch from China's southern coast, nearly a week before it entered U.S. airspace, CBS reported.
The balloon floated toward Guam and Hawaii until turning north to Alaska, where it entered U.S. airspace on Jan. 28, intelligence officials told CBS. The airship then crossed over Idaho on Jan. 31 before floating across the entire country until President Joe Biden ordered it shot down over the Atlantic Ocean. – READ MORE
---
'Ohio Chernobyl': East Palestine Town Hall Scrapped After Residents Report Health Problems – Nearly two weeks after a Norfolk Southern Railway freight train with 150 cars (20 of which were carrying hazardous materials) derailed in the small town of East Palestine, Ohio, resulting in a chemical disaster, the extent of the damage to the town and surrounding communities remains unclear.
On Tuesday, Ohio Gov. Mike DeWine held a press conference for the Feb. 3 derailment. He said Norfolk Southern did not classify the train as a "high hazardous material train" despite multiple cars containing toxic chemical vinyl chloride. – READ MORE
---
Attorney general intervenes after newsman covering train derailment arrested –A NewsNation reporter who was arrested in eastern Ohio while covering the train derailment which sparked a large chemical plume over the town had his charges dropped Wednesday, the state attorney general confirmed.
Reporter Evan Lambert was arrested on Feb. 8 while giving a live report during a press conference during which Republican Gov. Mike DeWine gave an update on the train derailment that caused the mass evacuation of nearly 2,000 residents before hazardous chemicals were released from the cars. Videos of the incident did not provide enough evidence to warrant criminal trespass or disorderly conduct charges, according to Republican Attorney General Dave Yost. – READ MORE
---
Panic at the Grocery Store: Egg Prices Up 70%, Cereals Up 15.6%, Coffee Up 12.6% – Despite President Joe Biden's claims that inflation is going down, American households did not get any relief in the grocery store aisles.
The price of food at home jumped 0.5 percent compared with the previous month. Over the past 12 months, grocery prices have gone up 10.1 percent. – READ MORE
---
Court Docs: James Biden Secretly Negotiated $140M Deal with Saudis Due to Relationship with Joe Biden – James Biden secretly negotiated a $140 million settlement deal in 2012 between a U.S. company and the Saudi Arabian government due to his relationship with then-Vice President Joe Biden, court documents reveal.
The revelation represents one more instance of the Biden family business peddling influence while President Joe Biden was an elected official. House Oversight Committee James Comer (R-KY) reportedly already has copies of the court documents and is investigating the scandal as a part of his probe into the Biden family for nine violations, including wire fraud, tax evasion, and money laundering. – READ MORE
---
Report: NYC Sent Fingerprints of Unvaxxed Teachers to FBI – New York City sent the fingerprints of unvaccinated public school teachers to the FBI, the educators allege in a lawsuit against the city government.
The city also flagged the teachers, whom the city fired for refusing to take the COVID-19 vaccine, with a "problem code" that can affect their ability to get another job, Fox News reported.  – READ MORE
---
Facial Recognition Comes to a TSA Checkpoint Near You – Facial recognition technology has come a long way in recent years, spurred in equal parts by convenience and the priorities of government snoops. Now, if you plan to go a long way via air travel, you can expect to be required to stare into a camera as a computer algorithm scans your features to make sure you're no imposter. The TSA is trying out facial recognition technology at airports as a means of ensuring that travelers are who they claim to be and speeding security lines. It's, maybe, an improvement for impatient travelers, but even more so for the never-satisfied security state.
"The Transportation Security Administration (TSA) at Denver International Airport (DEN) has deployed the next generation of Credential Authentication Technology (CAT) to verify the identity of travelers," the TSA announced last November. "First generation CAT units are designed to scan a traveler's photo identification, confirm the traveler's identity as well as their flight details. The new CAT units, referred to as CAT-2, have the same capabilities, but are also equipped with a camera that captures a real-time photo of the traveler." – READ MORE
---
The Feds Are Buying Their Way Around the 4th Amendment – A Republican congressman last week highlighted an oft-overlooked threat to the privacy of all Americans: The federal government's practice of purchasing citizens' private market data (PMD) from data brokers without a warrant. Rep. Kelly Armstrong (R–N.D.) raised the issue at the House Select Subcommittee on the Weaponization of the Federal Government's inaugural hearing.
"The federal government has realized the value of the massive amounts of commercial consumer data that is freely available on the open market," Armstrong said. "Combine [the amount of data available] with the advance in technology like [artificial intelligence], facial recognition, and more, that will allow aggregation, analysis, and identification, and we are fast approaching a surveillance state with no assurances other than the promises of our government that it will not abuse this tremendous responsibility." – READ MORE