(FREE) PAINE IN THE MORNING: What you need to know this Monday – October 3, 2022

Here's what you need to know today, Monday – October 3, 2022.
There is also a full, ad-free video podcast of this broadcast available to Paine.TV members HERE.
Learn more about joining our community HERE.
---
Biden personally thanks Coast Guard hurricane hero who will be fired in a matter of days because of president's vaccine policy – President Joe Biden personally congratulated a U.S. Coast Guard rescue swimmer for saving lives of victims of Hurricane Ian in southwest Florida. However, the Coast Guard hero said he is about to be discharged because of Biden's mandatory COVID-19 vaccine order for the U.S. military.
On Thursday, there were areas ravaged by Hurricane Ian that were only accessible by aircraft. Coast Guard members flew to the coastal areas destroyed by the Category 4 hurricane from the air station in Clearwater, Florida. – READ MORE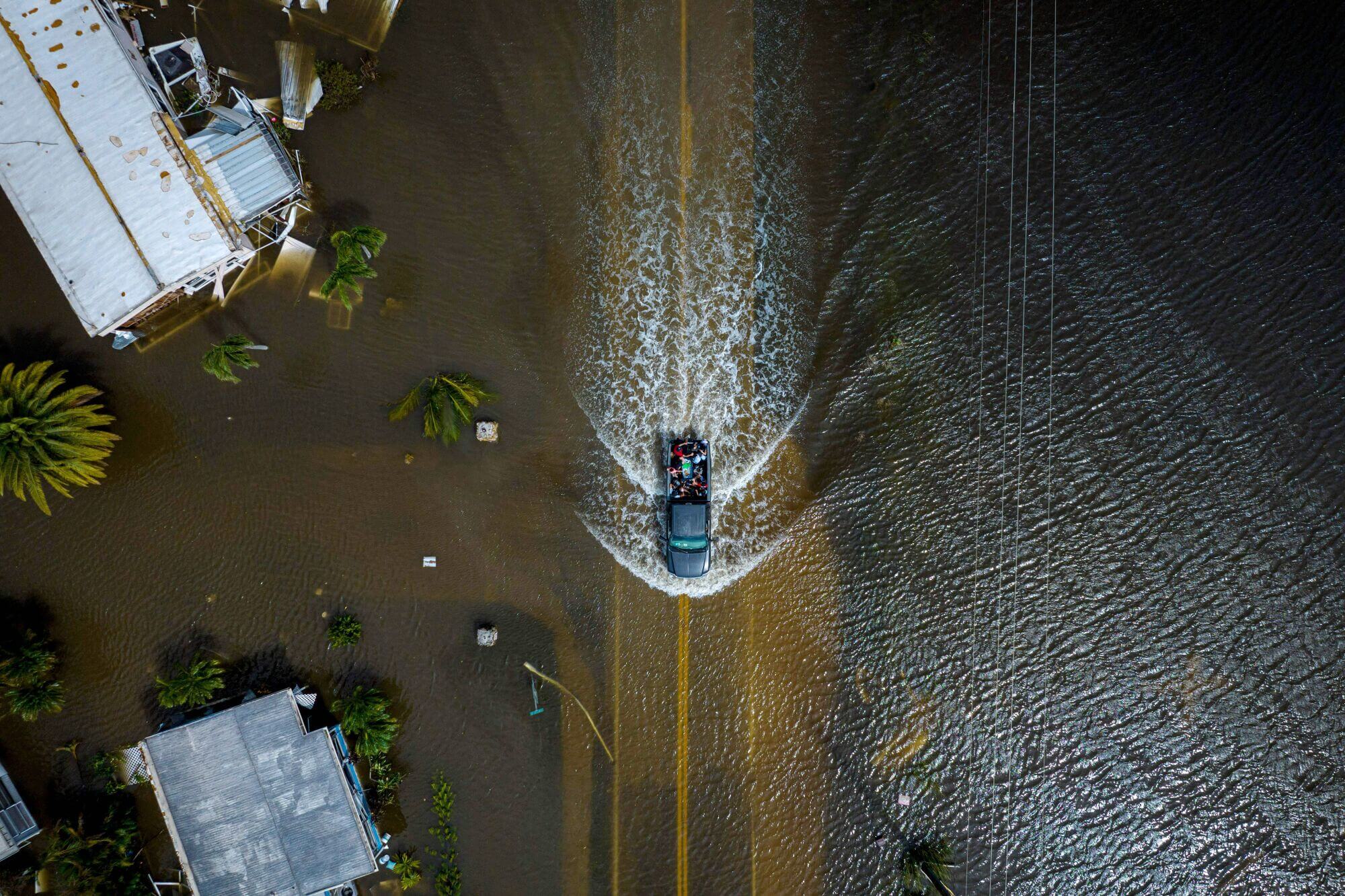 ---
Congress's Military Aid to Ukraine to Hit $65 Billion – Congress is sending another $12 billion in military gear and other aid to Ukraine, pushing the total transfer up to $65 billion in 2022.
The $65 billion is roughly equivalent to Russia's entire military budget for 2021, including Russian soldiers' pay and housing, according to an estimate from the Stockholm International Peace Research Institute (SIPRI). – READ MORE
---
Mortgage Rates Surge to 6.7% — More than Double Since Last Year – The 30-year fixed mortgage rate surged to 6.7 percent on Thursday, more than double what it was a year ago.
According to data from Freddie Mac, the 30-year fixed mortgage rate jumped by 0.41 percent from a week ago. A year ago, the rate was at 3.01 percent. It is also the highest it has been since July 2007, when the subprime mortgage crisis was in its early stages. – READ MORE
---
This Thanksgiving, Supplies Of Turkey, Eggs, & Butter Will Be Extremely Tight In The US – If you love to cook, this upcoming Thanksgiving may be a real challenge for you. Thanks to a resurgence of the bird flu, supplies of turkey are getting tighter and tighter. Sadly, the same thing is true for eggs. And as you will see below, reduced milk production is sending the price of butter into the stratosphere. Thanks to soaring prices, a traditional Thanksgiving dinner will be out of reach for millions of American families this year, and that is extremely unfortunate. Of course all of this is happening in the context of a horrific global food crisis that is getting worse with each passing day. Yes, things are bad now, but they will be significantly worse this time next year.
The bird flu pandemic that has killed tens of millions of our chickens and turkeys was supposed to go away during the hot summer months, but that didn't happen. And now that the weather is starting to get colder again, there has been a resurgence of the bird flu and this is "devastating egg and turkey operations in the heartland of the country"… – READ MORE
---
Washington Post torched for touting '7 ways recession could be good for you': 'Embarrassing propaganda' – Conservatives on Twitter ripped into The Washington Post on Wednesday after it published a listicle providing "7 ways a recession could be good for you financially."
Disgruntled users slammed the piece as "propaganda" and expressed frustration that the outlet is only now admitting the country is in a recession, when it has been in one since the beginning of the fiscal quarter, at least according to traditional standards. – READ MORE
---
'Just Kidding': Biden Yanks Student Loan Forgiveness From 770,000 Borrowers –In a jarring reversal, the U.S. Department of Education on Thursday quietly revised its online guidance on who qualifies for the $10,000 of student loan forgiveness that President Biden announced in August. In doing so, it pulled the rug out from under at least several hundred thousand people.
At issue: Borrowers who have Perkins loans and Federal Family Education Loans (FFEL). Those earlier-generation loans were guaranteed by the federal government but were issued and are managed by private lenders. The FFEL program ran from 1965 to 2010; Perkins loans ended in 2017. – READ MORE
---
Biden spending tens of millions to provide internet to 92 homes – President Joe Biden's Department of Agriculture (USDA) is spending tens of millions in tax dollars to bring fiber optic internet to rural southeast Alaska.
As part of USDA's "Reconnect Program," it awarded a roughly $33 million grant to the Alaska Telephone Company (ATC), the agency announced last Thursday. Fiber will be delivered to 92 households and a total of 211 people and five businesses in two Alaska native villages called Skagway and Chilkat, according to a federal grant award listing. – READ MORE
---
Biden Admin Just Made 'The Lorax' a Real Position in the Federal Gov't – The Biden administration is placing a lot of attention on trying to combat climate change.
In 2020, John Kerry was named as climate envoy which is a new cabinet-level position.
And this week, the administration created a position related to its efforts to combat climate change: a diplomat for plants and animals. – READ MORE
---
New York to ban sale of all gas-powered new cars by 2035 to benefit 'disadvantaged communities,' follows California's lead to convert to electric vehicles – New York plans to prohibit the sale of all new gas-powered cars and trucks by 2035. New York Gov. Kathy Hochul is following California's lead to convert all new car sales to electric vehicles.
On Thursday, Holchul announced that she will aggressively push the state to require every new car to be an EV by 2035. – READ MORE
---
"Gone In 30 Minutes" – Next On Europe's Doomsday List: Collapse Of Cell Phone Networks – It's not just heating that could be missing across Europe this winter: cell phones may be the next to go. That's because if power cuts or energy rationing knocks out parts of the mobile networks across the region, mobile phones could go dark around Europe this winter according to the latest doomsday reporting from Reuters.
While everyone knows by now that Europe's chances of rationing and power shortages have exploded ever since Moscow suspended gas supplies, in France, the situation is even worse as several nuclear power plants are shutting down for maintenance. And the cherry on top: telecom industry officials told Reuters they fear a severe winter will put Europe's telecoms infrastructure to the test, forcing companies and governments to try to mitigate the impact (i.e., more bailout demands). – READ MORE
---
U.S. Navy, NATO Recently Tested Underwater Technology Near Location Nord Stream Pipelines Were Damaged –  The U.S. Navy recently tested technology and completed training exercises near the portion of the Nord Stream pipeline system that saw damage on Monday.
The pipelines, which carry natural gas under the Baltic Sea from Russia to Germany, have been the center of geopolitical strife since the invasion of Ukraine. Russia severed shipments through Nord Stream 1 a month ago, while Germany blocked the adjacent Nord Stream 2 from beginning shipments immediately before the invasion. Sweden and Denmark reported two leaks in Nord Stream 1 and one leak in Nord Stream 2 on Monday, while the system's operator confirmed that the destruction was "unprecedented." – READ MORE
---
University Of Washington Vaccinates Humans Using Genetically Modified Mosquitoes – Two hundred genetically modified mosquitoes with an experimental malaria vaccine packed inside a Chinese food takeout-style box inoculated 26 participants in a University of Washington study last month.
As reported by The Counter Signal, each participant placed their arms in the box to receive three to five jabs over 30-day intervals during the clinical trial funded by the National Institutes of Health. – READ MORE
---
Pandemic Paid Off: Dr. Fauci's Net Worth Doubled During COVID – Dr. Anthony Fauci, whose pandemic policies shut down schools and businesses across America, saw his net worth double over the course of the lockdowns, according to financial disclosures reviewed by the watchdog group OpenTheBooks.
The White House chief medical adviser's net worth rose from $7.6 million in 2019 to over $12.6 million by December 2021. Fauci was the highest-paid government official in 2021 and 2022—out-earning the president, four-star generals, and about 4.3 million other bureaucrats. After 55 years in the medical bureaucracy, the 81-year-old Fauci plans to retire in December, but not before he pockets his $480,000 compensation for the year. – READ MORE
---
Fauci Pal At Center Of COVID Lab-Leak Suspicions Gets New Bat Virus Grant – Dr. Anthony Fauci has steered another lucrative grant to study bat viruses to the same company suspected of conducting gain-of-function research at the mysterious Chinese laboratory where some experts believe COVID-19 was hatched.
EcoHealth Alliance last month began a multi-year study of "viral sequences and isolates for use in vaccine development," according to a grant from the National Institute of Allergy and Infectious Diseases, which Fauci runs. The $3.3 million study, which involves bats and coronaviruses, is set to run through August 31, 2027. – READ MORE
---