(FREE) PAINE IN THE MORNING: What you need to know this Monday – January 2, 2023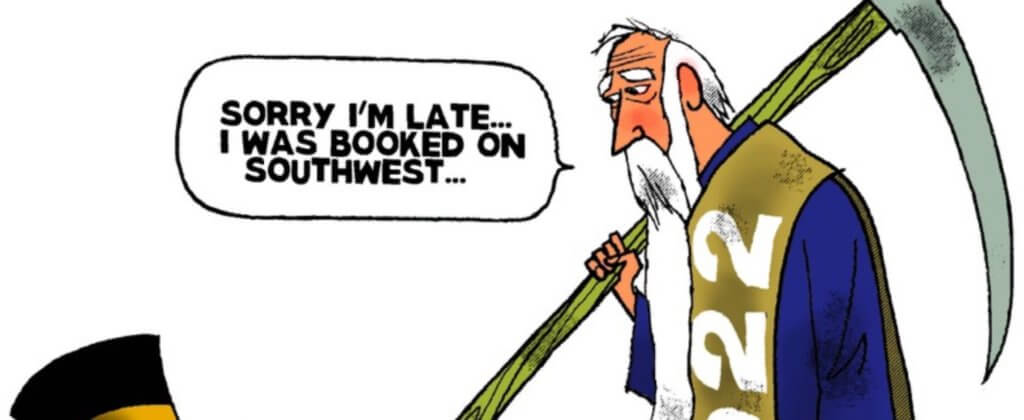 Here's what you need to know today, Monday – January 2, 2023.
There is also a full, ad-free video podcast of this broadcast available to Paine.TV members HERE.
Learn more about joining our community HERE.
---
The New-Normaling of Blackouts – On Christmas Eve, 2022, in North Carolina, something happened that had never happened before in living memory. People across the state were alerted by their power company, Duke Energy, that there would be rolling blackouts in the aftermath of a severe (but "not exceedingly rare") winter wind storm. At least 12 other states received similar and previously unheard-of warnings.
Before, rolling blackouts were a California problem, then they also became a Texas problem. Blackouts are spreading faster than even Imperial College London modelers would find believable. – READ MORE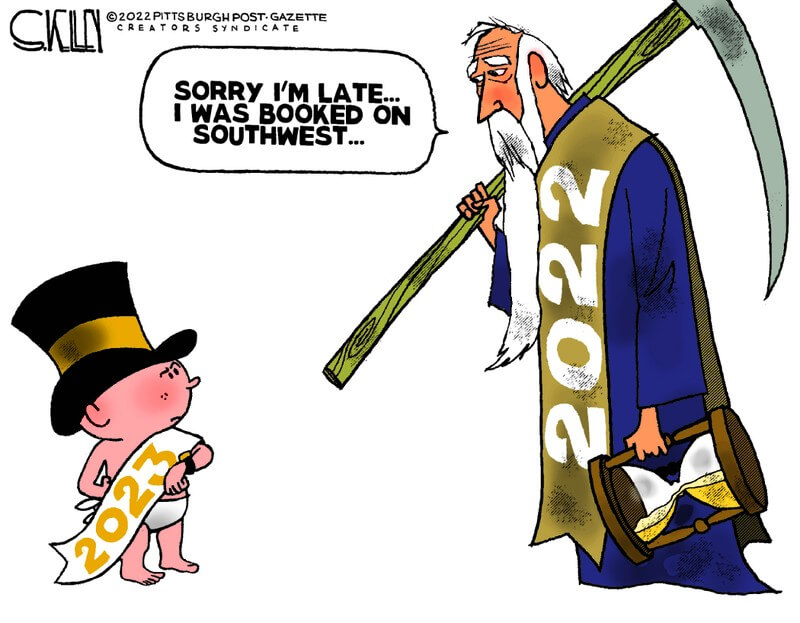 ---
Are You Ready for Some Frostbite? Tennesseans Cope With Blackouts While the Titans Have Full Power for Their Game – It must be nice to be an NFL owner. No need to concern oneself with the problems of the little people who are too broke to afford a ticket. In fact, who cares if they are struggling with rolling blackouts during one of the harshest winters in recent memory? If you are the Tennessee Titans, go ahead and power up the stadium. You've got a game to play.
According to NewsBusters, rolling blackouts left many Tennesseans in the dark and the cold on Christmas Day. Others were forced to limit their use of electricity. Nashville temperatures on Sunday were in the teens to the 30s, which put a strain on the Tennessee Valley Authority's grid. So rolling blackouts were implemented. But not for the Titans. ESPN reported that the team did make the magnanimous move of postponing the opening kickoff – READ MORE
---
Stocks Stumble to End 'Miserable' 2022 — Wall Street Sees Worst Annual Drop Since 2008 – Stock markets were wrapping up their worst performances in years on Friday before heading into 2023 under recession fears following Russia's invasion of Ukraine, high inflation, and rising interest rates.
European indices closed their final sessions of the year in the red while Wall Street headed towards a similar finish. – READ MORE
---
2022 Festivus Report Shows NIH Waste: $3M to Watch Hamsters Fight on Steroids, $2.1M to Tell Ethiopians to Wear Shoes – This year's annual Festivus report from Sen. Rand Paul's (R-KY) highlights billions in government waste, including wasteful expenditures at the hands of the National Institutes of Health (NIH), which spent millions of taxpayer dollars on watching hamsters fight on steroids and millions more on campaigns encouraging individuals in other countries to wear shoes.
Paul's 2022 Festivus report features $482,276,543,907 in government waste. – READ MORE
---
CDC: U.S. Life Expectancy Drops to 25-Year Low as Drug Overdose Deaths Surge from Last Year – U.S. life expectancy declined to a 25-year low in 2021 as nearly 107,000 Americans died from drug overdose deaths last year, according to Centers for Disease Control and Prevention (CDC) data published Thursday.
It is the second year in a row life expectancy has decreased, and a person born in 2021 is now expected to live 76.4 years compared to 77 years in 2020 and 78.8 years in 2019, the CDC report stated. – READ MORE
---
18 Wasteful Items in the $1.7 Trillion Spending Bill: Millions for LGBT Projects, Border Security for Other Countries – The $1.7 trillion omnibus spending bill contains millions in wasteful spending, including $575 million for "reproductive health" where population growth "threatens biodiversity," $11 million for LGBT-related projects, and millions more for border security for other countries.
Democrats are determined to pass the $1.7 trillion spending spree prior to Christmas following the Senate advancing the spending bill on Tuesday. The omnibus hit a snag mid-week due to Sen. Mike Lee's (R-UT) Title 42 amendment, which lawmakers ultimately rejected. – READ MORE
---
Joe Biden Signs 4,000-page, $1.7 Trillion Omnibus Bill After Staff Fly It to Virgin Islands Vacation Home – President Joe Biden signed the 4,000-page, $1.7 trillion omnibus bill on Thursday while vacationing in the Virgin Islands.
White House staff had to fly the bloated bill to the President's vacation home in St. Croix so the president could sign it before the December 30th deadline. – READ MORE
---
Pelosi's Swan Song: Majority of Congress Votes Remotely by Proxy for $1.7 Trillion Spending Bill – More than half of the members of the U.S. House of Representatives voted remotely Friday for the $1.7 trillion government spending bill, claiming in proxy voting letters they could not be present to vote because of the "ongoing public health emergency."
A total of 226 members from both sides of the political aisle used proxy voting to vote for the 4,000-plus page omnibus bill, the final vote of the 117th Congress, barring any unforeseen circumstances. – READ MORE
---
U.S. Defense Contractors Sponsor D.C. Party for Ukrainian Forces Amid Ongoing War – Four major U.S. defense contractors sponsored a Washington, D.C., party for the 31st anniversary of the Ukrainian armed forces as they stand to gain billions from the ongoing war in Ukraine, according to a report.
Vox reported Saturday that the celebration, hosted by the Ukrainian Embassy last week, took place in downtown D.C. at the Ronald Reagan Building and International Trade Center, located less than a mile from the White House, and that Chairman of the Joint Chiefs of Staff Gen. Mark Milley was in attendance. – READ MORE
---
Biden administration makes 10,000% mistake in estimated job growth, report –The Bureau of Labor Statistics overestimated the number of jobs added nationwide from March through June by roughly 10,600%, the Federal Reserve Bank of Philadelphia reported Tuesday.
The U.S. added just 10,500 net new jobs in the second quarter of 2022, a far cry from the 1,121,500 estimated by the Bureau of Labor Statistics' (BLS) monthly report on state-level data known as the Current Employment Situation (CES), according to the Philadelphia Fed. By using more comprehensive data from the BLS Quarterly Census of Employment and Wages (QCEW), which samples roughly 11 million businesses compared to the 670,000 measured by the monthly CES, the Philadelphia Fed is able to make revisions to initial employment estimates, the regional bank reported. – READ MORE
---
John Fetterman Is Still Hiding From the Media. Why? – Senator-elect John Fetterman (D-Penn.) is still hiding from the media, nearly two months after being elected.
For many months now, there have been issues raised regarding Fetterman's fitness for office. In fact, his disastrous debate performance had many convinced that his campaign was over. But thanks to his keeping a low profile during most of the campaign and banking thousands of votes via early voting, Fetterman managed to defeat Dr. Mehmet Oz last month. – READ MORE
---
FTX Founder Reportedly Cashes Out $684K After Being Released On Bail – SBF has allegedly cashed out $684,000 from a crypto exchange in Seychelles while being under house arrest, according to an on-chain investigation…
FTX founder Sam Bankman-Fried is reportedly cashing out large amounts of cryptocurrency soon after being released on bail, on-chain data suggests. – READ MORE
---
Was Idaho Quadruple Murder Suspect Nabbed by DNA from Open Source Databank? – CNN is reporting that the suspect in the Idaho quadruple homicide, Bryan Kohberger, was pounced on by police after unknown DNA at the scene of the crimes was matched to one of his relatives on a site popular with the public for tracing ancestry. CNN did not name its source for this information and is the only news outlet reporting this development. Moscow police have warned against taking information from any source other than official channels due to the massive amounts of misinformation that have been circulating since the murders happened.
If, however, CNN's source is correct, it could explain why the FBI was tailing Kohberger for four days before an arrest was made. Detectives have been known to retrieve DNA from a suspect's garbage cans or drinkware left behind in a restaurant in order to confirm their suspicions. – READ MORE
---
Why a Facial Recognition Device Barred This Woman From a Rockettes Show –Last month, Kelly Conlon arrived with her daughter's Girl Scout troop to watch a Rockettes performance at Radio City Music Hall, but she abruptly was denied entry. Why? Conlon works for a law firm the venue's parent company had blacklisted. While the policy is unusual, Conlon was found out for an even more surprising reason: the venue's use of facial recognition technology.
Conlon's experience, while bizarre, gives a glimpse into a future with abundant facial recognition devices—one where our personal information can be accessed and used against us at a moment's notice. – READ MORE