(FREE) PAINE IN THE MORNING: 8 things you need to know this Tuesday – October 5, 2021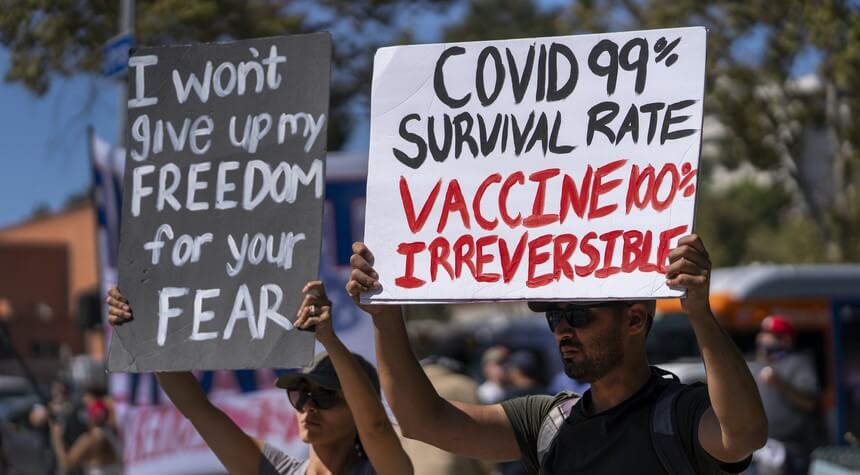 There is also a full, ad-free video podcast of this broadcast available to Paine.TV members HERE.
Learn more about joining our community HERE.
---
COVID Protests Are Sweeping the World. Where's the Media? – The world has had it with COVID mandates and lockdowns. People are taking to the streets worldwide. Why won't our leaders pay attention? Do most Americans even know about these protests? The lefty news outlets seem to "forget" the world is fighting back against COVID tyranny.
Here is an update showing some of the countries that are fighting back across the globe. – READ MORE
---
Canadian pastor arrested on tarmac over COVID rules says police confiscated luggage, snooped laptop – The Polish-Canadian pastor who has been repeatedly arrested for holding church services in Calgary, Alberta, said Canadian border police confiscated his belongings and apparently broke into his personal computer.
When Pastor Artur Pawlowski landed back in his home city of Calgary on Monday following a four-month tour of the United States, customs officials were waiting to cuff him on the tarmac for two criminal charges, he told Fox News in an interview. – READ MORE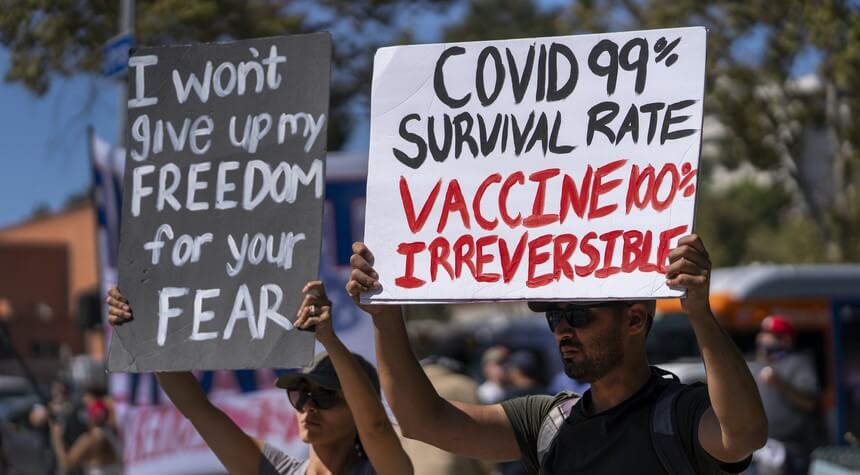 ---
COVID-19: 90% of population may need to be vaccinated to end pandemic – Dr. Eric Topol, the founder and director of the Scripps Research Translational Institute, said in an interview published Sunday that up to 90% of Americans may have to be vaccinated to end the COVID-19 pandemic.
"Now we need 85 to 95% vaccinated against Delta," he told USA Today.
Tom McCarthy, the head of the Rhode Island Department of Health COVID Response Unit, also put the number at about 90%, citing the Delta variant, the paper reported. – READ MORE
---
New COVID-19 Data Supports Ending School Mask Mandates – A new study from the United Kingdom provides some great news about kids and COVID-19. The study looks at contacts of patients with a positive PCR test. It covers the time period when the Alpha variant was dominant through when the Delta variant became the most common. First, let's celebrate the good news. It does not appear that the rate of children catching and transmitting COVID-19 has changed with the Delta variant.
These graphs show a lower rate of secondary infection, also called transmission, between children and adults in the precise settings where authoritarians like New York Governor Kathy Hochul are mandating masks for young children. – READ MORE
---
Murder Pandemic: Fourth Straight Month With More Homicides than COVID Deaths in Washington, D.C. – For the fourth consecutive month, Washington, D.C., saw more of its residents murdered than died of COVID-19. Since July 1, 42 coronavirus deaths have been reported in the nation's capital versus 77 homicide victims.
The district also had recorded 100 murders by early July, the earliest it had marked that grim number in nearly two decades. The average date over the past 10 years when the city hit 100 is Oct. 25. – READ MORE
---
Never Enough: Bernie Sanders Says $6 Trillion Spending Plan 'Probably Too Little' –Sen. Bernie Sanders (I-VT) said his initial $6 trillion infrastructure proposal was "probably too little" and said the current $3.5 trillion social spending package "should be a minimum."
"The $6 trillion that I originally proposed was probably too little. Three and a half trillion should be a minimum. But I accept that there's going to have to be give and take," Sanders said Sunday on ABC News' "This Week," referring to the plan he proposed over the summer. – READ MORE
---
"Global Supply Chain Crisis To Last Until 2023," Says Middle East's Largest Port Operator – Global central bankers have been out and about continuing to promote a narrative that inflation is "transitory." We've seen it from the likes of Powell, Lagarde, Bailey, and Kuroda. Logically, these monetary wonks are right, inflation caused by supply chain bottlenecks will resolve itself, but these officials have yet to provide a timeline because they don't know.
For more insight on when global supply chain bottlenecks will subside, Dubai's DP World, one of the biggest international port operators, Chairman and CEO Sultan Ahmed Bin Sulayem spoke with Bloomberg TV at the Dubai Expo 2020 on Friday and said disruptions could last for another two years. – READ MORE
---
The Looming Energy Crisis: People Are Going To Die This Winter – For many months myself and many of the investors I work with have become increasingly concerned at the growing instability and insecurity of energy markets. The 4 times spike in Gas prices this year has been a shocking wake-up call, highlighting energy insecurity in Europe and particularly the UK. Gas prices will remain elevated for months to come. The consequences are going to be brutal – and fatal for some.
Energy – whether derived from fossil fuels, nuclear or renewables – is a commodity and the critical thing about commodities is: "You can't print commodities like you can print money. The rules are not the same," says my good friend and head of commodities at Shard, Ashley Boolell. – READ MORE
---
The CDC Is Coming for Your Guns With New Study, Vows to 'Craft Swift Interventions' –The politicization of federal government agencies began in earnest with the Obama-Biden Administration and has picked up steam in the Biden-Harris Administration.
The latest institution to become entangled in politics is the Centers for Disease Control and Prevention, America's health protection agency. – READ MORE