(FREE) PAINE IN THE MORNING: 12 things you need to know this Monday – September 20, 2021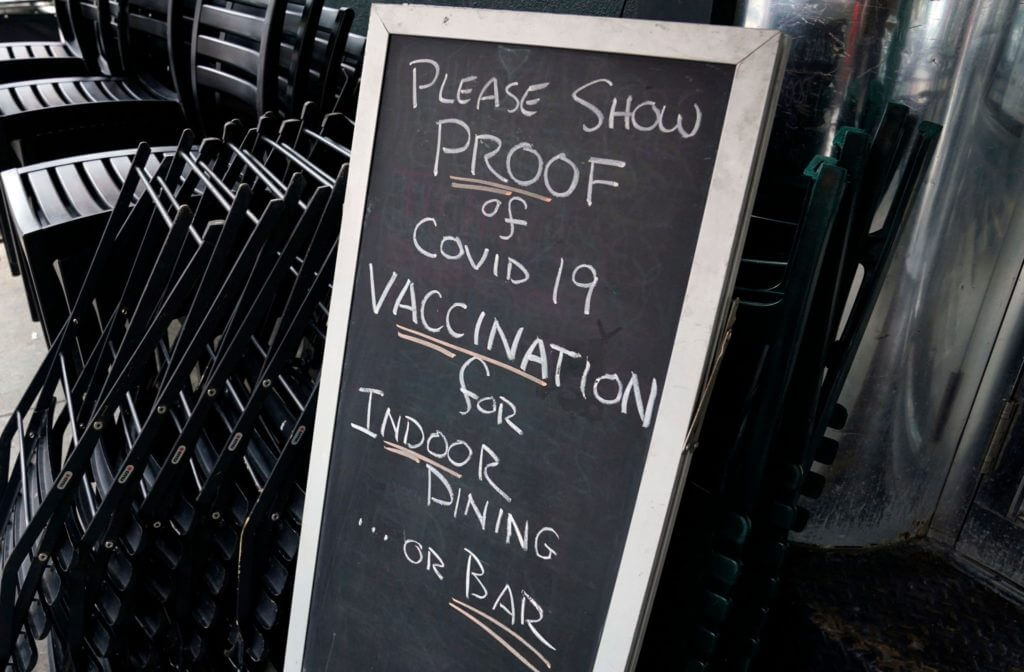 There is also a full, ad-free video podcast of this broadcast available to Paine.TV members HERE.
Learn more about joining our community HERE.
---
FDA Panel Rejects Pfizer Vaccine Booster for All Americans, Recommends for 65+ – A panel of expert outside advisers to the U.S. Food and Drug Administration voted on Friday to recommend COVID-19 vaccine booster shots for Americans 65 and older and those at high risk of severe illness, after overwhelmingly rejecting a call for broader approval.
The panel also recommended that the FDA include healthcare workers and others at high risk of occupational exposure to the virus that causes COVID-19, such as teachers. – READ MORE
---
Hundreds Arrested as Anti-Lockdown Protesters Break Police Lines, Trample Officers –Officers used pepper spray and made over 200 arrests in Melbourne as several hundred protesters flouted stay-at-home orders and marched through an inner-city suburb.
The illegal gathering comes as the city goes through its sixth lockdown since the pandemic started, with the wider state of Victoria reporting over 500 cases of Covid-19 on Saturday. – READ MORE
---
Most NYC Restaurants Not Enforcing Vaccine Mandate – Most restaurants in New York City are not enforcing the city's vaccine mandate, an Inside Edition investigation indicates.
The CBS investigative program sent undercover agents to 15 restaurants in Manhattan to see if staff were asking patrons for proof of vaccination, as required by new health regulations that the city began enforcing this week. Only 4 out of 15 restaurants Inside Edition visited asked for proof of vaccination and a matching ID. – READ MORE
---
DeSantis Team: More than Half of Those Seeking Lifesaving Coronavirus Treatment 'Fully Vaccinated' – More than half of the individuals seeking life-saving monoclonal antibody treatment are "fully vaccinated" individuals — news that comes as the Department of Health and Human Services (HHS) and the Biden administration cut the supply of the treatment to Southern states.
"Florida is above average in vaccination rate. More than half of the patients in south Florida getting monoclonal antibody treatment are vaccinated and have breakthrough infections. Vaccinated or unvaccinated -Denying treatment to Covid patients is wrong," DeSantis press secretary Christina Pushaw said on Thursday following the governor's press conference, where he vowed to "work like hell" to get people the antibody treatment they need, regardless of the Biden administration's actions. – READ MORE
---
Washington State Now Hiring 'Strike Team' for Quarantine Facility With 24/7 Security –The State of Washington Health Department is advertising open positions for members of a new unit called the Isolation and Quarantine Strike Team. The new positions pay $3,294-4,286 per month – READ MORE
---
Pentagon Confirms Children Killed In Drone Strike In Afghanistan, Driver Killed 'Had Nothing To Do With ISIS' – In a shocking admission Friday, the Pentagon confirmed that a drone strike in Afghanistan, meant to target members of ISIS-K who planned a deadly attack on the United States military in the waning days of the Afghanistan War, killed 10 civilians in a "tragic mistake."
"The Pentagon acknowledged on Friday that a U.S. drone strike in Afghanistan on Aug. 29 that officials said was necessary to prevent an attack on American troops was a tragic mistake that killed 10 civilians, including seven children, an American military official familiar with the investigation," told The New York Times. – READ MORE
---
Biden Promise Broken: Tax Hike on Mostly Middle, Lower Classes Would Fund $3.5T Spending Spree – During his campaign for the presidency, President Biden promised to not raise taxes on any Americans making less than $400,000 a year.
If H0use Democrats are successful in passing their new tax proposal, that promise will soon be broken. – READ MORE
---
Biden's Plan To Crack Down on Tax Cheating: Snooping on Everyone's Bank Accounts – In order to make sure the rich are paying their fair share in taxes, President Joe Biden says the IRS just needs two bits of information: all the money that goes into your bank account, and all the money that comes out.
That's how Biden pitched his plan for a more comprehensive financial surveillance state—all to catch those nasty tax-cheating rich folks, of course—during a speech from the White House on Thursday afternoon. – READ MORE
---
Images of Haitian migrant surge at Del Rio show chaos under bridge as numbers soar past 11,000 – New images of the Haitian migrant surge in Del Rio, Texas show chaotic scenes on the ground as numbers soar past 11,000 and Custom and Border Protection (CBP) surges more agents to the area amid reports that tens of thousands more could be on the way.
Fox News footage shows Haitian migrants walking across a dam in the Rio Grande, where they have traveled then to the International Bridge in their thousands, raising concerns of a new chapter in the relentless crisis at the southern border that has exploded under the Biden administration. – READ MORE
---
Newsom Office Said Biden Supported His Move Abolishing Suburbs In California. Could The U.S. Be Next? – Immediately after winning a recall election, California Governor Gavin Newsom signed legislation that would effectively turn suburbs into cities by forcing towns to allow lots to be subdivided so that lawns were as small as four feet.
It is a move widely detested by suburban voters; last month, The New York Times said lawmakers feared "angering suburban voters, whose preferences for single-family home living have been regarded as politically sacrosanct." – READ MORE
---
FBI Scandal Over Sexually Abused Gymnasts Rises to Criminal Level, Says Inspector General – Michael Horowitz, Department of Justice inspector general, dropped a bomb during the Senate hearing to get to the bottom of the hideous and inexplicable FBI cover-up of sexual abuse of the women's USA gymnastics team that led to the molestation of hundreds of female athletes.
Mandy O'Brien, a body language expert, put out the video below analyzing FBI chief Christopher Wray and his weasel-like responses to the grilling. Not only is the body language analysis fascinating, but this clip shows that the DOJ inspector general himself believes the actions of the FBI may have been criminal in nature. "We found that they violated criminal law sufficiently," he said adding that he had referred the agents involved for prosecution. The DOJ inexplicably refused to prosecute and refused to even send a representative to be questioned by the Senate panel. – READ MORE
---
Eight Months After January 6, Prosecutors Make Aggressive Maneuvers As Defendant Attempts Suicide, Another Beaten In Jail – Some sixty people are still behind bars eight months after the January 6 disturbance at the U.S. Capitol. A Daily Wire review of court records shows unusually aggressive prosecutorial maneuvers, which sometimes brought rebukes by judges.
For example, Jose Padilla has been detained since February. "Padilla is 40 years old and has lived in Tennessee for most of his life. He previously served in the U.S. Army during the Iraq War. After he returned home, he was diagnosed with posttraumatic stress disorder ('PTSD') and began receiving disability benefits. Prior to his arrest, he was a stay-at-home dad who managed his family's household affairs and cared for his three sons during the day while his wife worked as a librarian. He has no criminal history or history of substance abuse. He also has no known ties to extremist groups," Judge John D. Bates summarized. – READ MORE