(FREE) PAINE IN THE MORNING: 12 things you need to know this Friday – February 18, 2022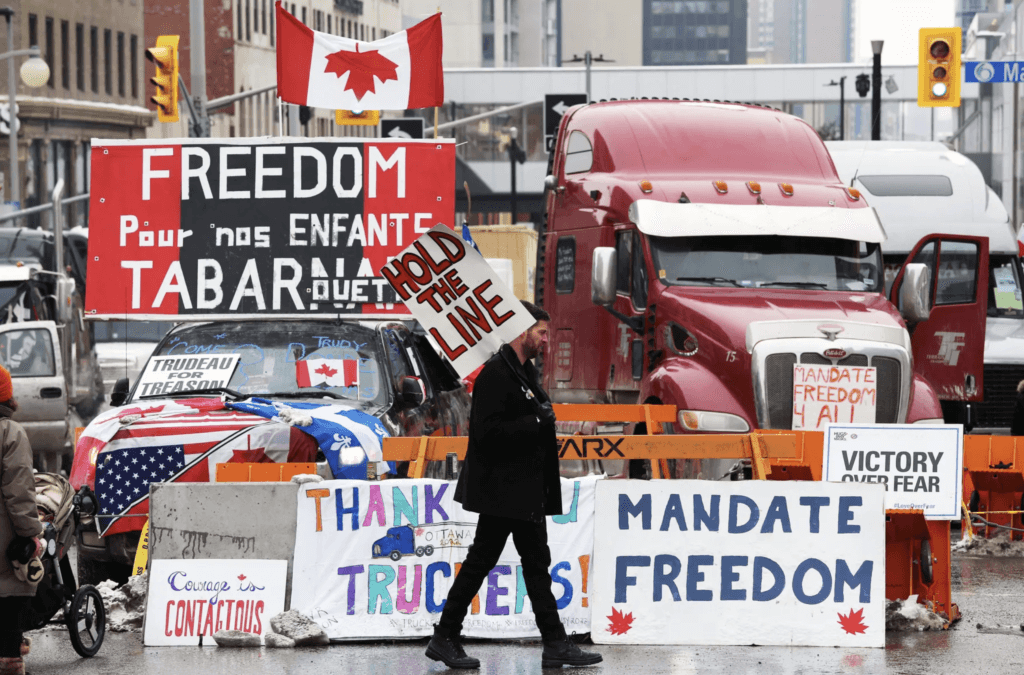 There is also a full, ad-free video podcast of this broadcast available to Paine.TV members HERE.
Learn more about joining our community HERE.
---
Canadian parents could face fines or jail time for bringing children to 'unlawful' Freedom Convoy protests under new emergency powers act –  Canadian parents who bring their children to demonstrations the government considers to be "unlawful" can now face thousands of dollars in fines or jail time, CBC News reported.
The new power reportedly comes after the federal government invoked the Emergencies Act this week, granting itself exceptional measures to address the country's ongoing Freedom Convoy trucker protests. It marked the first time the act has been invoked since its passage in 1988. – READ MORE
---
Canadians Warned The Government Can Confiscate Pets From Convoy Protesters – The Canadian government is issuing warnings to anyone involved in the massive anti-mandate protests, saying that in addition to freezing bank accounts and towing their trucks, they can confiscate pets as well.
A tweet from the official account for Ottawa's by-law and regulatory services read, "Attention animal owners at demonstration: If you are unable to care for your animal as a result of enforcement actions, your animal will placed into protective care for 8 days, at your cost. After 8 days, if arrangements are not made, your animal will be considered relinquished." – READ MORE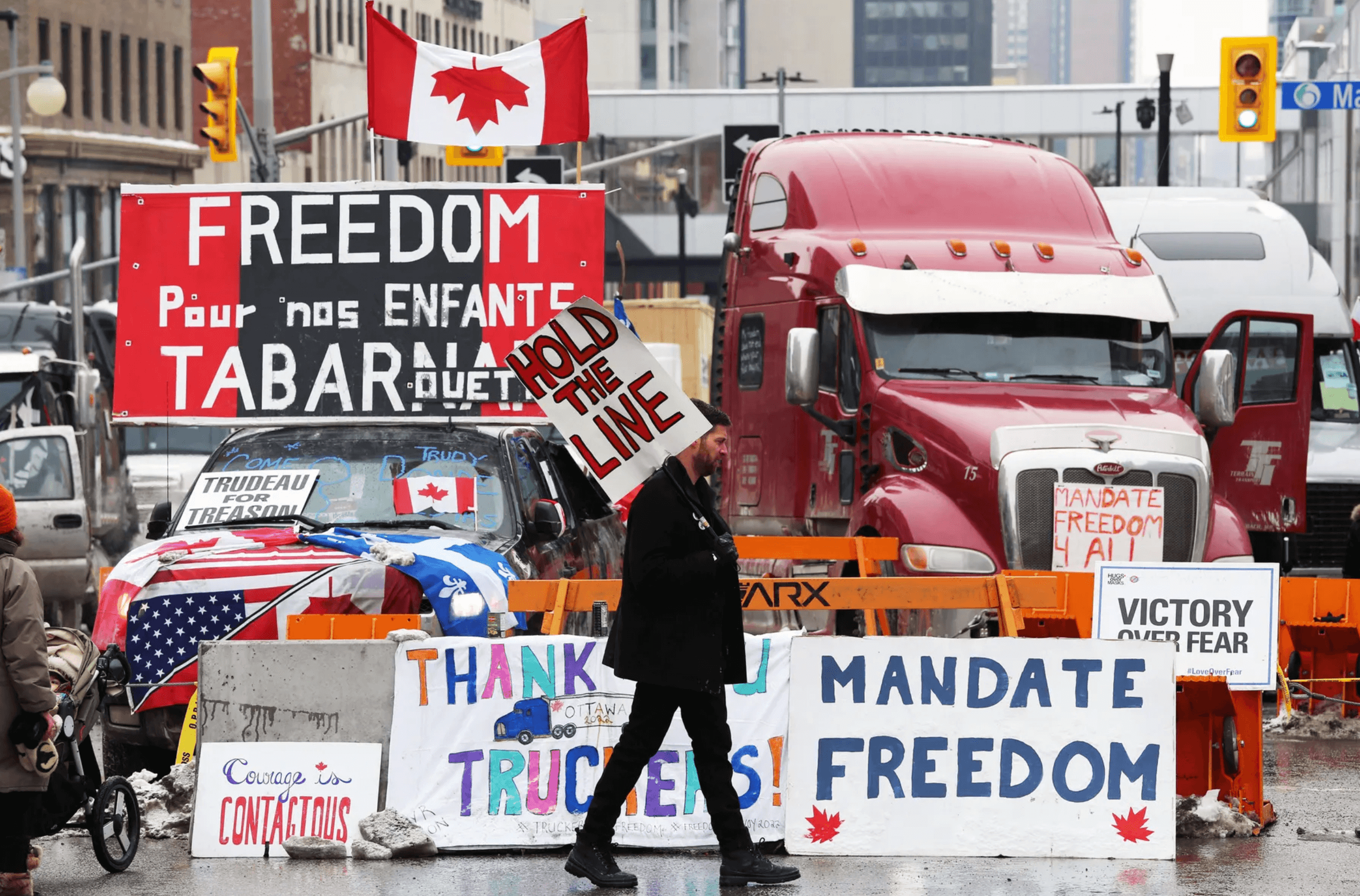 ---
Canada Orders Freeze Of 34 Cryptocurrency Accounts Connected To 'Freedom Convoy' – Canadian authorities have sanctioned 34 cryptocurrency wallets connected to the "Freedom Convoy" trucker protests in Canada, after Prime Minister Justin Trudeau announced he was taking even more aggressive measures to crack down on the protests.
Cryptocurrency news site Coindesk reported that the Ontario Provincial Police and Royal Canadian Mounted Police ordered all regulated Canadian financial firms to halt transactions from 34 crypto wallets tied to the Freedom Convoy and other truckers' protests around Canada, in accordance with the public emergency declared by Trudeau on Monday. The Globe and Mail, a Canadian news outlet, confirmed that the police agencies ordered several crypto exchanges and financial institutions to "cease facilitating any transactions" with all of the wallets as part of an investigation "in relation to illegal acts falling under the scope of the Emergency Measures Act." – READ MORE
---
L.A. County Drops Outdoor Mask Mandate, But Keeps Indoor – Los Angeles County is changing its masking requirements — but only for outdoor settings.
The county lifted its outdoor masking requirements on Wednesday for K-12 schools, child-care, youth sports, and mega events, but masks are still mandated in indoor public areas in the county. The move comes as the state alters its mask mandate to only affect unvaccinated individuals. – READ MORE
---
Fauci says future requirement for additional COVID-19 boosters being monitored –White House chief medical adviser and director of the National Institute of Allergy and Infectious Diseases Dr. Anthony Fauci on Wednesday said that future requirements for additional boosters or shots are being monitored, just days after he suggested that annual COVID-19 booster shots may not be needed for every American.
"The potential future requirement for an additional boost or a fourth shot for mRNA or a third shot for J&J is being very carefully monitored in real time. And recommendations, if needed, will be updated according to the data as it evolves," Fauci said during a press briefing by the White House COVID-19 response team. – READ MORE
---
Report: Beagles Killed in NIH-Funded Experiment Named After Celebrities, TV Characters – Beagle puppies who were killed in an experiment funded by the National Institutes of Health (NIH) were named after celebrities and popular television characters, according to taxpayer watchdog group White Coat Waste Project (WCW).
WCW released the report on Tuesday after obtaining information from the NIH through a FOIA request. The 74-page document contains NIH internal emails and invoices from the University of Georgia (UGA) for 28 beagle puppies named after well-known celebrities like Bon Jovi and Snoop Dogg, and TV characters like Rachel, Monica, and Phoebe from the show Friends. – READ MORE
---
Pelosi's Empty Stock Talk: Dem Bill to 'Ban' Trading Has Loophole Allowing Spouses to Buy, Sell Shares – House Speaker Nancy Pelosi has suddenly begun talking tough about members of Congress enriching themselves with stock trades, but the bill she favors to stop it has loopholes big enough to drive a Brinks truck through.
Last week, Pelosi was suddenly seen calling for new rules to govern how members of Congress deal in stocks, Just the News reported. – READ MORE
---
Biden kills Israeli pipeline project, wastes golden opportunity to hobble oil exporter Russia – As tensions between Russia, Ukraine, the U.S. and NATO continue, it is affecting the Mediterranean world as well as Europe's energy sector.
The U.S. is pulling its support for an Israeli underground natural gas pipeline that would run from the eastern Mediterranean to Europe. Many are predicting this will simply cause more problems in the region. – READ MORE
---
Auto customers flabbergasted to see jacked-up car prices at dealerships amid inflation, auto industry crisis: 'We are going to be like Cuba soon' – Forty-three percent — that's how much some car dealerships are reportedly jacking up their MSRPs amid today's auto industry crisis and ongoing inflation.
A Saturday report from the New York Post detailed several visits to area dealerships in which salespeople were marking up the prices of vehicles in order to make up for money lost due to low inventory, supply chain issues, and inflation under President Joe Biden. – READ MORE
---
America's Largest Landlord Just Got Even Bigger: Blackstone Buys 12,000 Sunbelt Apartments For $5.8 Billion – Wall Street won't rest until it become the biggest – and perhaps only – landlord in the US.
On Wednesday, Blackstone cemented its position as America's largest residential and commercial landlord by buying apartment owner Preferred Apartment Communities in a deal valued at $5.8 billion, demonstrating the unstoppable investor demand for multifamily – i.e., rental – properties in Sunbelt states. – READ MORE
---
'Housing Affordability Is Getting Crushed': Costlier Loans Push 'American Dream' Out of Reach For First-Time Buyers – As consumer-goods inflation has continued to surprise economists and shoppers alike with its ferocity, increasingly costly mortgages are putting first-time home buyers at a worsening disadvantage, and placing the 'American Dream' of owning one's home even further out of reach.
Bidding have already driven home prices to unprecedented highs, but growing demand for loans has sent mortgage rates to levels unseen in years. The cost for a 30-year loan has just hit a two-year high, having risen 20% since Christmas, Bloomberg reports. – READ MORE
---