(FREE) PAINE IN THE MORNING: 10 things you need to know this Thursday – August 12, 2021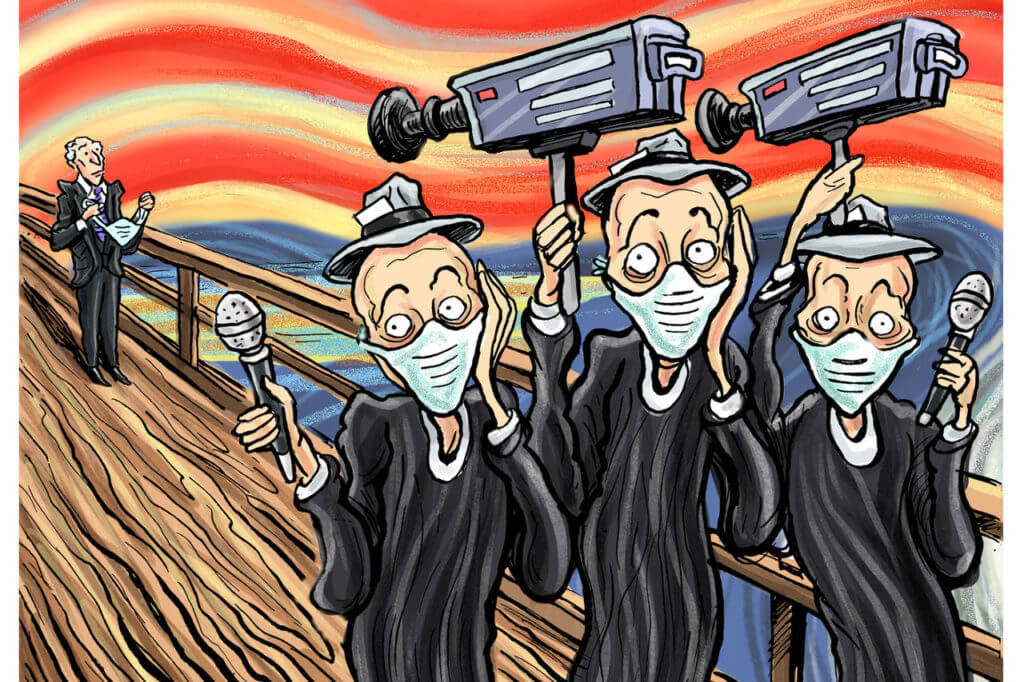 There is also a full, ad-free video podcast of this broadcast available to Paine.TV members HERE.
Learn more about joining our community HERE.
---
New data on coronavirus vaccine effectiveness may be "a wakeup call" – A new preprint study that raises concerns about the mRNA vaccines' effectiveness against Delta — particularly Pfizer's — has already grabbed the attention of top Biden administration officials.
What they're saying: The study found the Pfizer vaccine was only 42% effective against infection in July, when the Delta variant was dominant. "If that's not a wakeup call, I don't know what is," a senior Biden official told Axios. – READ MORE
---
European Union Reviewing New Possible Side Effects of mRNA COVID-19 Vaccines –Experts in Europe are probing three newly reported conditions that appeared in people who received a COVID-19 vaccine built on messenger RNA, the European Union's drug regulator said on Wednesday. – READ MORE
---
Here We Go Again: Dozens Of Major Events Are Being Cancelled Across The Country Due To Covid – Just when we thought life would be returning back to "normal", that vaccines were going to bring us back to the way things were in 2019 and that the government overreach and hysteria would finally come to a close, events are being cancelled left and right heading into the fall in what is looking like a carbon copy of 2020…all over again.
It was announced yesterday that the famous New Orleans Jazz Festival for 2021 would be cancelled due to "rising cases" of Covid in the state, according to CNN. – READ MORE
---
Delta, Southwest, American Airlines: No Vaccine Mandate for Employees – Delta, Southwest, and American Airlines have all stated there will be no vaccination mandates for their employees.
According to an internal memo obtained by CNN, Southwest CEO Gary Kelly reaffirmed the company's stance that it will "strongly encourage" employees to get vaccinated without mandating it. – READ MORE
---
Ohio Judge Orders Man Convicted Of Fentanyl Possession To Get Vaccine Or Face Jail Time – An Ohio attorney is speaking out after a judge ordered one of his clients to get vaccinated as a condition of his release.
21-year-old Brandon Rutherford was given a suspended sentence last week for possession of the deadly drug fentanyl by Hamilton County Judge Christopher Wagner. But in addition to the typical requirements – that Rutherford stay clean, and get a job, stay away from guns, – the judge also gave him 60 days to get vaccinated, or be sent to prison to serve out a term as lengthy as 18 months. – READ MORE
---
Andrew Cuomo Is 7th Powerful New York Democrat Ousted in Disgrace Since 2006 – In just 15 years, no fewer than seven powerful New York Democrats have been forced to resign in disgrace. That includes New York's last three governors — three in a row!
On top of the governors, there was also an attorney general, a state assembly speaker, a state comptroller, and let's not forget a convicted sex criminal named Weiner. – READ MORE
---
Italian Americans mad at Cuomo for dismissing creepy behavior as cultural – Italian Americans are outraged that Gov. Andrew Cuomo appeared to try to write off his creepy behavior with women as "cultural behavioral differences."
"We Italians refuse to acknowledge Cuomo as a member of la famiglia," one Twitter user who goes by Malvagio wrote. – READ MORE
---
Why Is Federal Aid to Renters Buried in Red Tape? – There is a gigantic $47 billion bottleneck in federal dollars earmarked for renters who are behind in their payments.
This is not a question of Congress refusing or being slow to act. Congress has acted. But many states have made the process of accessing that money so impossibly difficult and confusing that many renters who may be entitled to thousands of dollars have simply given up. – READ MORE
---
A Close Look at Little-Known Provisions in the Infrastructure Bill – Although Joe Biden's Invest in America Act has been widely described as an "infrastructure bill," its impact on American life goes far beyond roads, railways, and bridges. New rules in the bill affect transportation, manufacturing, water pipes, research, schools, and more. – READ MORE
---
Fight Back: Here's How People Are Legally Resisting Dystopian Diktats to Get a Covid Shot or Be Fired – In the past week, Democrat governors and other Democrat Party elected officials throughout the country have launched a coordinated effort to threaten Americans' economic security by issuing hasty "do what we say or your job gets it" Covid diktats.
Democrats claimed these mandates were in the name of science to combat the virulent Delta variant — the latest of probably several versions — of Covid. – READ MORE