Protesters March in Toronto and Montreal Against Vaccine Mandates, Passports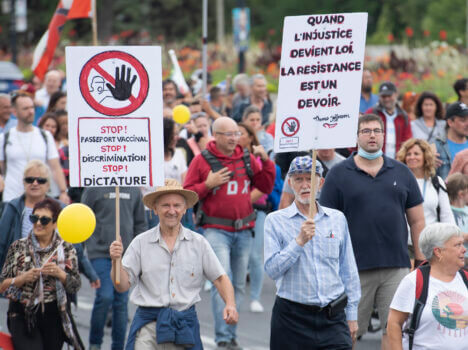 With the prospect of widespread vaccination mandates and passports coming into effect in various jurisdictions across Canada, people took to the streets in Toronto and Montreal this weekend to protest against such measures.
In Toronto on Aug. 28, hundreds of protesters marched along major streets including Bloor Street West and Yonge Street, shouting the slogan "No vaccine passports." Signs reading, "Forced vaccination is wrong!" and "Trust me to make the best choice for yourself!" could be seen among the crowd.
#NoVaccineMandates #cdnpoli pic.twitter.com/aBHRYP78iU

— Freecanuck (@Freecanuck1) August 28, 2021
The same day, thousands of people gathered at Maisonneuve Park in Montreal, marching along Sherbrooke Street till they arrived at the front of the Quebec Order of Nurses building on Molson Street, to protest against upcoming vaccine mandates imposed by the Quebec government.
Health Minister Christian Dubé announced on Aug. 10 that starting Sept. 1, Quebecers will be asked to show proof via a vaccination passport that they have received both doses of the COVID-19 vaccine when accessing non-essential services or businesses.
Premier François Legault followed with an announcement on Aug. 17 that the province will make vaccination mandatory for health-care workers. Dr. Horacio Arruda, the province's director of public health, said at the press conference that the mandate will apply to any health-care worker who is in "direct contact with vulnerable people for 15 minutes or more." – READ MORE