'Our Freedom Is in Danger': Protests Erupt Across Europe Over COVID-19 Mandates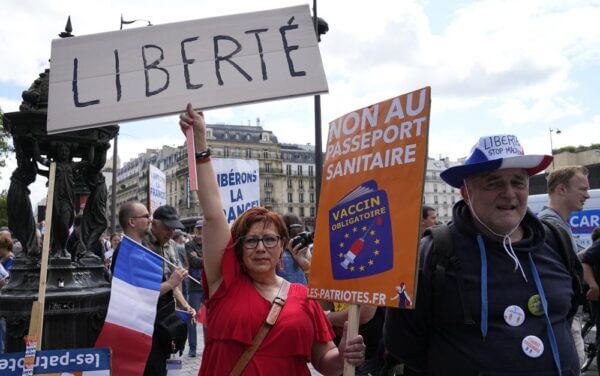 Thousands of people in France demonstrated against a special "health pass" and marched through Paris and other French cities on July 31, with most of the protests being peaceful, with a few sporadic clashes.
Some 3,000 security forces deployed around Paris for the third weekend of protests against the pass, which will be required soon to enter restaurants and other places. The so-called health pass system—likened to vaccine passports—was passed in the French Parliament last week, with the law going into effect on Aug. 9.
Meanwhile, a court in Berlin declared over the weekend that anti-lockdown protests were illegal, leading to the arrests of demonstrators. According to a Deutsche Welle (DW) report, judges in the capital's administrative court refused to authorize 13 demonstrations that were organized by an anti-lockdown group. Organizers said that 22,500 people registered to partake in the protests.
Video footage and photos uploaded to Twitter showed that apparent anti-lockdown protesters were being arrested or corralled by officers on July 31. A planned march planned for Aug. 1 was also banned by the court, according to DW.
The German judges said the protests should be banned because they would facilitate the spread of COVID-19.
Berlin police spokesman Thilo Cablitz told reporters that the ruling targeted protests "whose participants regularly don't follow legal regulations, specifically to protect against infections," including wearing masks.
In Italy, thousands of anti-vaccine-pass demonstrators marched in cities, including Rome, Milan, and Naples, for the second consecutive week. Milan demonstrators stopped outside of the city's courthouse chanting "Truth!" "Shame!" and "Liberty!" In Rome, they marched behind a banner reading "Resistance." Those demonstrations were noisy but peaceful. – READ MORE