Massive Protests Against France's Vaccine Passports Enter 4th Week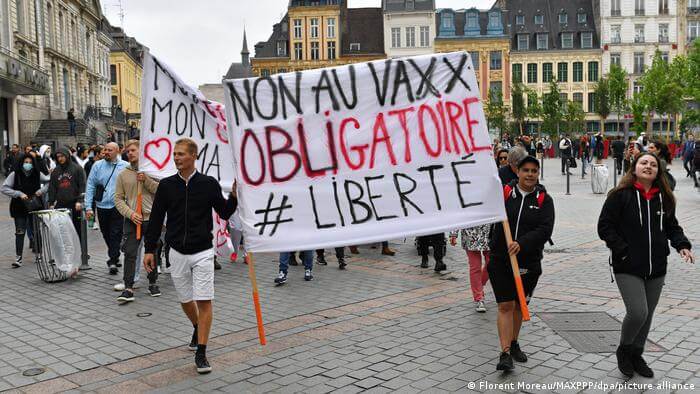 On Monday, France's new law requiring a vaccine passport in restaurants, trains and other areas took effect.
For a month now, mass rallies and protests have been held across France to oppose vaccine passports – which went into effect Monday for restaurants, trains, and other places.
Many activities will now require, according to The Irish Times, "a QR code proving the bearer has received two vaccinations, tested negative within the previous 72 hours or recovered recently from Covid-19."
Video of the protests have gone viral, along with video that purports to show police roaming around outdoor cafes checking people's phones for their vaccine passport.
Covid pass now required for French restaurants and trains https://t.co/VvOrY5gTiC via @IrishTimesWorld

— Irish Times World (@IrishTimesWorld) August 9, 2021
Hundreds Of Thousands Protest Against French Government's COVID-19 Policies
"Those found to be in violation of the law risk a €135 fine," Irish Times reported. "Three fraudulent uses of a health pass in one month can lead to six months in prison and a €3,750 fine."
The managers of restaurants and other establishments who fail to check health passes more than three times in a 45-day period can be sentenced to one year in prison and a €9,000 fine," the outlet noted. "The government promised to be flexible for one week." – READ MORE