Hundreds of Alabama coal miners protest outside BlackRock's NYC headquarters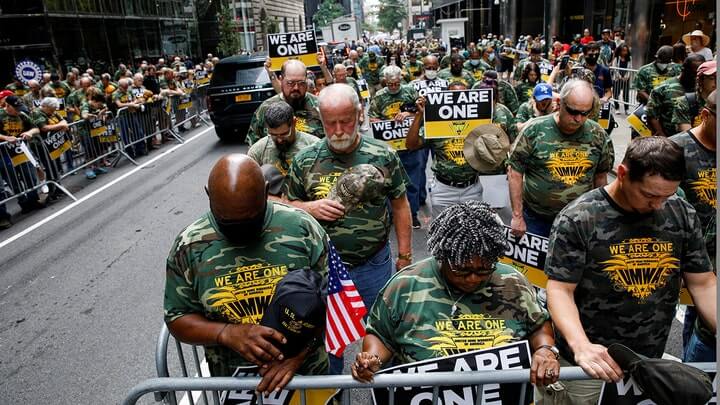 Hundreds of coal miners and union advocates took to the streets of New York City this week in support of workers from Warrior Met Coal mines in Brookwood, Alabama. Approximately 1,100 Warrior Met Coal mine workers have been on strike against their employer for nearly five months, fighting for better pay and benefits.
According to the United Mine Workers of America, the current agreement with union employees was negotiated as Warrior Met Coal, which was formerly known as Walter Energy, emerged from bankruptcy in 2016. Union members argue they made numerous concessions in pay, benefits, holidays, overtime and other areas totaling more than $1.1 billion to keep the company afloat and help get it out of bankruptcy.
Warrior Met produces coal used in steel production in the United States, Asia, Europe and South America. The company currently has the operational capacity to mine about 8 million tons of coal per year from more than 300 million tons of recoverable reserves, according to its website.
In May, Warrior Met Coal reported a net loss of $21.4 million for the first quarter of 2021, or 42 cents per diluted share, compared to net income of $21.5 million, or 42 cents per diluted share, in the first quarter of 2020. Warrior Met Coal's total first quarter revenue was $213.8 million, including $207 million in mining revenues.- READ MORE