Cuba Continues Home Invasions Against Protesters Three Weeks After National Marches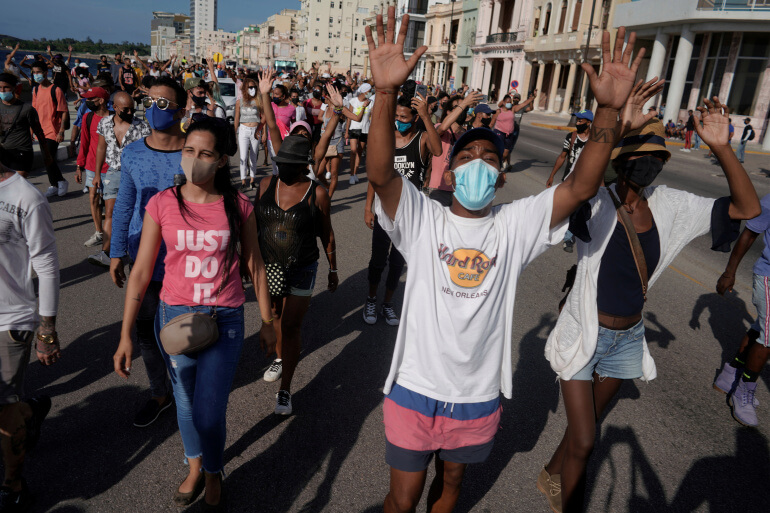 Communist state security forces in Cuba have not ceased raiding the homes of and arresting individuals believed to have participated in the July 11 nationwide protests, most recently disappearing dissident Sadiel González from his home on Monday night.
González's family told the independent Cuban outlet 14 y Medio that González remains missing as of Tuesday following police entering his Havana home on Monday night and requesting an "interview" at the police station. González had broadcast a live stream on Facebook of the protests on July 11 and participated in them. Unlike many who have been arrested or otherwise disappeared into the Communist Party criminal system, González has a track record of dissident activity and had most recently participated in a protest in April prior to July 11.
González's arrest became publicly known because he filmed the visit by police on Monday — which reportedly occurred after 9 p.m. local time, past the curfew imposed to prevent the spread of Chinese coronavirus in the capital city. Police did not present a warrant for his arrest or state that he would face any charges, leaving unclear why they came to his home.
Video González posted on Facebook showed an officer asking González to accompany the police to "have a conversation at the police station" but authorities ultimately place him in handcuffs and take him away. Responding to outraged demands for an explanation from his mother, one officer reportedly says, "it's for an interview, mom, don't worry about it."
Another officer, following González's departure in a police car, told his mother that the man was "involved in counterrevolutionary acts" and explained that he had livestreamed video of himself on Monday promoting more protests against the Castro regime.
The arrest on Monday offers proof that persecutions related to the July 11 protests continue three weeks later, even as calls for international aid to the protesters, particularly in the United States, have largely fallen on deaf ears. The administration of President Joe Biden implemented redundant sanctions on two individuals in response to the violent crackdowns following July 11, but has not taken any more significant measures and, following a meeting last week with Cuban celebrities, has not indicated he has plans for more action in the future.- READ MORE