175,000 Protest in France Against Macron's Vaccine Passports for Sixth Straight Week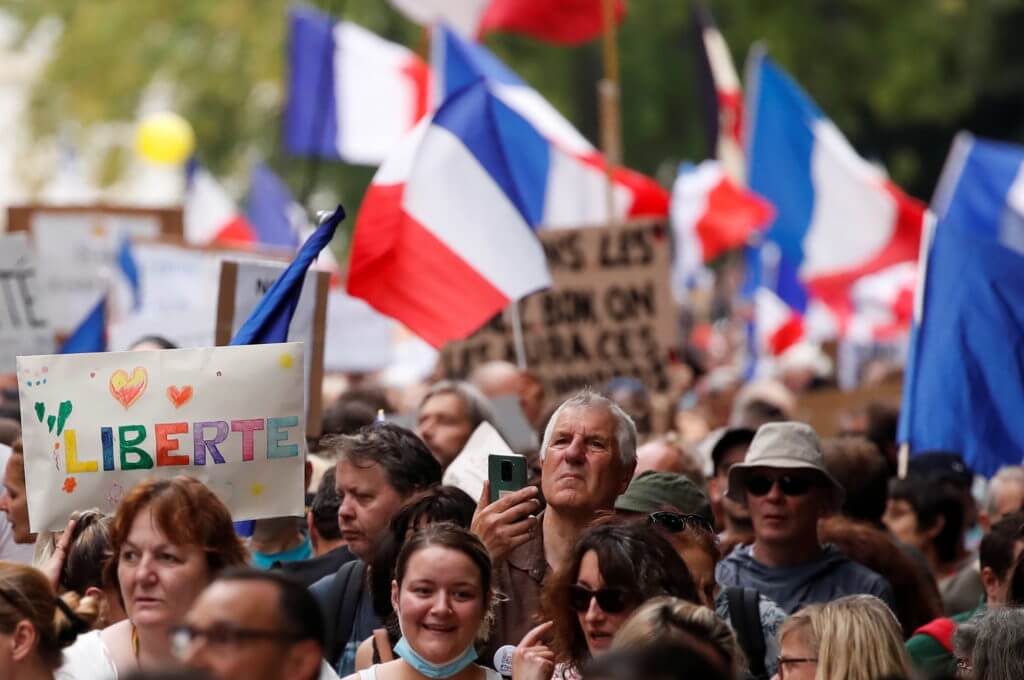 For the sixth straight week, hundreds of thousands of people in France took to the streets to protest against Emmanuel Macron's draconian health passport scheme.
An estimated 175,000 people marched in 220 demonstrations throughout France on Saturday, with an estimated 14,700 mobilising in Paris against the so-called 'pass sanitaire' (health passport), which is now required for many aspects of normal life in the country.
Aside from the capital, approximately 9,500 marched in the southern city of Montpellier, 4,000 in the German-bordering Strasbourg, and 3,400 in Bordeaux, with smaller protests dotted across the nation, according to the public broadcaster France24.
The Yellow Vest (Gillet Jaune) affiliated group Le Nombre Jaune, however, claimed that 357,100 were on the streets "at a minimum".
In Paris, anti-vaccine passport protesters held flags reading "Liberté" and chanted the slogan "Macron! We don't want your pass!"
Cortège de plus en plus important contre le #PassSanitaire à Paris.#manifestations21aout #Manifs21aout pic.twitter.com/L01r1sLjSV

— Remy Buisine (@RemyBuisine) August 21, 2021
Earlier this month it became a requirement across France to present the vaccine passport to enter into bars, cafes, and restaurants, including those with outdoor seating. The requirement has also been imposed on long-distance travel including buses, trains, and aeroplanes.
The pass sanitaire records whether an individual has either had two doses of a coronavirus vaccine, a negative antigen test within the past 72 hours, or proof of recovery from the Chinese virus within the past six months.- READ MORE